Video Credits: Alex Nacpil via Youtube
We play games just for fun. But, if the game includes a cash prize then who are we to ignore such game, right? Even if it is just in a small amount of cash or in kind, the excitement will always be at its peak before, and during the game, and of course, after the game especially when you win.
Aside from my full-time job, I have been so active in earning online. With that, I am more exposed to the cryptocurrency world and other sites or applications where earning is possible. For this blog, I will share to you one of the few things I discovered on how to earn while having fun. No investment is needed, you just need a pile of general knowledge and some good luck, perhaps. It is more like a "Who Wants To Be A Millionaire" or in Philippines, "Pilipinas, Game Ka Na Ba?" show. You earn and at the same time, you learn something new. If you lose, then tomorrow is another day and sooner or later, you will win.
Since I really want to share this game show, I decided to on hold my Bohol Escapades. So let's start!
What Is Paydro Live?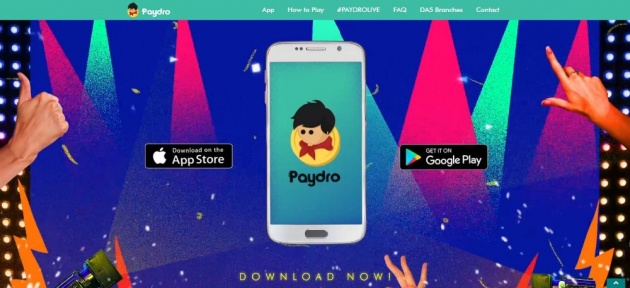 Image Credits: A Screenshot in Paydro Website
Paydro Live is a live trivia game show app available on both the App Store and Google Play. It is developed by OVP Technologies, Inc. and officially launched its first live game on April 5, 2018. In an interview, the Paydro CEO Gian Javelona said that he and his business partner, John Ignacio, thought of a name that represents the Philippines, which is Pedro.
The game is currently held from Monday to Friday at 12:30 PM, Philippine Time, hosted by Sam YG of Boys Night Out. You will never miss it out since the app will notify you an hour before the game and minutes before the game.
Image Credits: Unbox.ph
How to play the game?
The game is free. No registration fee is needed. You just have to download the app either in Google Play or App Store. Eleven (11) multiple choice questions will be asked and you will be given 10 seconds to choose the correct answer. Every week there's a category for you to study, or if not, for your information only. In that way, you will know the possible questions of the game. The moment that the question will pop up is the moment your clock is ticking. The timer is really fast that it feels like it's actually below 10 seconds. You have to be on the app before the first question begins or else, you will automatically become a "spectator". If you miss choosing an answer, you will be eliminated right away and become a "spectator" also.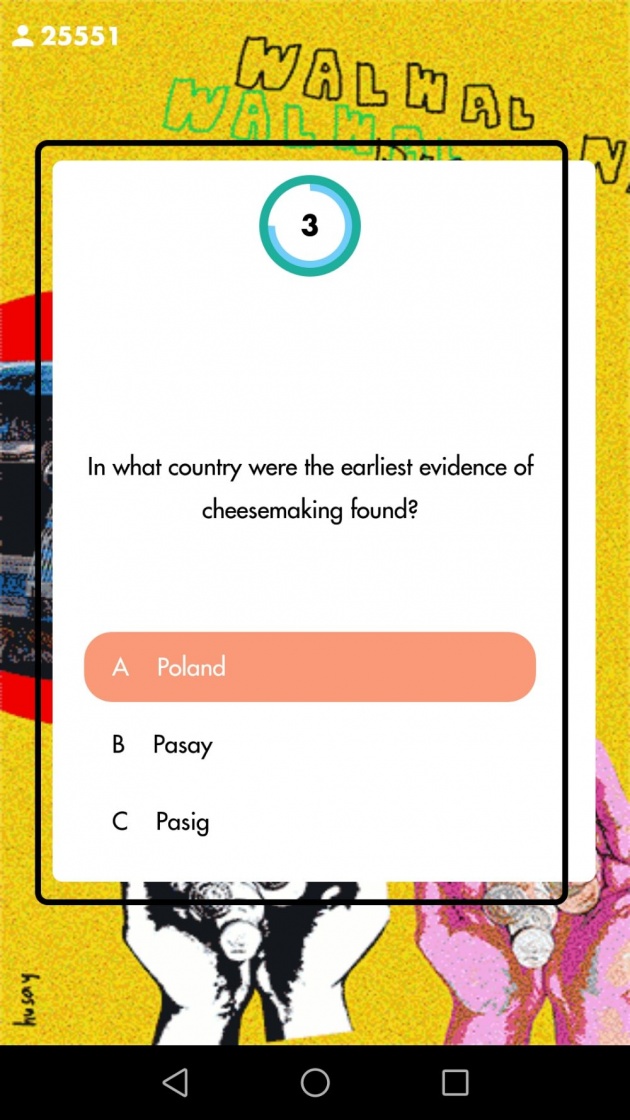 Category: All about cheese!
Image Credits: Caryl Keen via Screenshot in Paydro Live App
Rules
1. A question pops on your screen.
2. Choose the correct answer.
3. Get all answers correct and win!
What is a Puso and how to earn an extra Puso?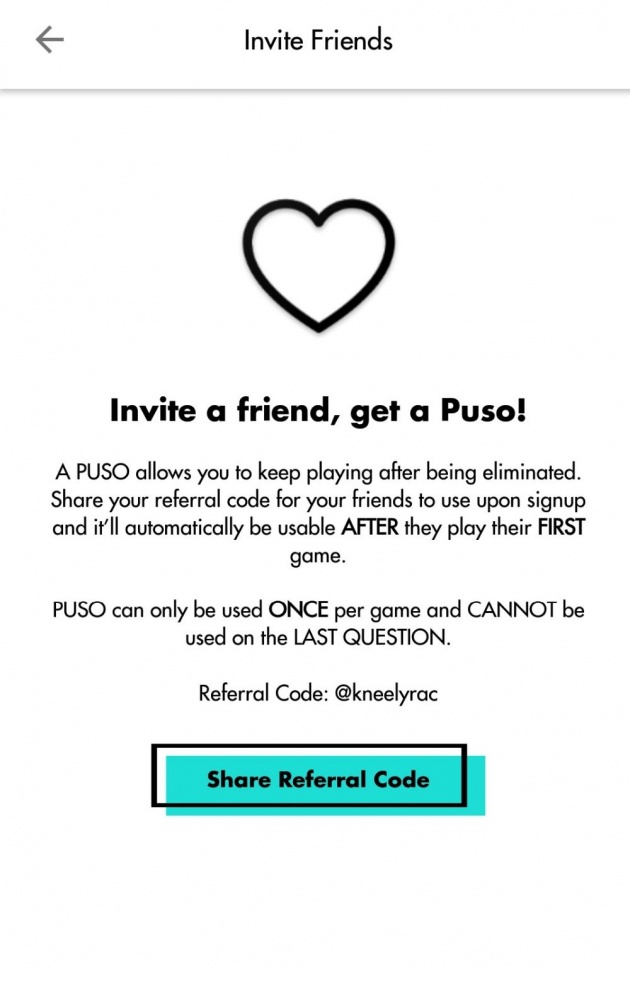 Image Credits: Caryl Keen via Screenshot in Paydro Live App
As mentioned, you will become a spectator once you answer a question incorrectly. However, you can still join the game by using your extra puso. A Puso is an extra life that allows you to join the game again even when eliminated. Note that the puso is not applicable if you missed the first question nor it can be used for the final question (11th) or the walwal question. Only one puso can be used per game.
You will receive an extra puso by inviting your friend to download the app, use your referral code which is your username and then play the game. You will receive your extra puso when they play their first game. For new users, don't forget to use a referral code to receive an extra puso. There is also a time that a free puso is given to everyone. The host will give the promo code and you can only type it after the game.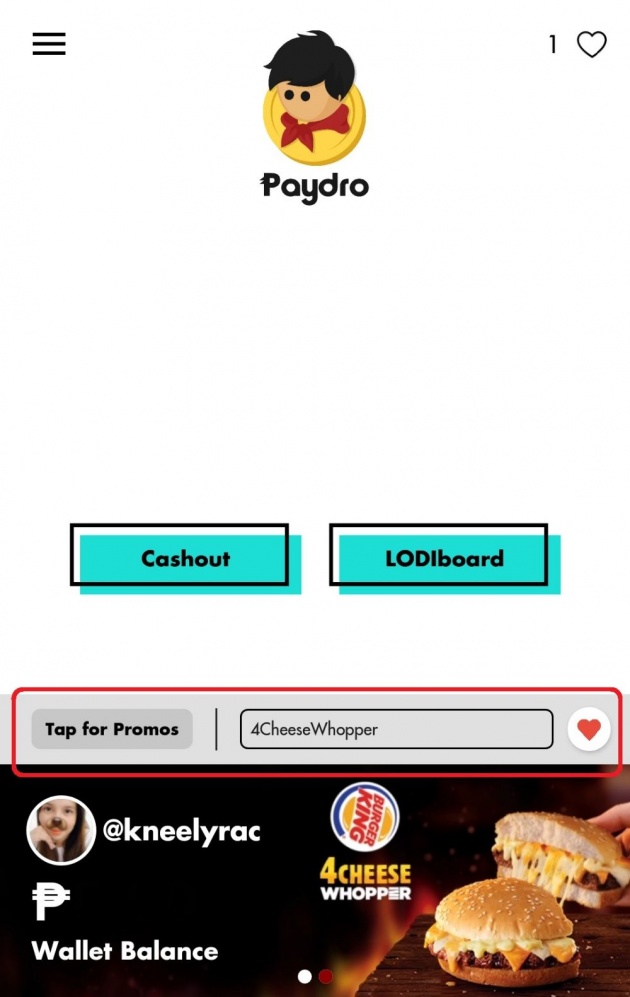 Image Credits: Caryl Keen via Screenshot in Paydro Live App
Rules
1. One puso per game.
2. Puso is inapplicable for the Walwal question or the final question.
How much is the pot money?
Cash prizes vary in every game and there are no limits of how much you can win. For two weeks, I've only seen as low as of PHP 20,000 (approximately $373) and as high as PHP 400,000 (approximately $7474) per game. It all depends on the company. Before, the minimum cash prize was PHP 10,000, but I think the company decided to raise the minimum cash prize. Now, the winner of the game will be the last person in the game to answer all the questions correctly. However, if multiple players remain, then the pot money will be divided evenly to such remaining players. However, following the Philippine Law, cash prizes above PHP 10,000 are subject to a 20% final tax.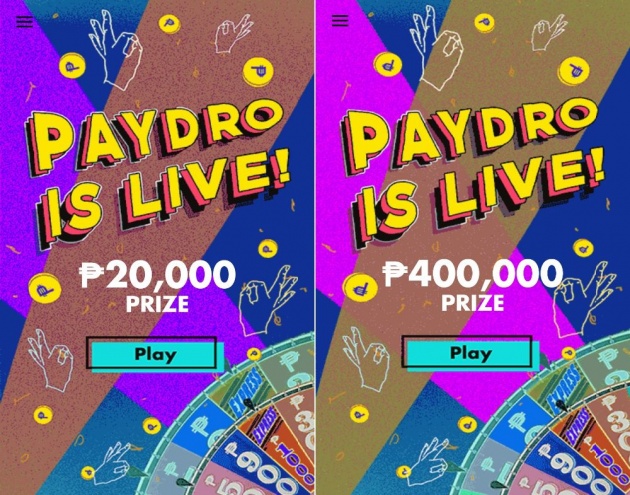 Image Credits: Caryl Keen via Screenshot in Paydro Live App
Where and when to cash out the prizes?
The minimum amount to cash out is PHP 500. Cash prizes can be cashed out using the Paydro app through DA5 Western Union branches or via deposit to your bank accounts such as BDO, UnionBank or BPI account. Cash prizes cashed out through DA5 Western Union are available right away, while bank deposits are available within 14 business days.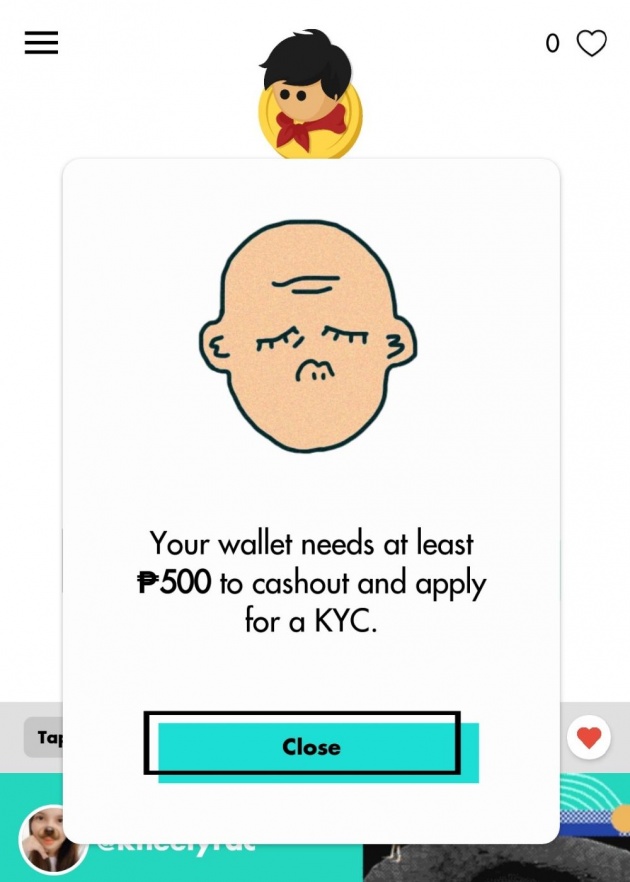 Image Credits: Caryl Keen via Screenshot in Paydro Live App
If you want to play and win real cash on this game,
1. Download the App, it's FREE!
2. Register with a verified phone number or through Facebook.
3. Use a referral code (kneelyrac) to receive an extra puso on your first game.
Is it available to other countries?
For this matter, I observe two things. First, I have seen Filipinos who are in abroad played the game. Second, as mentioned above, cash prizes can be cashed out via DA5 Western Union and Western Union is a global leader of international money transfer. So my answer is yes, players from abroad are welcome to join the fun of Paydro. The only thing that I'm not sure of is which country Paydro is not available.
Language used is not entirely in English. The host might speak in Filipino for a bit, but the question is in English and the discussion as well so it's still okay for foreign users to play the game.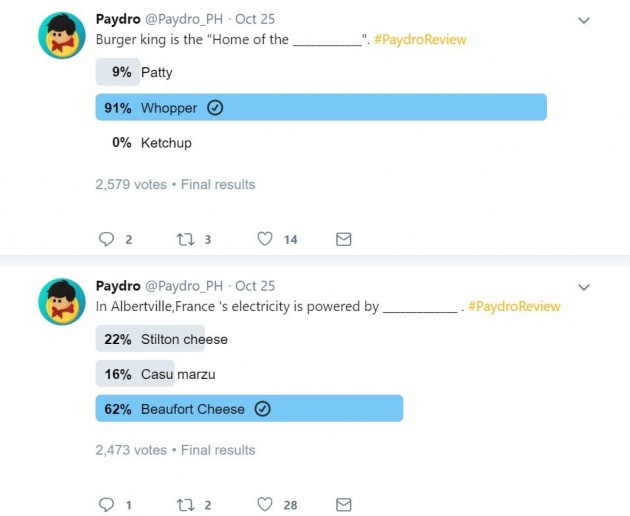 Image Credits: Caryl Keen via Screenshot in Paydro Live Twitter Account
Tips
1. Follow the twitter account of Paydro Live. They conduct Paydro Review and some of the questions will appear on the game show.
2. Best to play Paydro in a group. Two or more heads are better than one, right?
3. Make sure the internet or your data connection is strong and stable.
4. It's an advantage if you type really fast. You can research the answer in Google, just use the keywords. Some players are like this but I haven't tried this one yet. Desperate measures for desperate times, maybe sooner or later, I'll do this one for a sure win, right?
Game Schedule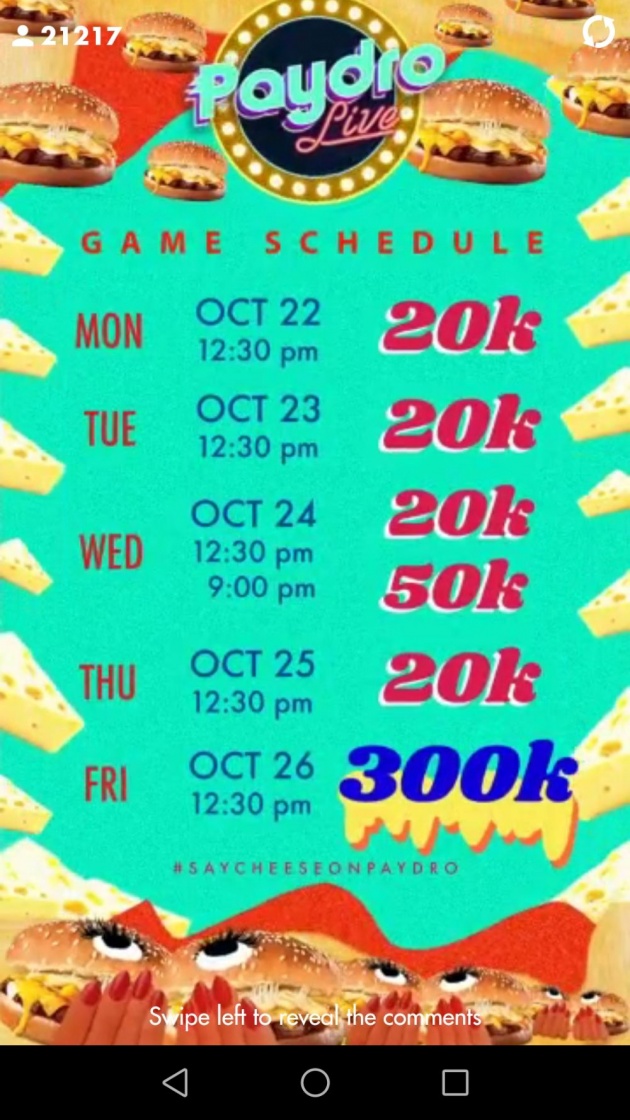 October 22-26, 2018 Game Schedule
Image Credits: Caryl Keen via Screenshot in Paydro Live App
Host: Sam YG
Monday, Tuesday, Wednesday, Thursday & Friday
Every 12:30 PM
Two games every Wednesday
Host: Guest host
7:00 or 9:00 PM
Just wait for the announcements. The App will notify you as well.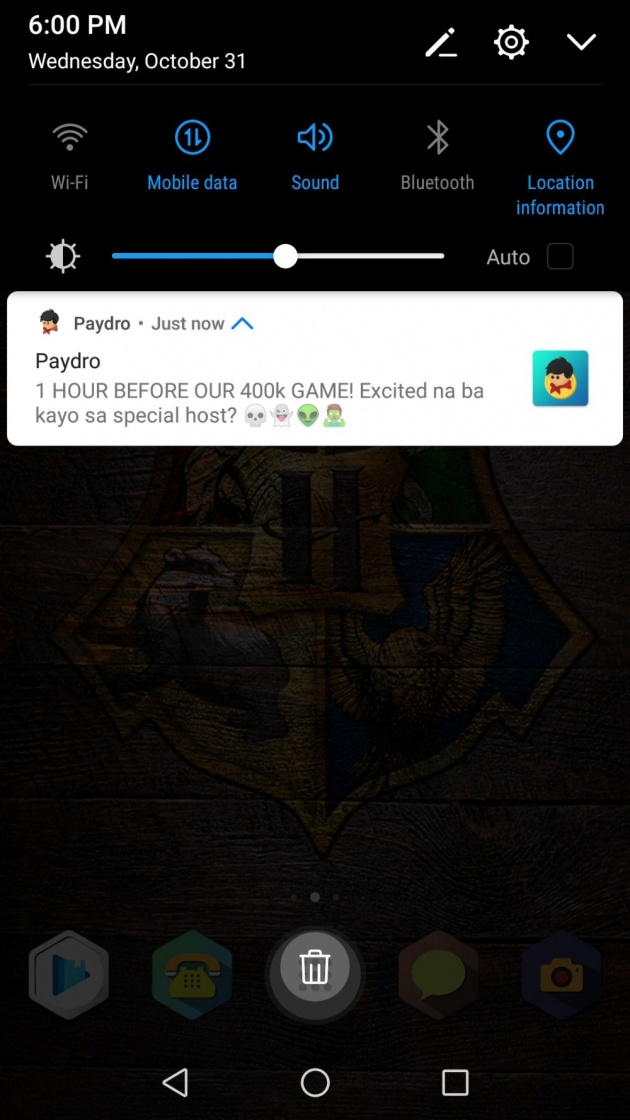 "One hour before our PHP 400,000 game! Are you excited about our special host?"
Image Credits: Caryl Keen via Screenshot
On the last note
The company did a lot of thinking about the time slot which is 12:30 PM. The time slot for this game show is good for every worker and student who are in their lunch break. This game is a stress-reliever and a thrill booster. It awakens the competitiveness in you, as what the jingle of Paydro says, "GUSTO KO MANALO, GUSTO KO MANALO. (I WANT TO WIN. I WANT TO WIN.)". Even if you only win below PHP 100, it will make you feel ecstatic though. And aside from earning bit by bit or earning in a full blast, you also learn a lot from this game. You may not win the cash prize today, but you win through the knowledge you gain from Paydro Live.
Follow their social media accounts:
Facebook
Instagram
Twitter
Youtube
Don't forget to use a referral code: kneelyrac
Watch the full video of the game last October 29, 2018.
Video Credits: Paydro Live via Youtube
For more blogs, click the link below.
☀☀☀
Written By:
Caryl Keen
☀☀☀
2018, All Rights Reserved.