.
Video Credits: JiangChenXiaoXi via YouTube
(with English subtitle)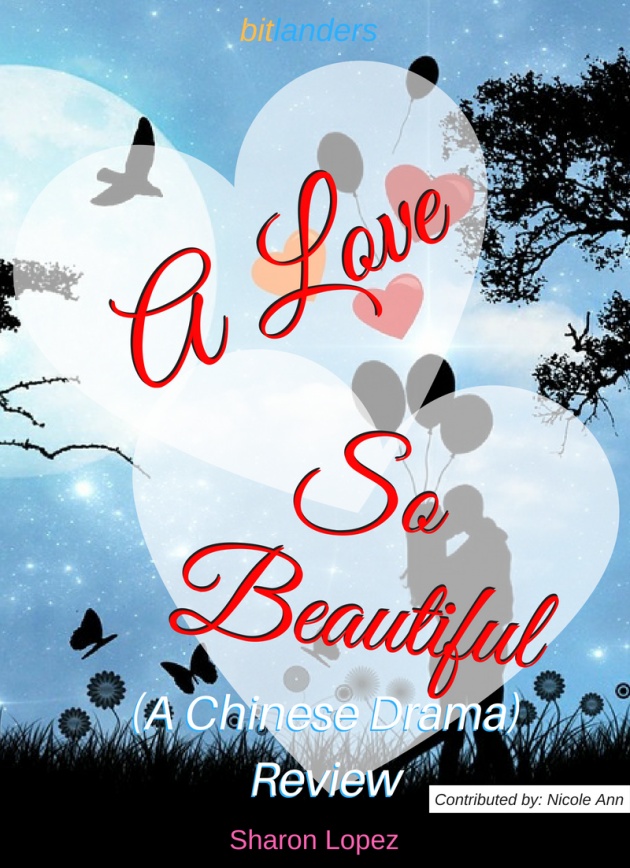 Image Credits: Sharon Lopez via Bitlanders
Let's talk about love. This time we have a Chinese Drama review from Nicole Ann. Let's see what she has in prepared for us. Enjoy reading!
"You were my childhood. I was your youth."
A quote from the Chinese Drama "A Love So Beautiful"
Spoiler Alert:
This drama will give you all the ultimate "KILIG" feels of falling in love in your youth or back in the simpler days when you used to chase down your crush!
According to the Oxford English Dictionary, "kilig", a Filipino term, means, "Of a person: exhilarated by an exciting or romantic experience; thrilled, elated, gratified," or "Causing or expressing a rush of excitement or exhilaration; thrilling, enthralling, captivating."
True major throwback nostalgia because the drama was set way back from the year 2005! You can tell by the evolution of the types of mobile phones used and the way they styled the outfits.
If you're someone who has been keeping up with the latest drama trends, then you've probably heard of or even watched the Chinese drama called "A Love So Beautiful". It's all over the social media and is even being aired on ABS-CBN, a national TV network.
It's such a feel-good drama with a simple and adorable storyline.
Image Credits: MyDramaList
"A Love So Beautiful" does not only focus on the love between the main protagonists but revolves around the friendship of the main characters as well. I'm sure all of you who have watched this drama will agree that it is endearing and pretty easy to fall in love with! I mean who wouldn't fall for Jiang Chen's perplex personality and Wu Busong's eminent effort in the name of love for Xiaoxi?
The Loveline
Image Credits: tin8.co
You may think that this is your typical girl chases boy throughout high school and makes it all about him but no. What I love about Xiaoxi (played by actress Shen Yue) is that she doesn't let her feelings for Jiang Chen define her. She also has passions and interests and really sets her mind to something that she wants to achieve.
Image Credits: MyDramaList
I also love that when she messes things up; she owns up to it and apologizes. Jiang Chen (played by actor Hu Yi Tian) here is your typical emotionally distant and reserved popular guy that everybody looks up to, however, the fact that the demeanor has a reason behind it made me love the drama more.
This attitude of Jiang Chen's sure does not falter Xiaoxi's feelings for him even after being rejected.
"I like you"
"I don't like you"
Xiaoxi here is a go-getter and finds ways to make Jiang Chen fall for her. Little does she know that Jiang Chen is already in there deep!
Image Credits: Chi Nguyen Khan via Pinterest
The Love Triangle
Image Credits: ABS-CBN
May I just warn you that the "second lead syndrome" is pretty strong in this one.
What is this so-called "Second Lead Syndrome?"
The Second Lead Syndrome happens when the drama watcher prefers the female lead to end up with the second male lead rather than the main male lead.
I'm sure a lot of us are rooting for Wu Busong I mean, who wouldn't? He kept stealing our hearts. It was very obvious he was head over heels for her, from his willingness to protect her at all costs and doing his best to make her happy even if it means giving her up and letting her go.
(He even calls her his "boss" which I find so adorable!)
Image Credits: The FanGirlVerdict.com
But of course, Xiaoxi was always blinded by her love for Jiang Chen, her neighbor ever since she was little. Jiang Chen comes off as an intelligent and good looking standoffish jerk and can be a real pain in the head when he gets jealous. Watch out for that!
Even after being rejected a couple of times, Xiaoxi just couldn't let Jiang Chen go. After all, he was her "supermarket" while Wu Busong was her "cafeteria".
The Friendships
Image Credits: ssaicho via Pinterest
The main bunch didn't really start out as friends in the beginning but gradually began to do so over the course of the drama. I found it gratifying having able to witness how genuine their 5-way friendship had become through the years, even creating a spark between Liu Yang and Jing Xiao who got happily married in the future!
The Culture
Image Credits: Wooji Naega HOSH via Pinterest
The drama didn't go all out on showcasing their culture but there are some little throwaway details that were incorporated in some scenes that gave us a sneak peak of the Chinese culture.
We casually see scenes wherein the students fill up their thermos bottles with hot steaming water at the water station. Which some of us may find strange since we're used to filling ours with cold or tepid water.
We also see scenes where they carefully choose a date for an event or in Xiaoxi's parents' case, the perfect day to open their shop, which is extremely important for good luck; and gulping down a piece of paper will increase your chances of getting into a university!
This was very interesting for me since I recently just got into the world of Chinese dramas!
Image Credits: TheFanGirlVerdict.com
The Official Soundtrack
Here is the theme song of the drama, A Love so Beautiful. (With English subtitle)
Video Credits: COEEIN via YouTube
I like your dimples.

Your mouth.

Your smile.

I love you the whole world knew it -some lyrics from Do You Know How I Love You

我多喜欢你,你会知道
from the OST of A Love So Beautiful
Sounds like first love, right?
"Do You Know How I Love You" is the opening theme song of the drama and it's so good! The lyrics are so adorable and--spoiler alert! Jiang Chen plays this on the piano as a way of apologizing to Xiaoxi who also sang this song on the bonus episode!
There are so many more beautiful songs from the OST that I recommend you to listen to! One was even sung by Hu Yi Tian (Jiang Chen) himself! Go check it out!
To sum it all up, "A Love So Beautiful" will forever live up to its title. It truly is a beautiful drama that will drive you into a rollercoaster of emotions and will set your standards for a love life taller than Hu Yi Tian/Jiang Chen's
DISCLAIMER: The views and opinions expressed in this blog post are that of the author and does not in any way represent the agency or department she currently belongs.
ADDITIONAL NOTE: The sites mentioned in this post are for information purposes only and links are provided for easy access. The author does not receive any remuneration from the said companies or sites.
______________________________________________________________________________
Written for Bitlanders
by Sharon Lopez
Date: June 07, 2018
Visit my blog profile for more BLOG POSTS
Let's connect on Facebook
The author is the owner of: