Francesco Rulli and I are working on a project with the Women's Annex Foundation which is helping to create superheroes for the young girls in Afghanistan. These girls need hope, better schooling and basically a superhero. The drawing attached is created by one of those female students. I wrote my story based on that picture and an additional drawing which will be posted on part two. Enjoy part one.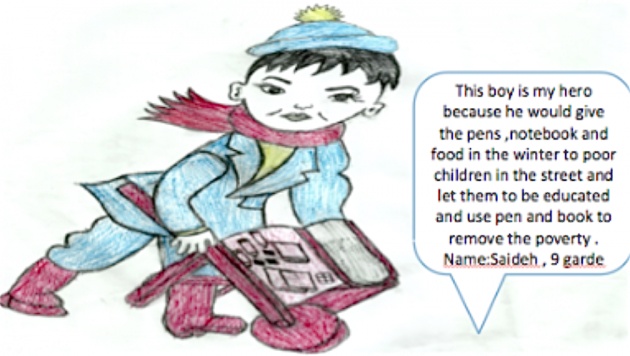 Afghanistan present day
The country like many others in the Middle East is caught up in wars, poverty and third world problems.
Becoming an educated woman in Afghanistan is a huge achievement. One nine year old girl dreams of this and much more. Every night before she goes to bed she lights a candle that her grandmother has given her. In the far distance bombs can be heard going off. To her a wasted life is scarier than the thought of death. She dreams that someday she will have better opportunities to learn and become successful. For this young girl becoming a leader is almost as important as becoming a doctor. If she's victorious, she can lead by example. She also dreams of safety for young girls and a cultural change which allows women to attain a career other than a housewife. She makes a wish and blows out the candle as she has done for the past two years of her young life. Next to her candle are drawings and thoughts she journals from time to time. Year's back she was lucky enough to receive a pencil and pad as a gift from her grandma. She goes into her small bed in a small room shared with her younger sister. This girl closes her eyes.
Enter dream.
Black becomes white, white becomes a clear blue day. This young girl opens her eyes and notices that she is now awake in her bed like every other morning. She begins to get out of bed and prepares for a day of chores. She looks out her window, but on this particular day it is very cool with a slight breeze. She only wishes she could go for a long walk or experience the outdoors without fearing for her life, and sighs. She walks into the kitchen and this is when her day begins to feel exceptionally weird. She rubs her eyes but everything remains the same. Her father is cooking breakfast and her mother fully dressed, is leaving the house. She runs after her mother who is already outside. "Where are you going mama?" Her mother replies, "What are you talking about? You're going to be late for school". Her mother checks her watch. "I am running late for work at the hospital". "School?" our character says.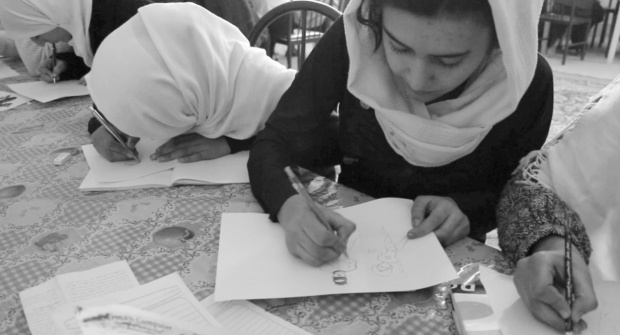 She runs into her bedroom and looks for her sister. She notices her sister is dressed. Her younger sister causally and confidently gathers her schoolbooks, then looks up and states "What? Why are you staring at me?" Unable to speak our character sits down until her younger sister comes up to her and asks, "What's wrong?" Our character states, "Ever feel like you are dreaming?" Her sister replies' "Yeah when I am asleep, now get dressed" Our character looks at her younger more confident sister with a feeling of great confusion.
End part one. I hope you enjoyed it. Here is part two.
http://www.womensannexfoundation.org/superhero/