Certainly, most don't want to be one of the first to arrive at an event–that's just not considered cool. But when Brian Bowen Smith is having a book signing at a great and cramming venue such as NYC's BOOKMARC Store in the West Village, the earlier you get there the better, although getting cozy with the crowd is unavoidable.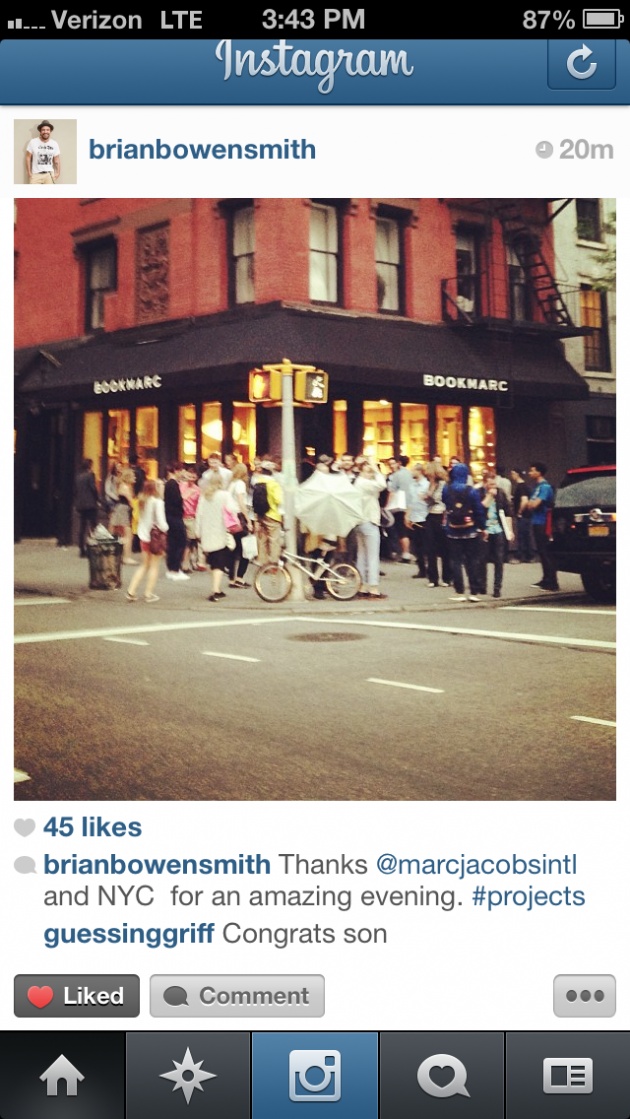 The thrill instills itself amongst the high ceiling shelves that are covered in a array of literature and imagery, keeping the eyes well occupied while waiting, huddled with fans and press that just want to try and take one step closer to Brian and the permanence of his silver sharpie whose purpose is well adored. Even though the weather didn't add natural light to the spectacle, every flashing bulb illuminated the room with inspiration and liveliness–the party had begun.
The stacks of Projects books are elegantly paralleled with the front cover image of Cindy Crawford and the back cover depicting a textured bust, arranged in such a structural form leading to the artist himself. Engulfed by his work, the piles of books stem out from the table like growing towers of printed matter, soon becoming as desired as the latest fashion accessory to be seen carrying under one's arm. Within the photographic edits, a particular image remained pronounced in my mind, arising curiosity that left me with questions; the photograph of Liv Tyler taking the role of the photographer and turning Brian into his own subject.
Having further inquired about how this scenario actually played out, Brian informed me that the image was a part of a series revolving around the world through his eyes, " I had people take pictures of me with my glasses covering the lens," and Liv Tyler's fun personality allowed for a spontaneous moment that took a creative turn by "using the mirror behind me instead of eyewear." I couldn't' help but remember that no one said it better than Michael Jackson, "I am starting with the man in the mirror."
The way in which we perceive our surroundings is both unique and familiar, which best exemplifies the experience of exchanged dialogue with Brian, there is a friendliness that puts one at ease. When asked about his photographic processes and influences, Brian shared his love of art making, "I love to experiment, after all that is what art is all about." A true craftsman, his vision has spread a raw and grid-like aesthetic that marries beautifully with the abstracted studies of figures and intimate regards that the viewer is left with, visually absorbed by a storytelling faces.