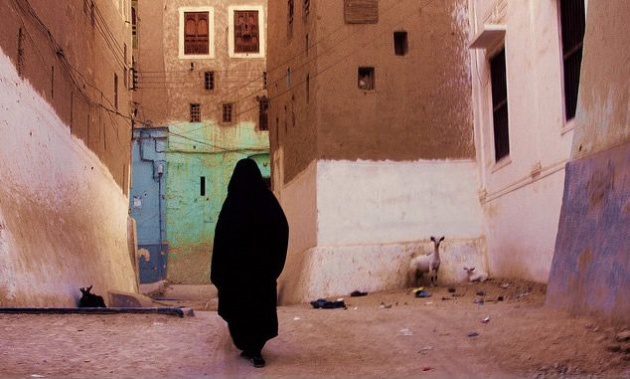 I was sixteen years old, attending school and thinking about my future goals to be either a doctor or a journalist. I knew nothing of life, and I had no thought of marrying. One day my uncle, who is a doctor, came to our house and said, "You should not study, because you are a girl. You should get married." I thought it was a joke because my uncle is a doctor and knew the value of education. I come from an educated family; almost all my relatives were educated. I was polite and said nothing. I got him tea, and then went to do my homework.
The next day, several relatives arrived at our house. I was not aware at first of what was going on, but then I understand they were at my home to buy me. I was such a pretty toy, a pretty toy to play with. The family that was proposing the marriage was discussing my cost with my father. At that time, I did not know I had any right to say I was not for sale.
Finally, they sold me for 6,000 US dollars. This is when my life problems started. My fiancé was uneducated and he forbade me to go to school. After one year, when I was seventeen, my husband divorced me, but I was already pregnant.
My baby arrived prematurely. The night he was born, I nearly died. It was a very bad night. All the doctors were working to save me and my child. My body was in a lot of pain, and I had no information about becoming a mother. When the midwife handed me my newborn, I remember she said, "You are still a child. Why do you want to give birth to another child?"
After the birth, my ex-husband took my son and left me with nothing. Here again, I did not have information. What should I do? I didn't know. There was nobody to tell me, "It's your right to take care of your own child." Again, my family played with me.
After one year, I began to work and started my new life. I understood the things that were done to me were completely wrong. But I didn't fully feel my anger. I worked in my province for four years. Then I decided to continue my education, and I asked my office to transfer me to another province, because in my province it was not possible for me to study.
I moved and began school. And one day, our teacher was giving a lecture about psychology. He was talking about marriage and he said that in Afghanistan, some parents do not think about the health of their daughters; they try to get them started on married life early, so girls who are sixteen years old get pregnant, and in this way they become ill or even lose their lives, and the life of the children is also difficult, often filled with illness, when they are born to a mother so young.
In my class, nobody knows about my past. I have told them nothing because it is Afghanistan and if they knew what happened, they would not respect me. If they knew, I would have to suffer as I did in my home province, where they called me "the divorced woman." But during this lesson, I went back into my past and thought about what had happened to me when I was a child and knew nothing.
When I think about it now, I get too angry. At one point, I felt hatred toward my family because they had treated my life like a pretty toy. I was without information, but the elders had to know I was not ready to get married. They played with me and my life, and I had to respect their decisions even when those decisions were against my own future.
I wanted to fight their choices for me, but I was without knowledge, and so the problems from my past life remain with me until today. But now, I have a dream to start a program for women to let them know about these problems. I want to save other women. I hope those who read this story would help me continue on this job to teach young girls in the far-away districts of Afghanistan about their rights. I want all women to come with me and support me in this goal.
By Anonymous
photo by Nomadic f-stops