I am not a golf fan nor a sporty person so I've never been to any place where golf is played so getting into a golf course for the first time is one thing I wouldn't miss! Imagine also getting the chance to be inside a place where celebrities and big shots play, why I'd be glad to be there in a jiffy!
The Day I Got into a Golf Course
Last Saturday, January 21, we were assigned to man The Residences at The Westin Manila Sonata Place booth at the Philippine Army Golf Course (PAGC) in Taguig City. It was a 2 day activity but I only got to participate on that one day. This was something my manager did for us to be able to offer the property to golfers who might be interested. Too bad I didn't feel much at ease at the place but it's okay, at least I experienced being inside a golf course.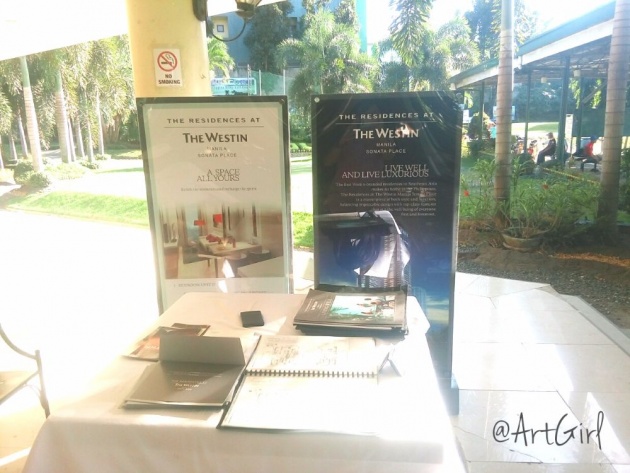 The Westin Booth (Photo Credit: ArtGirl/Art x Stephanie Rue)
Actually, I don't know anything about golf, aside from the fact that you swing a club and hit the ball that should go in a hole across grassy fields and other terrain or something. Why I'd rather play pool I think. Haha~
So anyway I took the public transportation to get there. It was my first time to travel to the site so I asked my colleagues and other people on how to get to PAGC. I don't think any jeepney directly passes by Bayani Road so I walked a bit from the jeepney drop off point to get inside the place.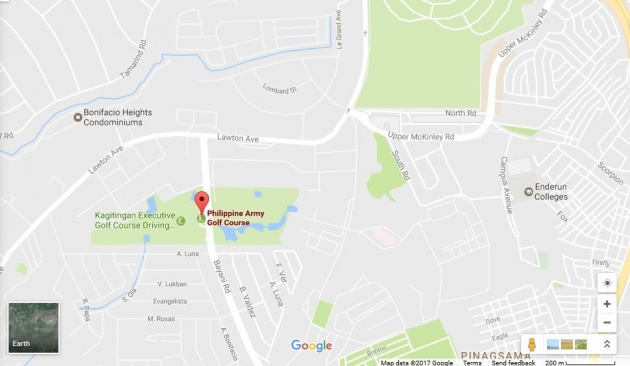 (Photo credit: My Screenshot via Google Maps)
In front of the PAGC, it won't strike you as anything awesome or posh or what not. It looks quite ordinary - nothing fancy at all. I mean, I didn't even take a picture of the entrance when I got there considering it's my first time to see the place!
Even if you look at Google Maps this is what you'll see at the site entrance: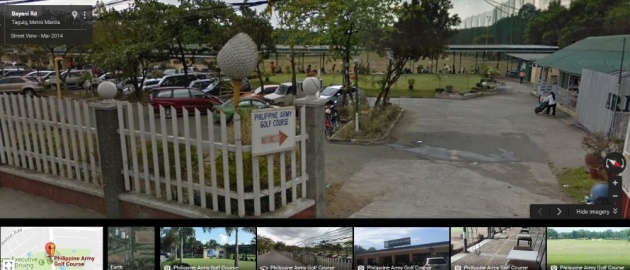 (Photo credit: My Screenshot via Google Maps)
When you get inside and see all the greenery though, if you love nature, then the entrance wouldn't matter to you at all. Haha~
Some Info on PAGC
A bit of online research told me PAGC was formerly known as Kagitingan Executive Golf Course (Kagitingan = Valour or Bravery), but if you do a few more searches you'll find Kagitingan Army Golf Course and Army Golf Course. It's all one and the same however you'd like to call it.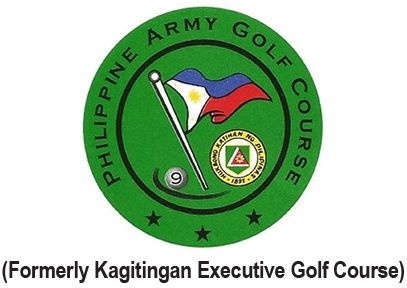 Tried to find an official website but there doesn't seem to be one. Even the Philippine Army website doesn't have any information on it. Seems like they used to have a page about it, as I found a link, but it doesn't exist anymore. Too bad. You can check Golf Guide Philippines' website for a bit more info on PAGC instead.
By the way, the golf course is open to the public so anyone can come and go. It opens as early as 6am, and also has a driving range open until 9pm.
Two Golf Terms for the Fellow Uninitiated
So do you think the driving range I mentioned is where the golf carts are run or driven? Well fellow newbies, sorry to say it's not what you think. There's an entire Wikipedia article on it would you believe?!

Golf term #1: Driving Range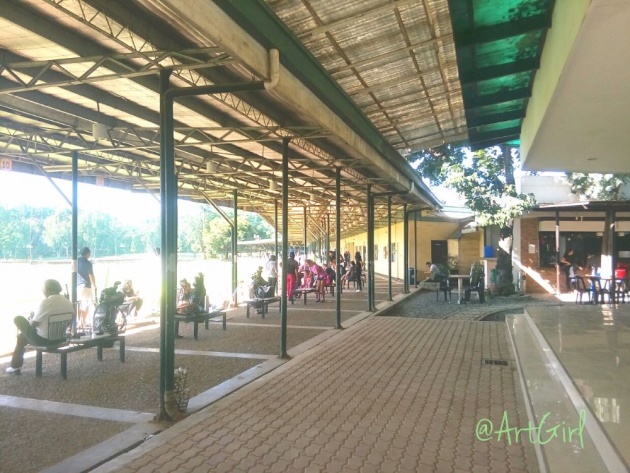 The driving range in PAGC (Photo Credit: ArtGirl/Art x Stephanie Rue)
A driving range is the golf term used for where people practice to swing their clubs and hit the golf balls and targets. Pictured above is part of the driving range but it looks just like a covered walkway, right?
Honestly, this area is the only place I've been to inside PAGC. It's where our booth was located but I did get to walk around a bit. I didn't think of walking around too much because I might get hit by a ball even with all the high nets around.
To maybe appreciate the area more, watch my very short video of the driving range. :)
The place didn't seem to get empty of people at all from afternoon 'til evening. Saw lots of different men, women and teens play for a few hrs and some of them got sweaty. It wasn't a hot day at all, in fact it was windy and refreshing. After watching them swing away, I now believe golf swinging can also be a good exercise. Haha~
Golf term #2: Golf Stroke
And because all I've seen on that day were people swinging their clubs and hitting golf balls, from after lunch til evening, I think I should share more info about this activity.
According to the Chuck Evans golf website:
The golf stroke has mainly two "ingredients" – the Geometry of the Circle and the Physics of Rotation and only two basic strokes – Hitting and Swinging. The geometry is the same for both, if you have no compensations, for all clubs and stroke patterns.
Okay, the last part above still sounds a bit confusing to someone like me who's clueless about playing golf so let's watch this video instead to help us learn more.
After watching this though, I can say a lot of the people there are probably just wasting money. All their strokes are just for throwing the ball in the air! I mean, it goes way up and/or to the sides, mostly not in an almost straight line like what's shown in the video. Even with a target they all seemed to be doing it wrong!
Someone ought to teach them how to swing better! Lol. Or maybe I should learn more about the sport to be able to say more on this subject? Whatever the case they all seem like new golfers to me now.
But hey what do you expect, I was at the driving range. Haha.
Other things inside the PAGC
To the left or at the end of the driving range lies this area (pic below). I am not sure if this is where the golf course starts as it has a welcome banner up. A tournament was held early that morning so maybe it is the starting point of the game? I didn't ask if it is so let's just enjoy looking at the green landscape eh?
(Photo Credit: ArtGirl/Art x Stephanie Rue)
I saw some people playing in this area too but I don't really know what to look for so for me this is just a picture of grass and other plants. For golfers, perhaps they know what the white and blue markers are for eh?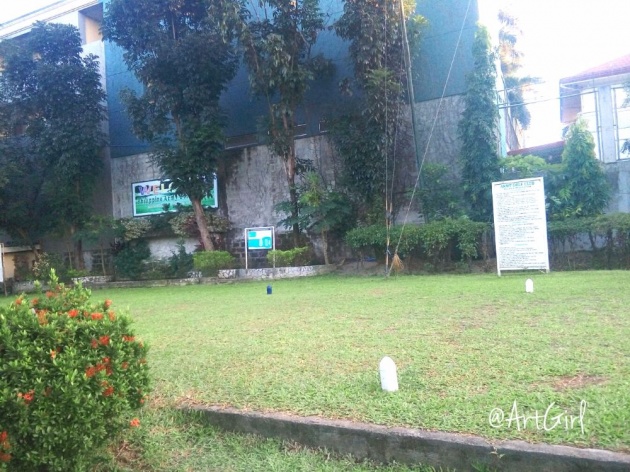 (Photo Credit: ArtGirl/Art x Stephanie Rue)
Below is a photo of the driving range from afar. You won't notice the people playing at the right side of the image though because everything is just so green and refreshing!
Look at all those white dots too! PAGC has some ball pickers in the field by the way but I wasn't able to take a picture or video while they were doing it. It was quite fun to watch them as they have big back protectors to keep them from getting hit accidentally by all the players while they picked up every white golf ball in sight.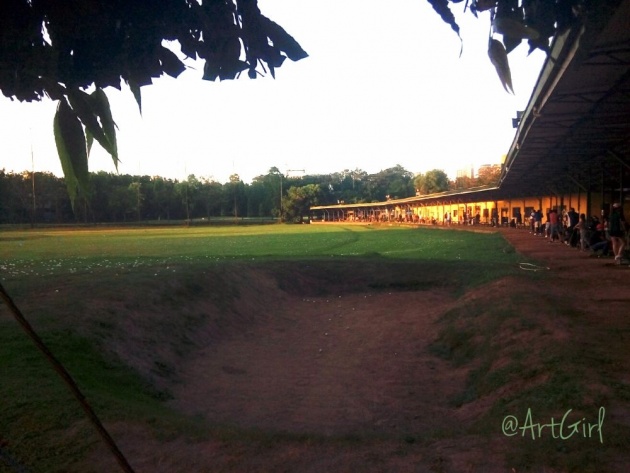 The driving range in PAGC (Photo Credit: ArtGirl/Art x Stephanie Rue)
Now since it was getting dark I just wanted to take a picture of the rest of the area (with the banner). It's a long stretch of greenery but since it's already kinda dark let's just enjoy the sunset look of the place.
High nets are set up for the flying golf balls too! Lol. You can see the nets as shown on the left of the photo and also unseen beyond the tree line at the right of the photo where the driving range is.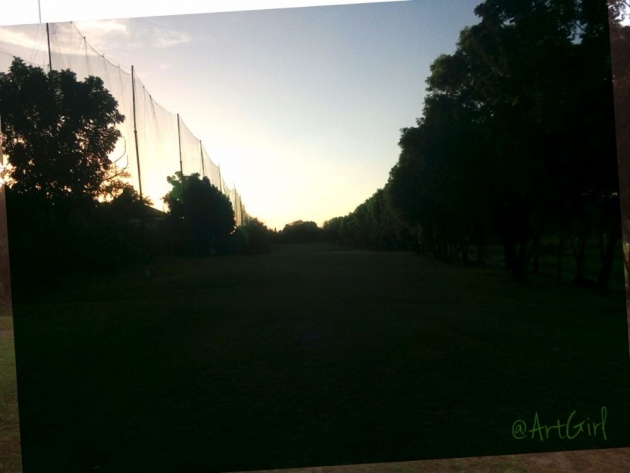 (Photo Credit: ArtGirl/Art x Stephanie Rue)
All in all I think it was just an okay day. Wasn't much fun since I was on my own the first few hours but it's all good. It's still something to talk about.
After all has been said and done, I still don't want to play golf. Maybe if someone would accompany and encourage me to try it, I will try it but to really play it? No thank you. My hand-eye coordination does need practice but maybe I'll just do dancing instead.
How about you?