Image Credits:: Gahfea Cafe and Bistro via Facebook
Video Credits:: Sharon Lopez via Bitlanders
I need to drop by at the Regional Office to submit some documents before I went to our office this morning. I have to wait for the person handling the transaction before I could finally set out for an hour or so of travel. When I reached the terminal, I still have to wait until the public passenger van could be filled with enough number of people. That's the only time the van finally takes off. During this time, there are fewer passengers because most of them traveled between 6:00 to 7:00 am.
After more than an hour of travel, I finally reached my destination. I was at the main city and still needs to ride a tricycle going to the office. Since it's almost noon, I decided to take my early lunch so that I don't have to bother anymore when I reached the office.
To give you an idea of my home place and my place of work, I and my family stay in Legazpi City and I work in another place, Sorsogon City which is more than an hour of travel from our home. All in all, I need to travel every day for more than 3 hours including waiting time.
Going back to our topic, I went to Gaisano Mall to find a good place to eat. I decided beforehand that I will roam around the mall first to see where I could have lunch. But before I was able to go around the place, I have seen this cafe which is located just a few steps from the entrance of the mall.
Actually, it was the food server who caught my attention because of his friendly way of encouraging people to enter the place. Well, probably that was how they were trained to convince would-be customers to come inside the cafe.
If you are new in the place, the cafe isn't that difficult to find because it is located inside the Gaisano Capital Complex in Sorsogon City.
My Impression of the Place
The first thing that I noticed upon entering the cafe was the Philippine-made native furniture which serves as a sitting area near the entrance. A perfect hang-out for a small group and an ideal place for small talk. The place is so relaxing and comfortable. The air-conditioned place surrounded by glass walls place makes it noise-free environment despite that it is located in a well-crowded area. What I love most is the adorable native hanging chair with fantastic design. It is so awesome!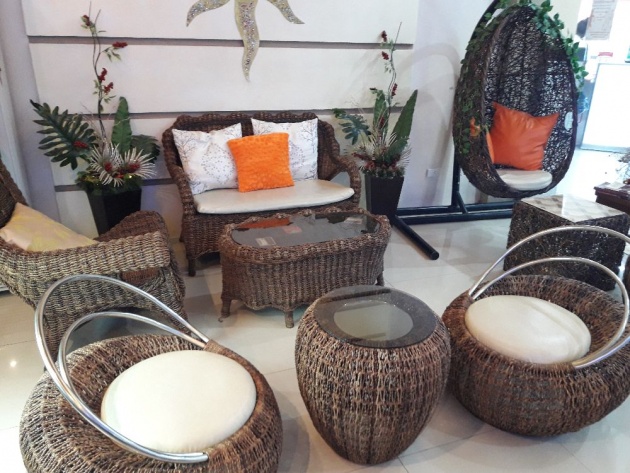 Image Credits:: Sharon Lopez via Bitlanders
Gahfea is a calm and tranquil place where groups of friends could enjoy each other's company while savoring the native delicacies and other flavorful meals. Likewise, couples and partners could also have sweet moments together because of the not-so-crowded atmosphere. You could also enjoy your moment alone especially if you would want to browse the internet using their free WIFI.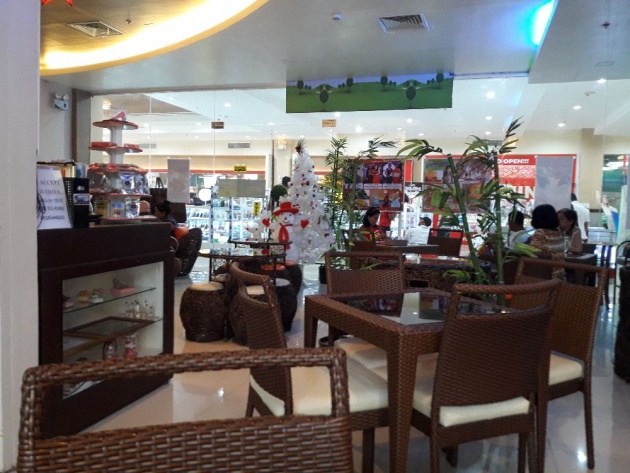 Image Credits:: Sharon Lopez via Bitlanders
Most of the pieces of furniture and fixtures in the cafe are made of native materials. Just like this table which is good for a group of 6 to 8 persons.
Image Credits:: Sharon Lopez via Bitlanders
I was also quite amazed by this ceiling lamp which compliments with the theme of the place. It gives a slightly warm yet not-so-bright light which added to the comfort inside the cafe.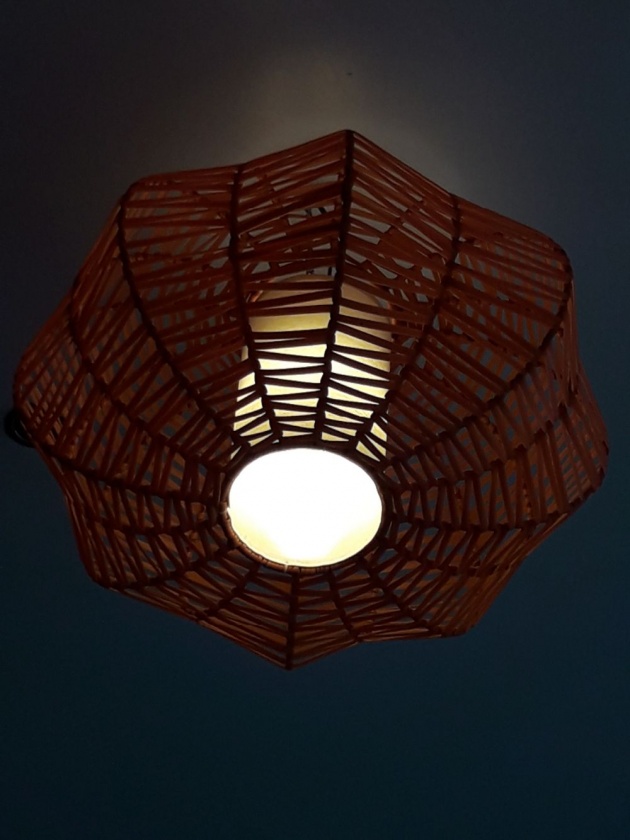 Image Credits:: Sharon Lopez via Bitlanders
The Service
The staff and the service crews are very accommodating and they would make the customers entering the place welcome and would immediately attend to their needs. Likewise, questions are automatically answered. The service crew who successfully convinced me to enter the place despite some hesitation on my part since I had a prior plan, had assisted me until I was able to make my order giving some suggestions as to what would be the best food and drinks. He only left when he was assured that I am already okay.
The Food
The cafe is offering Filipino cuisine and native dishes. They are also offering Italian dishes like pizza and nachos. Cakes and other desserts are also available.
I ordered Chicken Wiser meal which includes curry fried rice, fried chicken fillet, corn soup, and salad. I also ordered cucumber juice which is one of my favorites. The waiting time of fifteen minutes is worth the wait.
Here is what they served for my lunch:
Video Credits:: Sharon Lopez via Bitlanders
The cucumber juice

Image Credits:: Sharon Lopez via Bitlanders
The Price
The cafe is offering a very reasonable price. They are also offering bundle meals for big orders. Free items are also available. I paid the amount of Php for a complete meal.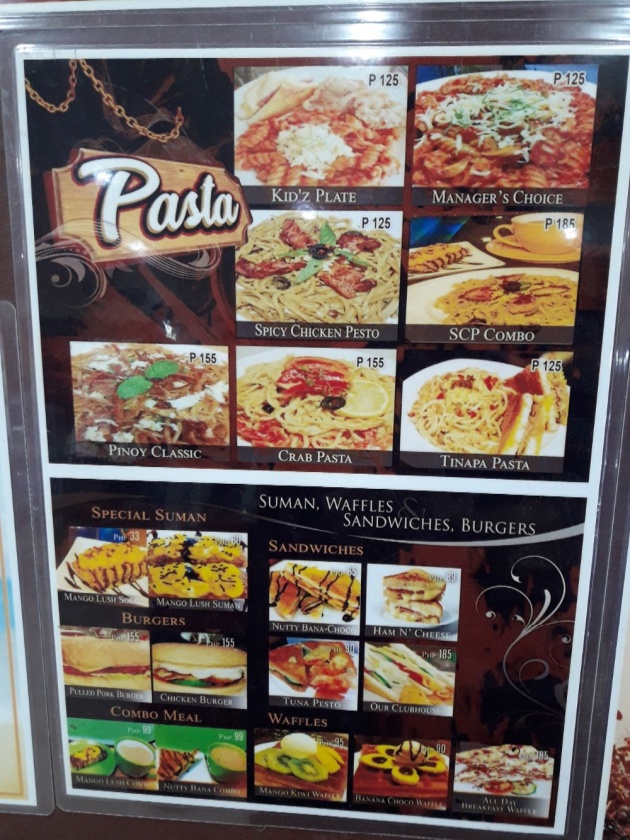 Image Credits:: Sharon Lopez via Bitlanders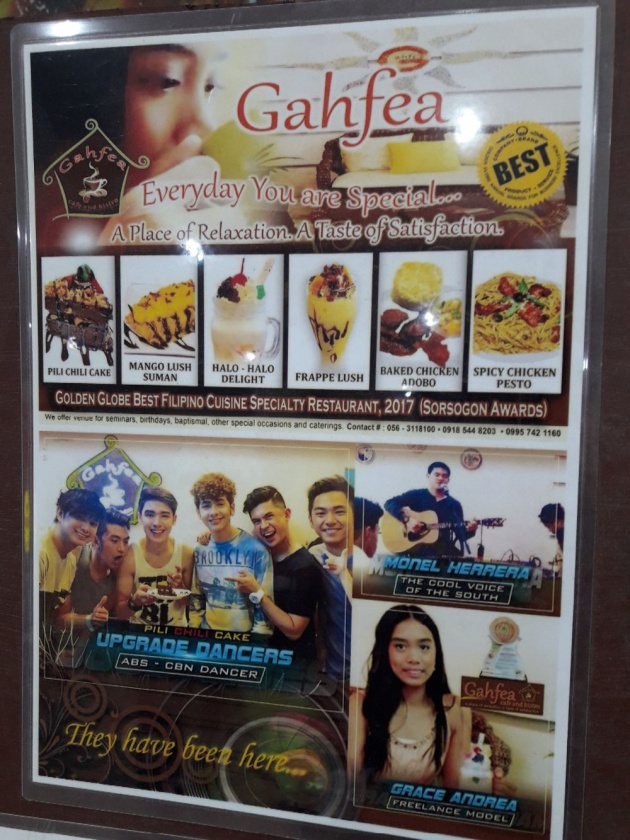 Image Credits:: Sharon Lopez via Bitlanders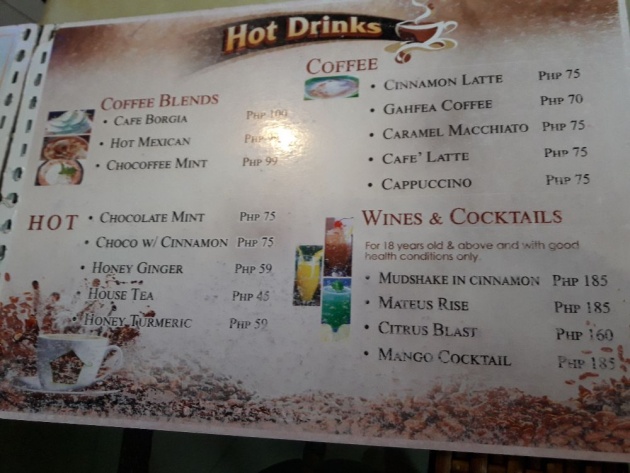 Image Credits:: Sharon Lopez via Bitlanders
Store Hours
The store is open from 8:00 AM to 8:00 PM
Overall Experience
I highly recommend Gahfea Cafe and Bistro to local as well as foreign tourists visiting Sorsogon. The quality of service and the foods they served are worth your every peso.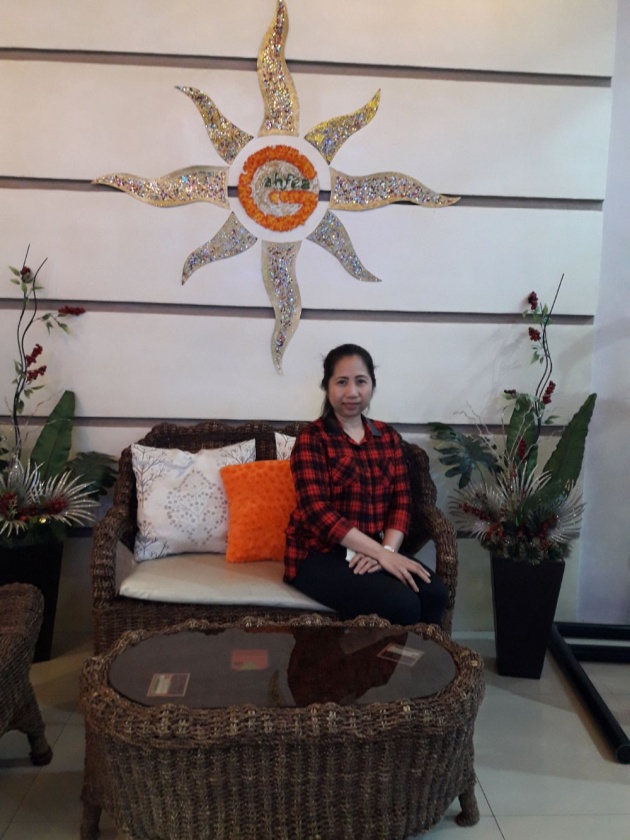 Image Credits:: Sharon Lopez via Bitlanders
Written for Bitlanders:
by: Sharon Lopez
Thank you for reading.
Please visit my blogs for more articles.
You might also like:
Bitlanders: My First Month Journey
One Sweet Day at Lazy Baker Cupcakerie
Women's Rights: Things to Ponder
Sharon Lopez is a graduate of Bachelor of Science in Commerce Major in Banking and Finance and currently working in the government handling programs on Business Friendly and Competitive LGUs.
You may visit me on Facebook.
-oOo-
Disclaimer: The views and opinions expressed in this blog post are that of the author and does not in any way represent the agency or department she currently belongs.
Additional Note: The opinions presented in this review may be subjective but does not in any way influenced by compensation in any form. The author does not receive remuneration for this review and the opinions are based mainly on her experience.