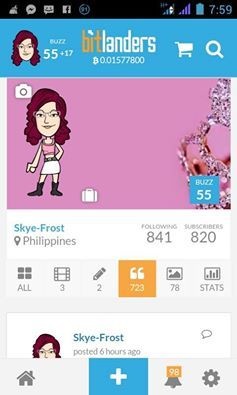 A review for Bitlanders Application
★★★
First two weeks of being a member in Bitlanders, I'm using my desktop to post my latest status, pictures, blogs and videos.
For just a day I was addicted and enjoying this site whenever I see my Bscore and revenues higher each day. So I've been online the whole day posting anything just like what im doing in Facebook before. So as much as possible I am up 20 hrs a day.
But when I had a problem with my internet (always disconnected/ on & off connection), I cant access on the site and I can't post anything.. I'm afraid if I can't log in daily my Bscore will drop down.Then I tried on my Cellphone I was thankful I found the Bitlanders Application in Google play so I download it immediately I thought it's a great remedy.
Problems:
1.First It's hard to log in sometimes it keeps on loading or Bluescreen only for minutes.
2.I Tried posting in microblogs plain text, it worked And when I tried to post in it with image, you need to capture a thing if you want to post with image.. you can't post using your images in your phone.
3.Another problem is you can't post your videos, blogs and gallery. If you click the "+" button at the bottom, it will go directly to post in microblogs. The options doesn't appear.
And the rest were all working already. I hope they can do something with this so that we can use the app easily anytime, anywhere. =)
✌✌✌