A few months ago, I was with my friend in his village. The village was situated on the bank of the river Indus . There were two protective bunds 20 fetes high allaround the village. The bunds were very strong and saved the village many times from floods.
In the month of July the rain started. River Indus was flowing at normal level. There were trees and bushes near the bank of river. There was a picnic point where people came in evening for enjoyment.
The next day raining was continue and the water of the river was rising than the normal. In a few hours the water level was near the band of the village. In our village mosque it was announced that river is in flood. I was much tense but my friend told me not to worry because the bunds were strong and enough to protect the village. The rain was very heavy and was not stopping. The water level of the river was above the bank of river. The villagers gathered in a ground and decided that womens and children should go to the near by village which was situated on a small hill. The men were asked to get shovels, axes and baskets to report a 2nd bund. All the men started the work to make the bund more strong to protect the village. Water was coming out of the bund but in a small quantity.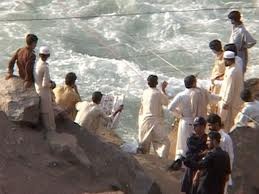 We all spend the whole night there to face that challenge. The rain was stopped t the mid night. The next day the level of water was reducing in river. We thanked to our Allah and came back to our village. Now the villagers were happy and out of danger because the river was flowing normally.