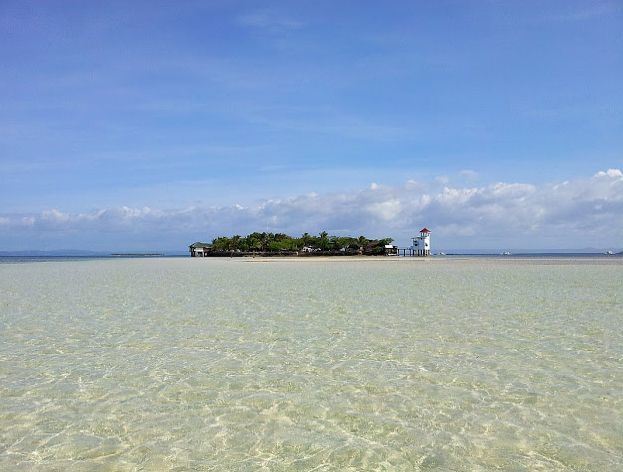 Looking for a perfect marine adventure that is a soul breather? Then experience life and nature in Nalusuan Island in Olango Reef – Cordova Mactan Cebu.
A man-made island situated between Bohol Province and Mactan Island is where Nalusuan Island is nestled. It was originally a sand bar and was reclaimed and developed into a resort that owned and operated by Nalusuan Island Resort and Marine Sanctuary but still under the jurisdiction of Cordova Cebu. The island measured close to a hectare and comprises the Olango Island Group: Sulpa, Gilutongan, Nalusuan, Caohagan, Pangan-an and Camungi.
It was on May 18, 2009 when an American swimmer Paul Vanhoven raised awareness regarding the coral reef damage caused by dynamite fishing in the island swam unassisted from Mactan Island to Nalusuan Island. From then on, the management of Nalusuan Marine Sanctuary provides protection of the local waters from dynamite blasts and over fishing. It was a common site again for fish production at the sanctuary.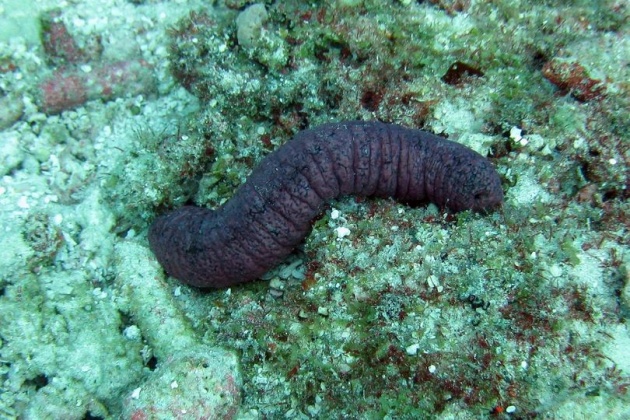 The word "Nalusuan" derived from the word "kalusuan" in Cebuano which means "a place of penises". The fishermen tagged it because the water is brimming with sea cucumbers similar to a male genitalia.
The sea cucumbers are named after their resemblance to the fruit of the cucumber plant.
HOW TO GET THERE
FROM THE CITY VIA FERRY BOAT
o Take a jeepney ride from the city going to Pier 3 and board on a Ferry boat that will transfer you to Lapu-lapu City.
o Embark on a Cordova route jeepney and inform the driver ahead to drop you off at Tonggo wharf.
o Board on a pump boat that will take you to Nalusuan Island. It's best if you travel in a group to share the boat rate. Boat rates will depend on the number of people traveling to the island.
Two Way Pump Boat Rate

6-8 pax P2,000-P2,500

20-25 pax P3,500-P3,800

30-40 pax P4,000-P4,500

40-50 pax P6,000-P6,500

For Speed Boat

6-8 pax P4,500-P5,000
FROM THE CITY VIA SM CEBU NORTH V-HIRE
o Ride a taxi or a jeepney going to SM North and alight at the van terminal.
o Board on the van routing to Cordova and drop off at Tonggo wharf.
o As stated above, hop-on to a pump boat that will transfer you to Nalusuan Island Resort.
FROM CEBU MACTAN INTERNATIONAL AIRPORT
o If you booked at Nalusuan Island Resort you can avail the service van offered by the resort to transport you from the airport to the wharf.
o From then on you will be transferred to a big boat and will bring you to your destination.
o If you're just on a day trip no bookings made at the resort then look for a multicab or a taxi at the airport and inform the driver to take you to Tonggo wharf.
o Take a boat ride going to Nalusuan Island.
For the day trip, I suggest to travel early to arrive at the island with lesser crowd.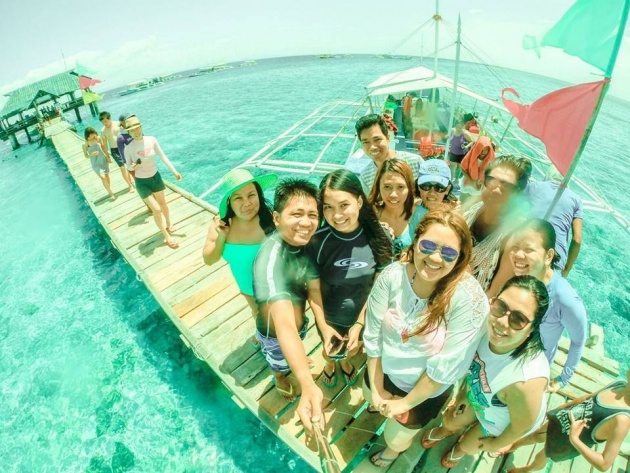 There is no port for the pump boats to dock. Boatmen docked their boats near this long boardwalk just enough to affix their short ladder in transferring the guests to the boardwalk. At the far end to our right is a cottage for the guests to hang out.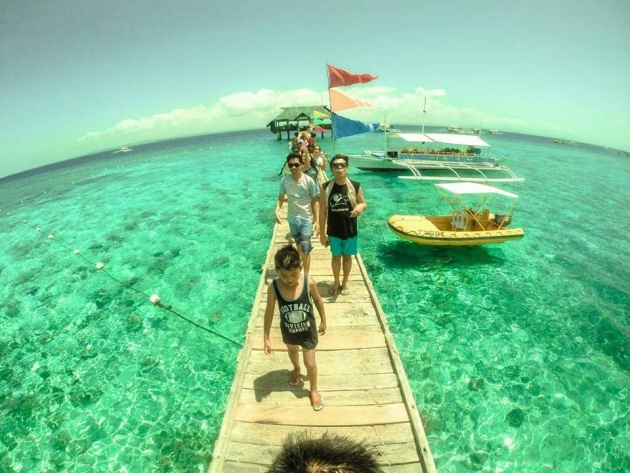 When on the boardwalk, walk straight to your right to go directly to the resort until you reach your final destination.

A wide lagoon welcomes you as you make an entrance to the resort. You can choose any of the green roof houses to stay for a night or longer that you may wish.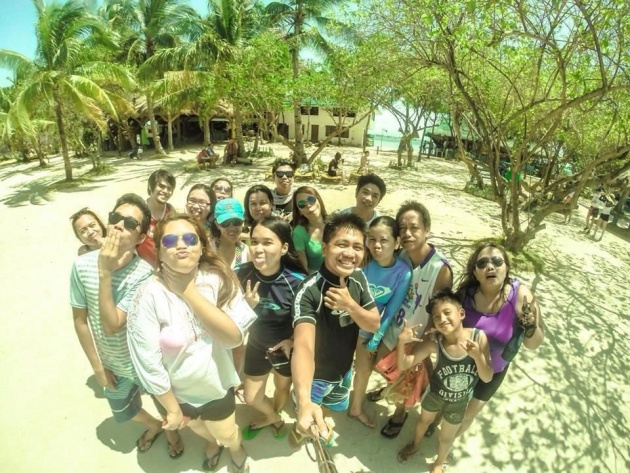 A wide space is available that will cater for any group functions and activities.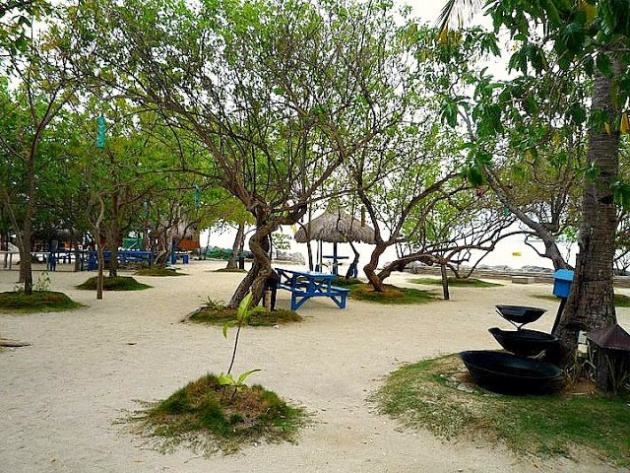 Cottages and table with benches are also available in the area, you just have to pay the P200.00 ($4) entrance fee to make use of the the resort's facility. Ideal for day users who wants to take their lunch while in the island.
ROOMS
• Stilt Rooms: ₱3,500 per night; good for 2 (Extra person: ₱1,000/night w/ breakfast)
• Deluxe Rooms: ₱4,500 per night; good for 2 (Extra person: ₱750/night w/ breakfast)
• Family Room: ₱6,500 per night; good for 6 (Extra person: ₱750/night w/ breakfast)

* Rates are inclusive of breakfast. Electricity (genset) starts 6pm-8am.

Source: Sugbo.ph
AQUA SPORTS IN THE ISLAND
1. SNORKELING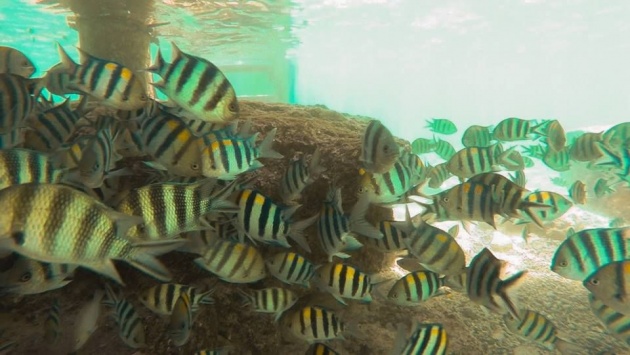 With complete snorkeling set & life jacket for ₱300 ($6) you can now have a glimpse in the underwater world. You can actually see the fishes even without the snorkeling gadgets because of its clear water. To make your trip worthwhile I would suggest to rent the gadgets so you won't have regrets in the end.
2. DIVING
Seize the day by diving at the island's marine sanctuary and explore the seabed with soft and hard corals, groupers, natural reef fishes, angel fishes, snappers, tiger fishes and the likes that are shoaling around the corals. This type of diving is for all levels of divers with P3,600 per person diving fee you can really enjoy the underwater world.
3. FISH FEEDING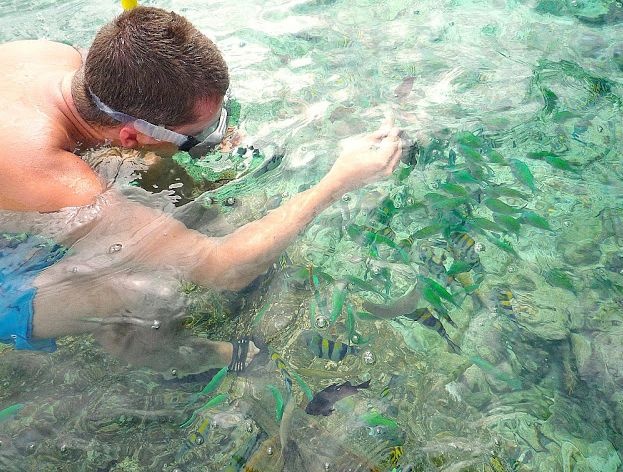 No worries if you don't have the swimming skills. There is still a way that you can enjoy your trip in the island. One activity that you can enjoy is fish feeding. When the tide is low you can just sit by extend your arms underwater and start feeding the fishes. The water is as clear as the crystal that there is no need for you to use any swimming devices.
5. SWIMMING AND PLAYING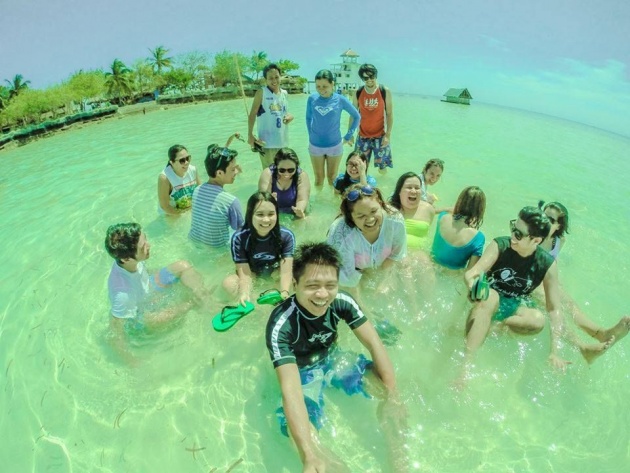 You can have so much fun when in the water, even just by sitting,swimming chatting and laughing your heart out is so great to forget the stresses that you carry on for long months grind.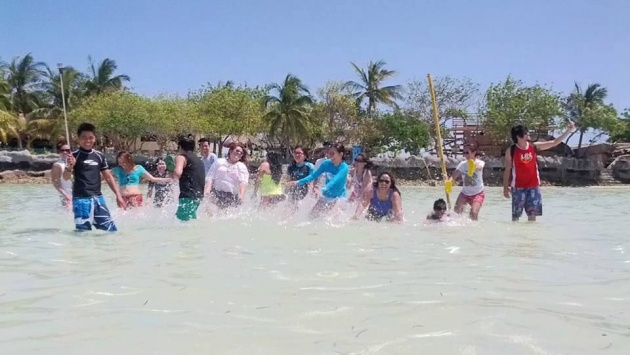 The rest of the day we spent it mostly in swimming, playing around like kids, splashing of water and of course having some snaps. We have not done much because of the hectic schedule that everyone has. But even though of the time constraint we still manage to enjoy and bond with the group. That's all that we needed to escape from a long and busy hustle of life. One day isn't enough but it's all worth it for a day well spent.
Sometimes all you need is just a day of rest and you will be recharged. See you as I track that travel on my next blog.
Thank you for spending your time to read my blogs. This has been Dimpsy leaving you with a quote:
The world is full of wonder for you to wander.

Single Wanderess
Written and published by Dimpsy for bitlanders.
You can visit my Facebook page or add me up on instagram for more travel adventures.