A Satisfactory Stay at Evergreen Hotel
There are a lot of hotels (or hostels) to choose from when you plan to have a short visit to Hong Kong. It could be pretty overwhelming because most hotels have above pleasant ratings when you search online. If you try to browse through booking.com, numerous affordable inns can be seen along Nathan Road alone.
A Somewhat Spacious Spot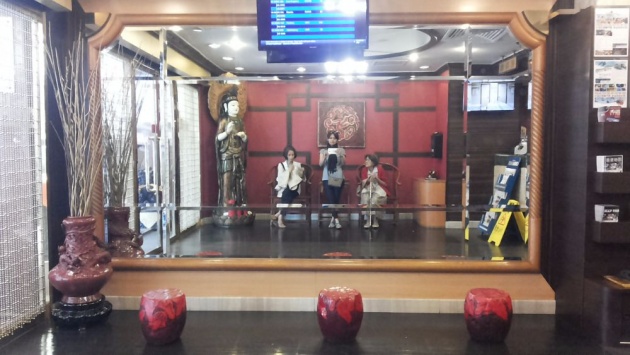 Photo credit: lapiz-lazuli via bitlanders.com
My cousin picked Evergreen Hotel out of the bunch (after a lengthy search), not only because of its location, but because it was spacious. We needed something roomy but at the same time budget-friendly because we were bringing along our grandmother who needed to be wheelchaired while we go places. It would be a fuss if a rollator would get stuck on the walkway, or when strolling through doors.
Rent a Wheelchair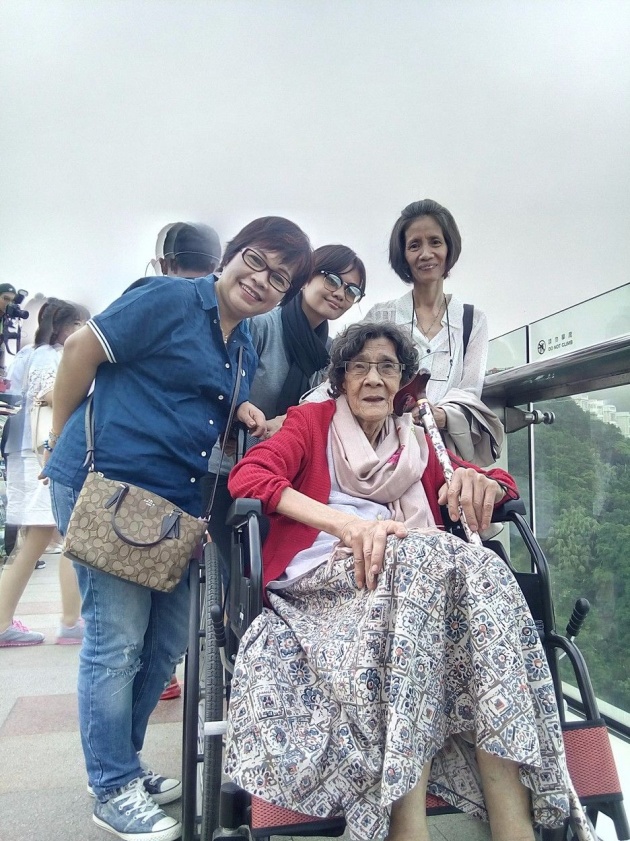 Wheelchair that we rented (photo at The Sky Terrace). Photo credit: lapiz-lazuli
By the way, we put much thought and discussion if we would bring our own wheelchair or just rent at the hotel or somewhere near Evergreen. In the end, aunt just sealed the deal letting my cousin rent one from the hotel (via email). I think the cost was 300HKD, with a refundable deposit of 3000HKD (that was why I insisted in bringing the small rollator). Good thing we reserved the wheelchair weeks prior because it was their sole unit.
We didn't really mind if the location was commuter-friendly, as we planned to take cabs or ride Uber cars. But I should tell you that this hotel had a good location. It was in front of a bus stop, almost beside it was parked taxis, a foreign currency exchange was very near it, and the street and its neighboring alleys were filled with restaurants. There's 7/11 beside the entrance and a few walks would lead you to a department store.
At first, I thought that the breadth of the Woo Sung Street were as wide as Makati's. I was happy it was like Binondo (Philippines' Chinatown); only three cars can fit in crosswise. Relief for my feet. Yeah, you wouldn't be really in culture shock because I think it's just like Philippines--only way cleaner and disciplined, and they talk Chinese! You need a print out of addresses where you want to go in Chinese, unless you're riding an Uber cab.
Room and Amenities
Wi-fi and Lift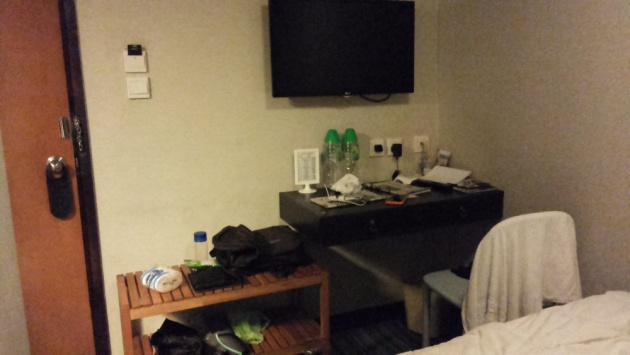 Spot the router. Photo credit: lapiz-lazuli via bitlanders.com
Our room had a complementary breakfast and came with a rented smartphone, that is, according to the itinerary. I was so excited that time but when we arrived, my hope shattered. The saving grace was that there was wi-fi router in every room. Oh, and I felt relieved because their elevator was functional when we arrived. We received an email weeks before our booked dates telling us that their lift was under maintenance. Bummer, right? But thank God it was fixed on time.
Maps and Guides
This 3-star hotel was way smaller than St. Giles, Makati, but it was tourist friendly. If you missed getting a map or a guide at the airport, you can get it here for free. You can also avail admission tickets to key attractions at this hotel at a lower rate.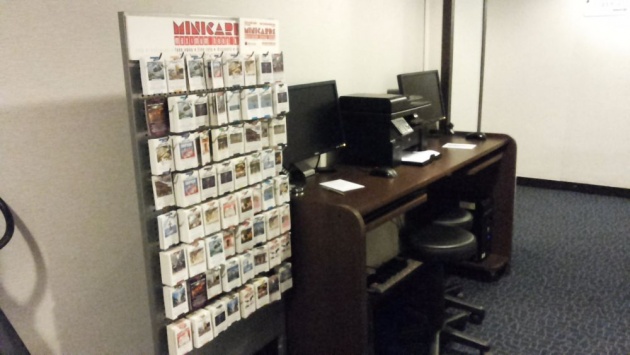 Photo credit: lapiz-lazuli via bitlanders.com
They have small cards with addresses of tourist sites in Chinese and English to help you get to the location. You can use a desktop computer with devices like e-signature pad and fingerprint reader (as I can remember) to search for stuff online; you can also use the printer (if you need to print an e-ticket or something).
Staff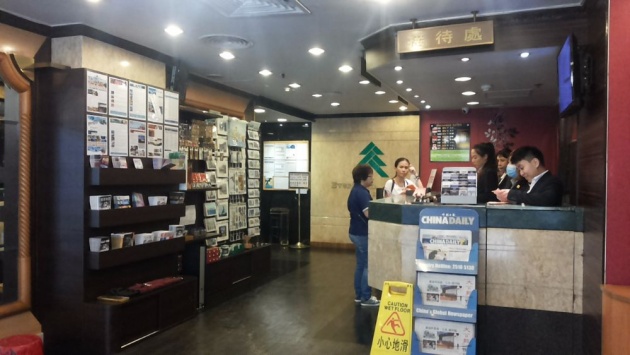 Photo credit: lapiz-lazuli via bitlanders.com
Receptionists are very good at conversational English too. They are friendly, especially the guy who let me borrow his Iphone so I can activate a Discover HK SIM card. I kind of regret I never asked for his selfie...
Appliance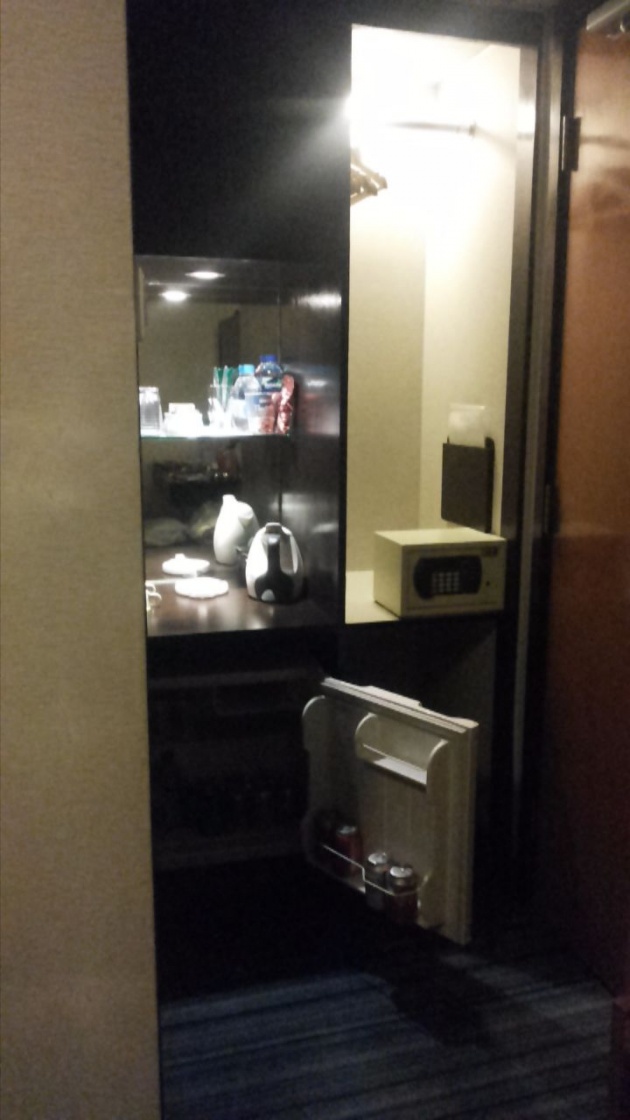 Photo credit: lapiz-lazuli via bitlanders.com
Me and my sister shared a room. We chose the smallest (without a sofa) and farthest room for our old folks' convenience. There was TV but I mostly didn't like the shows (me no read no write Fookien). There was also a mini fridge for drinks, a kettle and a small safe. You can call any guest room just by punching a number plus the room number you want to call. I find it really cool.
Bathroom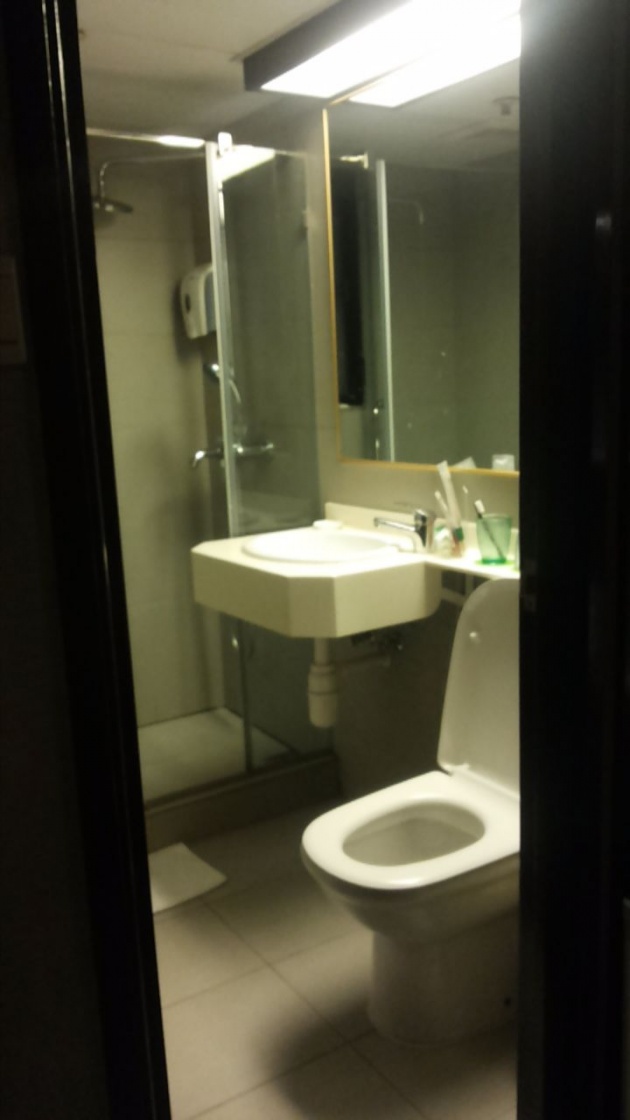 Pardon for the graphic content. Photo credit: lapiz-lazuli via bitlanders.com
There were no bathrobes but there were enough towels. The towels weren't as presentable though (torn fringes and such), nonetheless I needed to use them because I didn't bring one with me. There was a small soap, comb, toothbrush and toothpaste, and tissue, which were replaceable (free room service) in case you ran out of. There was a Lux shampoo and body wash dispenser inside the shower area; it was sudsy, but I really trust a germicidal soap.
Photo credit:
lapiz-lazuli
via
bitlanders.com
There was also a hair dryer above the sink; it automatically turns on when you take it out of its placement. All's well except that there was no bidet. If you need to go, you really have to be smart how you would.
Air Conditioning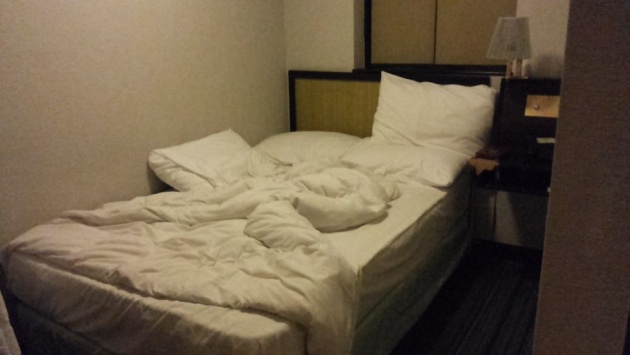 Photo credit: lapiz-lazuli via bitlanders.com
If you plan to book at this hotel, I should warn you that their air conditioning runs very cold. 30 degrees felt like 10 degrees. We turn it off whenever we sleep, but we were still cowering inside the comforter as we wake up. But this might be subjective as we both were skinny.
The Cafeteria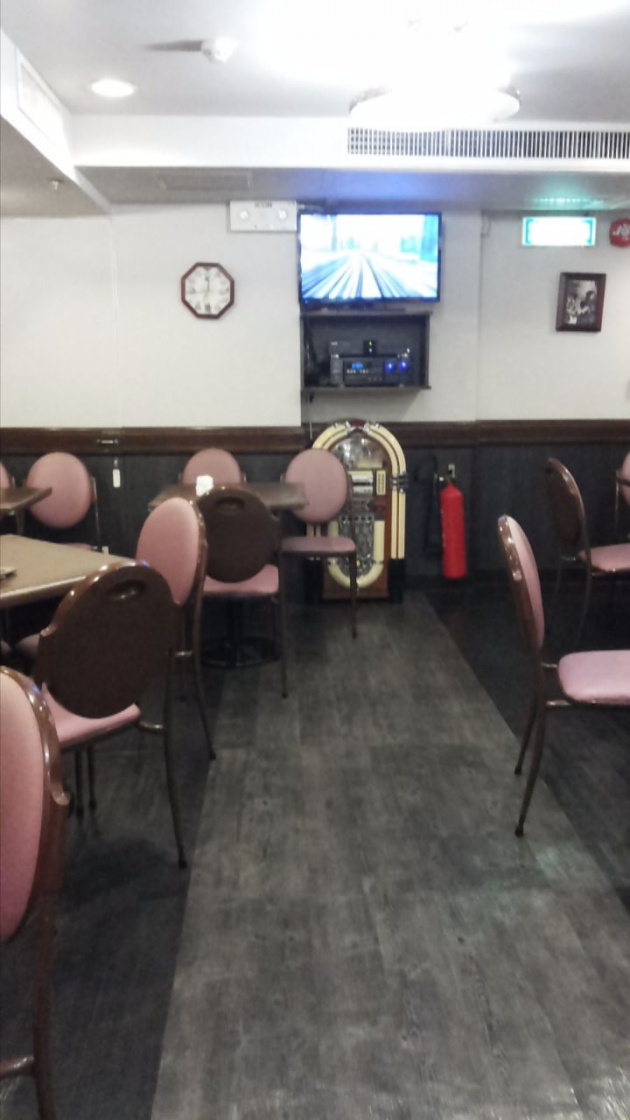 Photo credit: lapiz-lazuli via bitlanders.com
The diner opens at 6:30 am. Do not lose you key holder (the carton) because it's your ticket to free breakfast. The person in charge at the cafeteria would ask for the card, reads the booking dates, and grants you free pass to the food.
Video credit:
lapiz-lazuli
via
bitlanders.com
The cafe is small, with about 8-10 tables of four chairs each. I've experienced sharing a table with a Chinese. There's TV and a jukebox (dunno if it works).
Food selection was the same throughout our stay. Can't complain though, because it was for free and had a buffet set up. I had cereal, then toast with jam, then oats, then ham, sausages and potatoes. I liked the unpeeled potatoes but the ham and sausage were too salty for me (I have to eat protein).
There were chicken wings in soy sauce (like adobo) and you pair it with rice. Also, you can make your own salad. I didn't make one, but I ate the jelly, one of the salad's ingredients, because it was so delicious! There was also miso and hard-boiled eggs, but I forgot to get one for myself.
They have hot tea, coffee and milk, but seeing that they only serve fresh milk on the Tetra Pak on the unheated milk, I didn't finish up my hot milk and got my cup of milk from the fresh tub. They also have apples and pears; my uncle snagged one and brought it in his room.
Verdict
Overall, I had a satisfactory stay at the Evergreen Hotel. Staff was nice, place was pleasant, most amenities were readily available for use and the price was right. Wish it had a survey for tourists so they can improve and innovate.
Speaking of surveys, here's a Querlo chat survey from Hertz:
Disclaimer: Pictures, videos and writeup are owned/made by lapiz-lazuli. Views and opinions in this blog post are truthful but subjective and are not influenced by sponsorship of any sort.