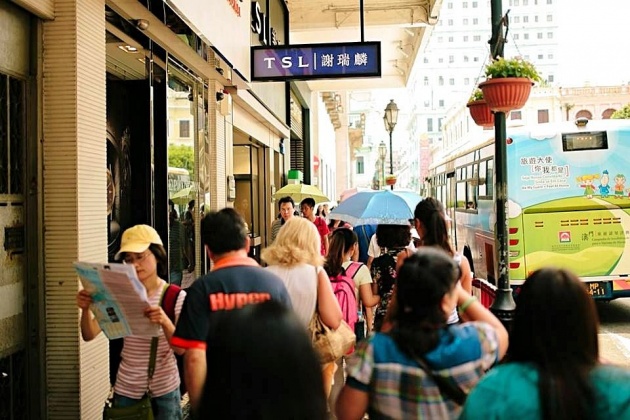 Crossing the border to Macau from Hong Kong was quite easy, convenient, and very much accessible from where we stayed at in Hong Kong. Seeing one of the signage as I stepped into Macau is quite an excitement knowing that it was the birthland of my late great-grandfather (a pure Chinese) whom I didn't get the chance to meet; hoping that I might bump into some of my relatives (whom I don't personally know) in one of the busy streets in Macau -- impossible though but there's always hope, as they say, and it's a small world after all. But I manage to escape from that thought and focused on this wonderful side trip.
THIRD OUT OF THE COUNTRY TRIP
My third out of the country visit was a side trip from our Hong Kong adventure to the "Las Vegas of Asia" in the city of Macau, China. Macau is known as the "resort city" in Southern China that is famous for its luxury hotels and casinos and made it the worlds largest gaming revenue since 2006. Thus, making it known as the foremost gambling capital of the world, surpassing other gambling centers and I can attest to that after exploring some luxury casinos that is famous in Macau.
Gambling in Macau has been legalized since the 1850's and since then it was worldly known as "The Gambling Capital of the World" or the so-called "Monte Carlo of the Orient". Not limited to gambling alone, Macau has a lot to offer to the visitors such as historical centers, luxurious hotels, and other highlight tourist attractions that I will be sharing in my next blog post.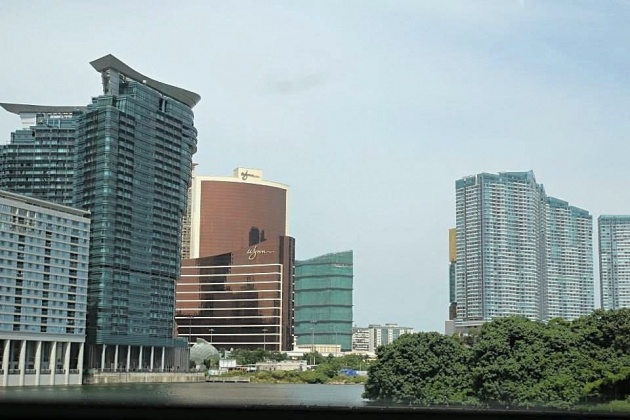 Aside from casino hopping in Macau, hotel hopping is also possible to do while in the Las Vegas of Asia. According to Macau by Hotels.com there are ten luxury hotels that you can find in Macau. These are five-star hotels and were rated high by the guests. The one shown in the photo at the center with a brown color building is Wynn Macau that ranked ninth on the list with a superb 4.6 rating out of 5-star rating.
TOP 10 LUXURY HOTELS IN MACAU

The Ritz-Carlton Macau - 4.9 stars rating out of 5

City of Dreams Macau - 4.8 stars rating out of 5

Wynn Palace - 4.7 stars rating out of 5

Banyan Tree Macau - 4.7 stars rating out of 5

Conrad Macao Cotai Central - 4.7 stars rating out of 5

Altira Macau - 4.7 stars rating out of 5

Four Seasons Hotel Macao at Cotai Strip - 4.7 stars rating out of 5

Grand Hyatt Macau - 4.7 stars rating out of 5

Wynn Macau - 4.6 stars rating out of 5

Galaxy Hotel - 4.6 stars rating out of 5
CROSSING THE BORDER OF MACAU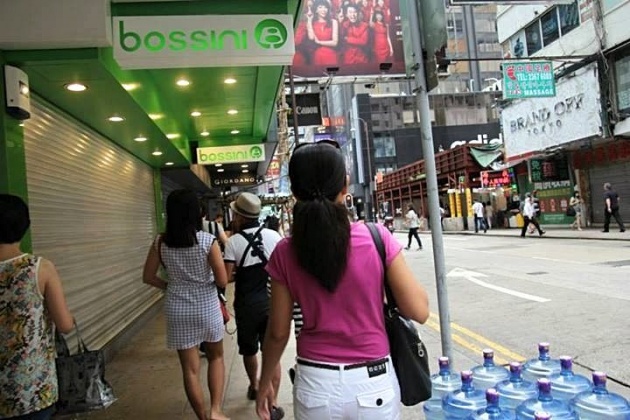 Twenty minutes walk from Tsim Sha Tsui to China Ferry Terminal / Photo Credit: Dimpsy via Facebook
It was on the third day-our last day in Hong Kong when we took a peek at the neighboring country of the Fragrant Harbor. From our pension house in Tsim Sha Tsui, Nathan Road we made 20 minutes walk to Canton Road where the China Ferry Terminal is located to book a ferry ticket to Macau and vice versa. Getting to Macau is very accessible when you stay in Tsim Sha Tsui - Kowloon. Not only that it is accessible to the ferry port to Macau but mostly for Hong Kong's attraction highlights.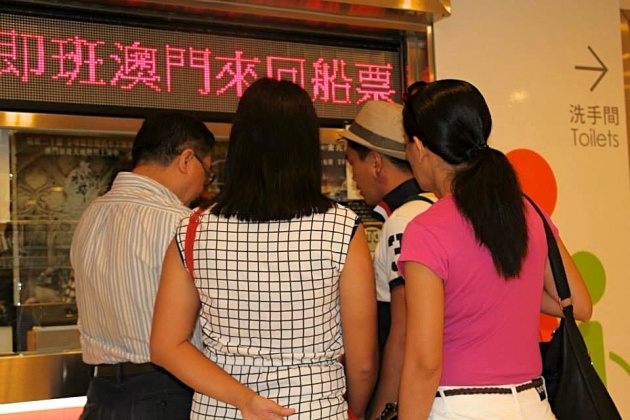 China Ferry Terminal / Photo Credit: Dimpsy via Facebook
As soon as you step into the China Ferry Terminal, ticketing agents flock together to offer their best deal price tickets but make sure to check the agent if he/she is legally connected to any of the ticket counters in the terminal. In the photo, the man (in stripes is the chosen one) briefed us as to when we depart and the last trip of the ferry from Macau, even if he was struggling with his English words but been so grateful that he tried very well just to let us understand to what he's saying. He even provides us his personal contact information just in case we missed the last trip of the ferry bound to Hong Kong.
FERRY TERMINALS IN HONG KONG TO MACAU

Hong Kong Macau Ferry Terminal

located at Connaught Road Central, Central, Hong Kong Island

take an MRT ride to Sheung Wan Station, and take Exit D

Hong Kong China Ferry Terminal

located at Canton Road, Tsim Sha Tsui, Kowloon

Tsim Sha Tsui MRT Station and go to Exit A1

Hong Kong Sky Pier

located in Hong Kong International Airport in Lantau at 3 Sky City Road East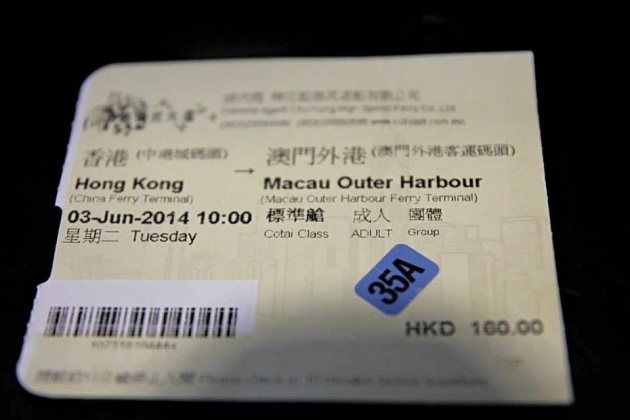 Traveler's Retained Ticket / Photo Credit: Dimpsy via Facebook
Proceed to the seat allocation counter for the seat assignments after getting your ticket. A sample of my retained ticket is what you can see in the photo and my seat assignment was 35A. Pieces of information on the ticket are written in both English and in Chinese characters. Details such as the departure place, date of departure, time of departure, the day of the departure, the arrival place, Cotai Service, the age of maturity, and if you are traveling alone or in a group are all shown in the ticket in English and in Chinese characters. Once seat assignments are assigned, head to the immigration counter for clearance purposes.
THE WATERCRAFT VESSEL
Different Ferries Sailing / Video Credit: benwcc via Youtube

An overview of the different ferries that is sailing from Hong Kong to Macau and vice versa. Just to give you an idea of the speed of the jet vessels in Hong Kong and I say it was superb. In the middle of the video, you can see a blue vessel which is the Cotai Water Jet. The yellow ones are the CTS Express, and both red ferries are Turbo Jet Ferries.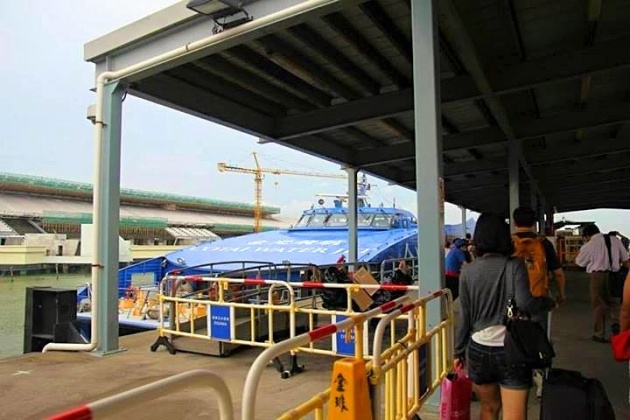 Cotai Water Jet / Photo Credit: Dimpsy via Facebook
Once clearance at the immigration counter is done, proceed to the ferry station where the Cotai Water Jet ferry was docked (the blue in color as shown in the photo above) and set off for boarding. This Cotai Jet will be arriving in Macau Outer Harbour Ferry Terminal where the famous and luxurious hotels and casinos are just located nearby. Travel time from Hong Kong to Macau is about an hour.
WHAT'S INSIDE THE COTAI WATER JET?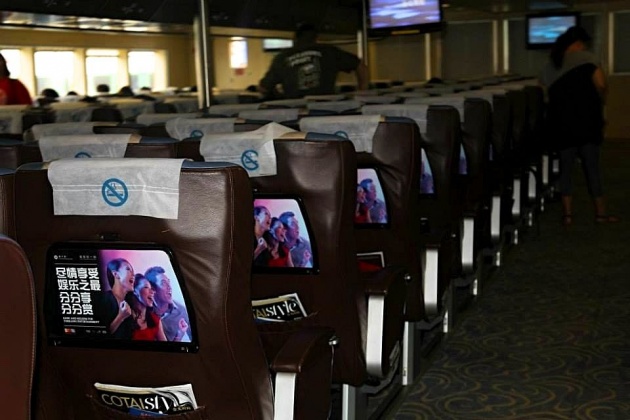 Inside the Cotai Water Jet / Photo Credit: Dimpsy via Facebook
The interior of the Cotai Water Jet impressed me that it made me compare the Water Jets here in Cebu which is far incomparable in terms of vessel size, speed, interior, and the amenities. It was fully air-conditioned, comfortable cushioned seats, a small bar that serves as their canteen, equipped with flat screen television, and the floor is fully carpeted and very spacious.
Here is a walkthrough of the Cotai Water Jet from China Ferry Terminal to Macau. As you can see in the video there are three rows of cushioned seats at the center with three seats in every column, while one row with two seats in every column on both sides of the Jet ferry. It even has a luggage rack which I didn't know during our trip. The video also shows the sailing from China Ferry Terminal to Taipa Pier, Cotai Strip, Macau. Though this isn't the arrival point of my trip somehow it will give you a glimpse of how it was far incomparable to Cebu's water jets.
FAMILIARIZE YOUR SEAT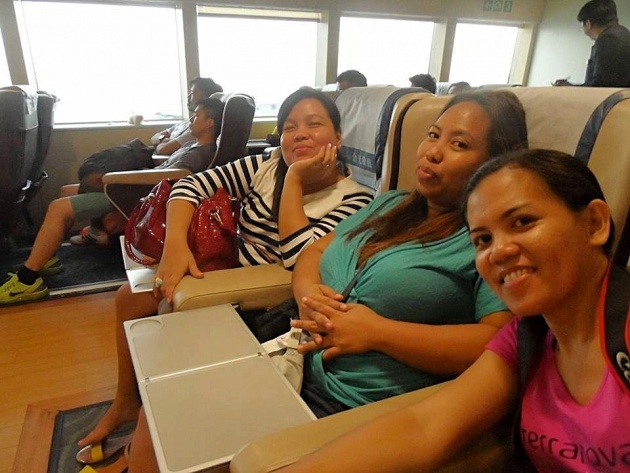 Finding our own seats / Photo Credit: Dimpsy via Facebook
Here you can see our respective seats. Each seat has its respective foldable small table with a sculpted cup holder. If you can take a look at the girl in green in the photo you can see a rectangular desk in front of her. The table can be folded in two as you can see, there is a white line at the center of the desk. We were having a hard time locating that desk because it was neatly tacked in just below the armrest of the couch. Once you see the aluminum sides you need to pull it forward then upward before you can assemble it in front of you.
COMPLIMENTARY SNACKS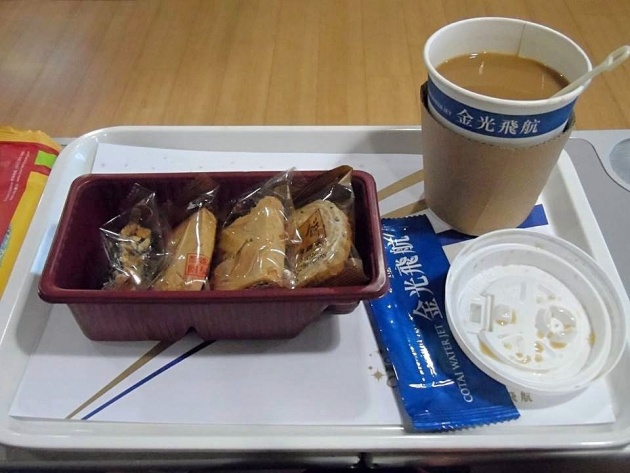 Complimentary Snacks / Photo Credit: Dimpsy via Facebook
Traveling on this Cotai Water Jet will never make you feel famished. Few minutes after departing from the China Ferry Terminal, the crews of the ferry begun serving the tray of complimentary snacks to all the passengers. In a tray, a maroon plastic container comprises of a brownie, two types of bread (I don't know the name) and the famous Almond biscuit. A covered cup of hot water in a tray with a plastic stirrer, a small packs of coffee, sugar, and creamer. What's inside the blue plastic is a single tissue table napkin for sanitary use. Not bad for a 160 Hong Kong dollar ferry fare and for an hour ride. It's a BURP! Oops, sorry! :D
ARRIVAL IN MACAU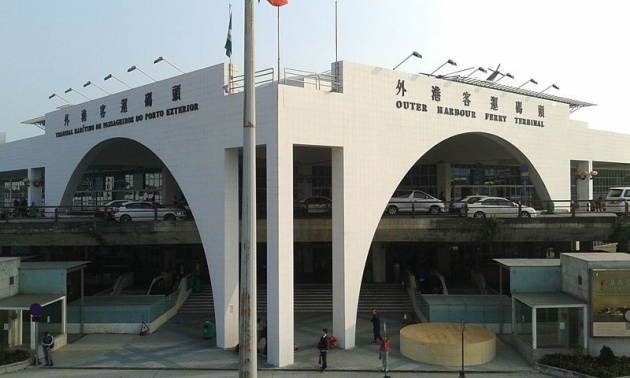 If your itinerary is more of Macau's history then you need to buy a ferry ticket that will arrive at the mainland Macau Ferry Terminal. But if you want to go hotel and casino hopping then get a ticket at China Ferry Terminal in Nathan Road (as we did) and you will arrive at the Macau Outer Harbour Ferry Terminal. Once you disembark from the Ferry go directly to the immigration counter for another clearance in Macau.
Crossing the border to Macau from Hong Kong by ferry was a success without any hassle at all even on the immigration counters. It was a side trip well traveled and self-embarrassment as well. Hahaha. The story goes down below.
ONE UNFORGETTABLE INCIDENT
I was on the travelator, facing my back and talking with my friends who's been queuing next to me when in a few minutes I suddenly fell my back as the travelator reached its end part. Good thing the machine didn't catch up my shoe sole. Lesson learned: "don't turn your back when riding the travelator, chit-chatting to your friends can be done later - safety should come first". I can still vividly recall the facial expressions of my friends, some Chinese locals, and other tourists by the time I fell down, but my main concern was not the people staring at me but my white shorts that will get filthy but to my surprise, it wasn't. Haha! Shame on me!
It's a shameful side trip memory in Macau and a charge to experience for me. Somehow, I manage to smile to ease out the embarrassment and that smile lead us to meet one Filipino OFW who helped us get a Filipino tour guide and that story will be in my next blog.
What about you? How often do you travel? Do you have any embarrassing moments during your trip? If you have, feel free to share it with me by using the Querlo chatbox with a human touch.
JUST THE BEGINNING AND NOT THE END
This is the beginning of my "A Side Trip" series blogs and Crossing the Border to Macau is an introduction on how we manage to get through from one country to the other. Following this blog will be our Macau City Tour, a continuation of "a side trip" so don't fail to read it soon.
~DIMPSY~
◄► ♥ ♥ ♥ ◄► ♥ ♥ ♥ ◄►
Thank you once again. Until my next blog.
Check out my other travel blogs on this link