Our trip to Macau was a DIY (Do It Yourself) kind of trip just like in Hong Kong. A fellow citizen we met at the entrance of Macau Outer Harbour Ferry Terminal introduced another countryman whose secondary occupation is touring around fellow citizens in Macau with a fee of HK$100 (Php500) per head. Since we're strangers in a foreign land and a whole day tour must be considered we opted to get her service and in an instant, she lead us to board one of the free shuttle buses offered by some hotels. Let me share with you the second part of my blog "A Side Trip" on how we Get Around Macau in just a day.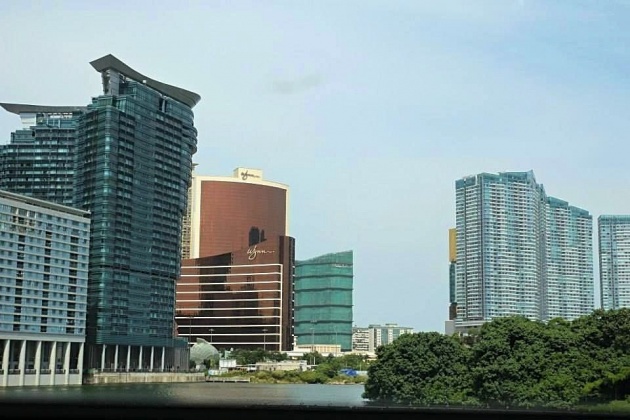 Cotai Strip / Photo Credit: Dimpsy via Facebook
Cotai is a reclaimed land in the section of Macau where Las Vegas Sands Corporation used the land for casino developments in making the area a resemblance of Las Vegas Strip in the US thus tagging Cotai as "Cotai Strip" because of its building of a strip of hotel-casinos nestled in Cotai. It's the best place to be since our sole purpose of crossing the border to Macau is the Venetian Hotel.
Cotai Strip at Night / Video Credit: MrKesavaraj via Youtube
This is the Cotai Strip at night which we missed seeing its transformation. Chains of hotels are all lighted in their own light display that makes Cotai looked like Las Vegas Strip in the US. Of course, it should look like one since it was patterned after it. Bad thing we didn't spend a night here in Macau. Next time I will spend a night here. I heard there is light, night, and water shows in some hotels that one must see. Something to look forward to on my next visit. Soon!
A FREE RIDE ON GETTING AROUND MACAU
As soon as you get out from Macau Outer Harbour Ferry Terminal, there are a lot of free shuttle buses that you can ride on depending on how your itinerary goes. What's so convenient to get around Macau are the complimentary shuttles buses from different well-known hotels but mostly from casinos. This is their means of shuttling possible gambler customers to their casino. You can make use of the shuttle buses for your casino hopping or hotel hopping. Not a single penny was ante up as we get around Macau. So why spend when it is for free -- a dough saver indeed!
Make sure to lay out your itineraries properly if you are planning on a day tour so you can make the most of your time. Fortunate for us we met a fellow citizen tour guide that made our trip smoothly as it planned. Wish I could remember her name so I can refer them to others but unfortunately, I'm really bad at remembering names especially for first acquaintances. Sorry!
GETTING AROUND MACAU
There are destinations that I will briefly discuss in this article since some of the destinations (mostly hotel-casinos) will be discussed separately on my upcoming blog. Basically, for this blog, short introductions or features will be provided. So let's make a side trip on getting around Macau and below is our first destination.
► OCEANUS CASINO - 1ST DESTINATION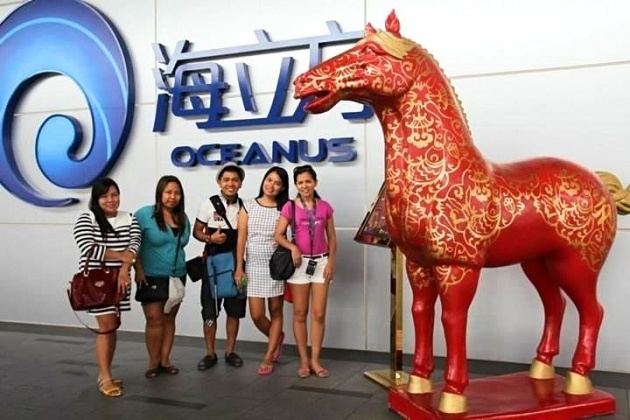 Oceanus Casino / Photo Credit: Dimpsy via Facebook
Our first destination was the Casino Oceanus - the first casino that we hop into aside from the fact that it's the workplace of our tour guide. The only casino that is directly accessible from the Macau Ferry Terminal. Hotel bookings are not possible in this establishment, it's purely for gaming. If you want to have an overnight stay, you may go down the block and choose among the hotels nearby such as the Golden Dragon Hotel and Casino or the Casa Real Casino, and The Sands Macao or the Casino Babylon. On the other hand, if it's gaming you want then you got the spot but don't splurge all your money in this casino alone hop on to other casinos nearby and who knows your luck is on the other casino.
This is just an introduction of the hotel-casinos that we explored. A separate blog for hotel-casinos hopping will be in the making. For now, let me just introduce one casino and the rest will follow on my next blog.
► AVENIDA DA AMIZADE WALKWAY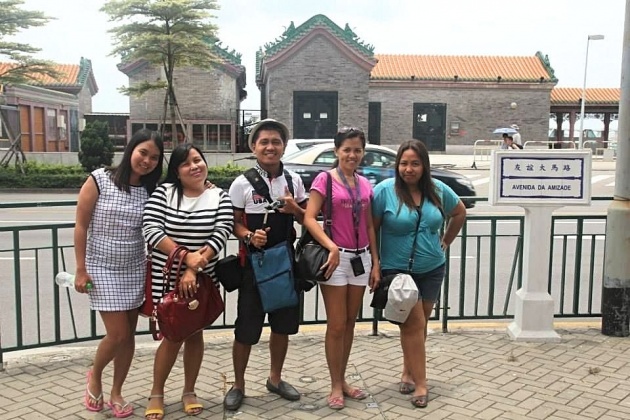 Avenida da Amizade Walkway / Photo Credit: Dimpsy via Facebook
From Casino Oceanus, we walk along the Avenida da Amizade road going to our next complimentary bus ride for our next hotel-casino hopping which will be discussed on my upcoming blog. But before we head to the bus stop our tour guide suggested having a snap at the walkway and we obliged.
After a few steps of walking, we reached the bus stop and head to Casino Golden Dragon (on my upcoming blog) then hopped on to the next complimentary bus for the next hotel-casino.
► SIGHTINGS ON THE BUS
FISHERMANS WHARF - 1st Sighting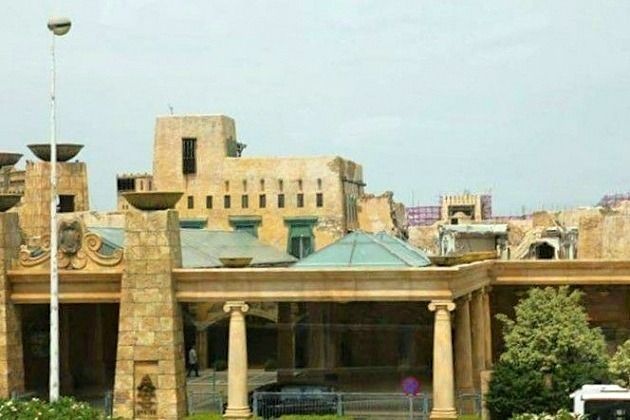 Fisherman's Wharf / Photo Credit: Dimpsy via Facebook
While on the bus, I saw a European style building and our tour guide said it's the Fisherman's Wharf. The wharf is Macau's first theme park that was officially opened on December 31, 2006. It has an East meets West attractions for the visitors to explore once in the Fisherman's Wharf. This is the first attraction site that you can explore in just a short distance from the Macau Outer Harbour Ferry Terminal but our tour guide did not include this attraction site during our trip. That is why I only had a sightseeing while on the moving bus. One good reason to travel back to Macau and I've seen many photos of the site during the night that looks so romantic. Looking forward to that day.
KUN IAM STATUE - 2nd Sighting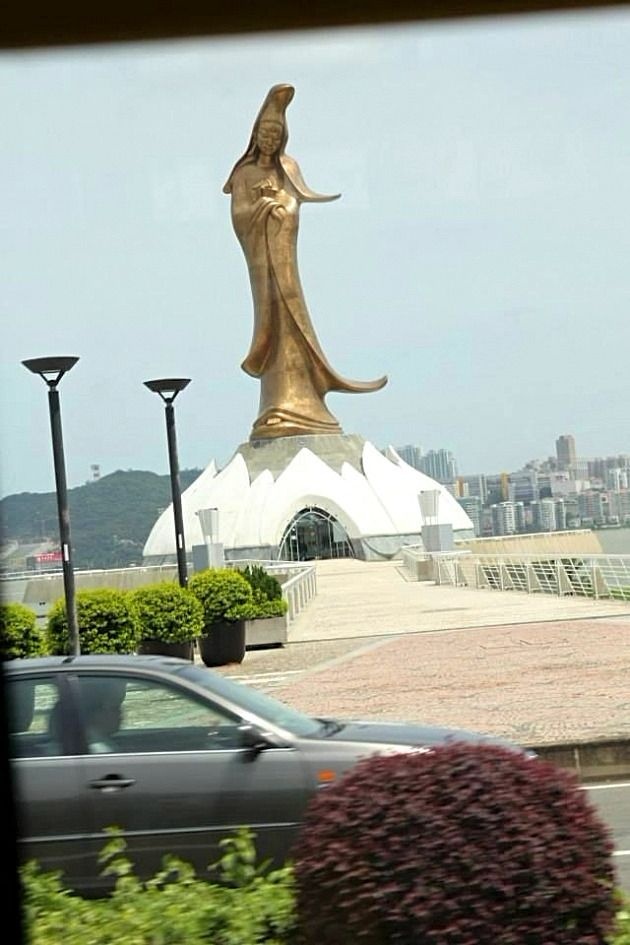 Kun Iam Statue / Photo Credit: Dimpsy via Facebook
One of the must-see (which we missed) attractions when visiting Macau is the twenty-meter tall bronze statue of Kun Iam. The statue is made up of 50 bronze castings with a weight measurement of 50 tons. The statue is the "Goddess of Mercy" that symbolizes love, mercy, and compassion representing solidarity and resumption of harmonious relations between people, civilization and even religion that is beyond the scope of Buddhist beliefs. The base of the statue is patterned after a Lotus Flower where visitors can spend the time to rest, listen to music, take videos, read and a me-time in the Contemplation room. A library is located on the lower level of the Lotus Flower base together with a Multipurpose room and an internet ready Media Center. The lower level can accommodate up to 50 people and is capable of hosting concerts, conferences, film showings and art exhibitions.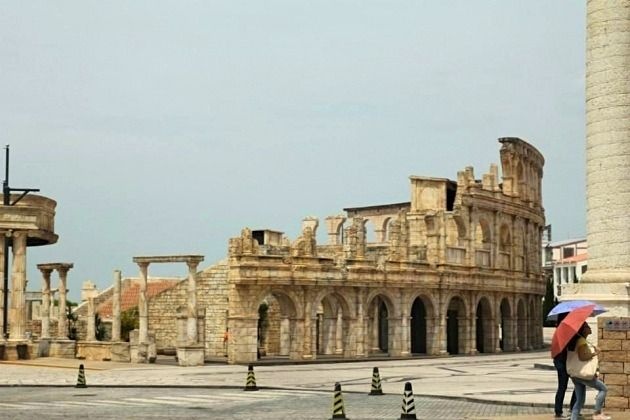 Colosseum / Photo Credit: Dimpsy via Facebook
A replica of a Roman Amphitheatre is one of the East meets West attractions that you can find in the Fisherman's Wharf. It is an outdoor colosseum that has a sitting capacity of 2,000 pax that hosted concerts and other outdoor activities and performances. Ideal for pre-nuptial shots.
► SENADO SQUARE - UNESCO HISTORIC WORLD HERITAGE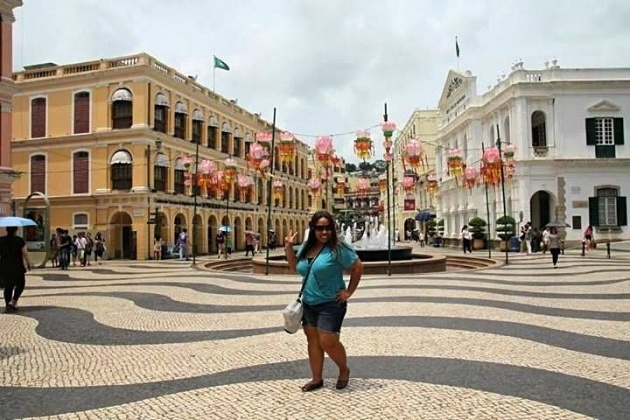 Senado Square / Photo Credit: Dimpsy via Facebook
After the short bus tour of the city of Macau, we walked a short distance on the way to Senado Square. Part of the United Nations Educational, Scientific, and Cultural Organization (UNESCO) Historic Centre of Macau World Heritage Site on 2005 is the Senado Square in an elongated paved triangular-shaped town square that connects one end at Largo de Sao Domingos and Avenida de Almeida Ribeiro on the other end. The ground of the square has zebra-like stripes made out of square pebble stones in black, white, and creme colors. Old buildings and famous labeled shops are also within the square.
► ST. DOMINIC'S CHURCH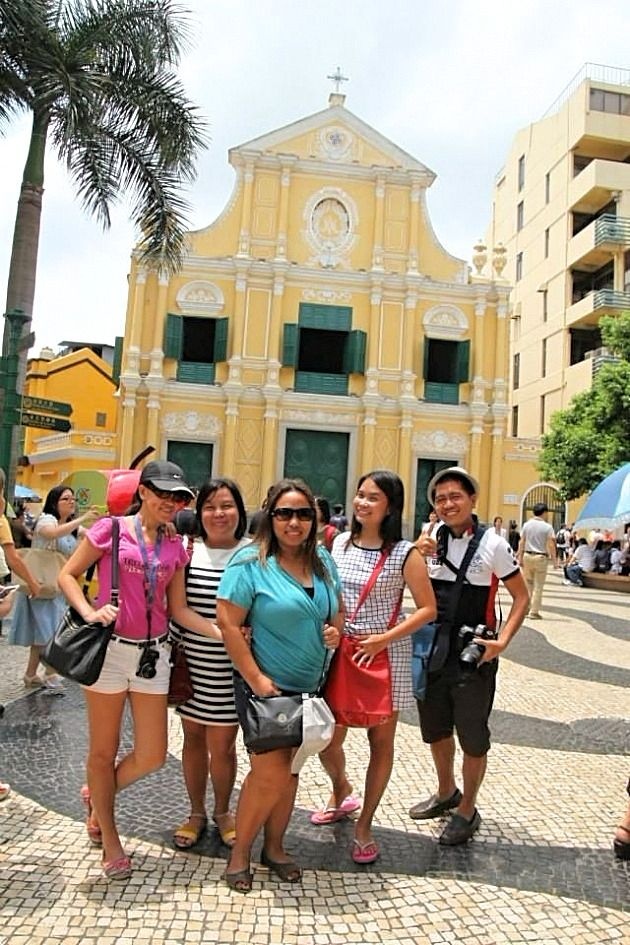 St. Dominic's Church / Photo Credit: Dimpsy via Facebook
A Baroque style 17th-century church in a mixture of local Macanese and European mixed design that made it well known for its feature. Listed as one of the 29 sites in UNESCO World Heritage Site in the Historic Centre of Macau. One of the attractions that you can drop by while in Senado Square.
► FOOD TASTE AT DASANBA STREET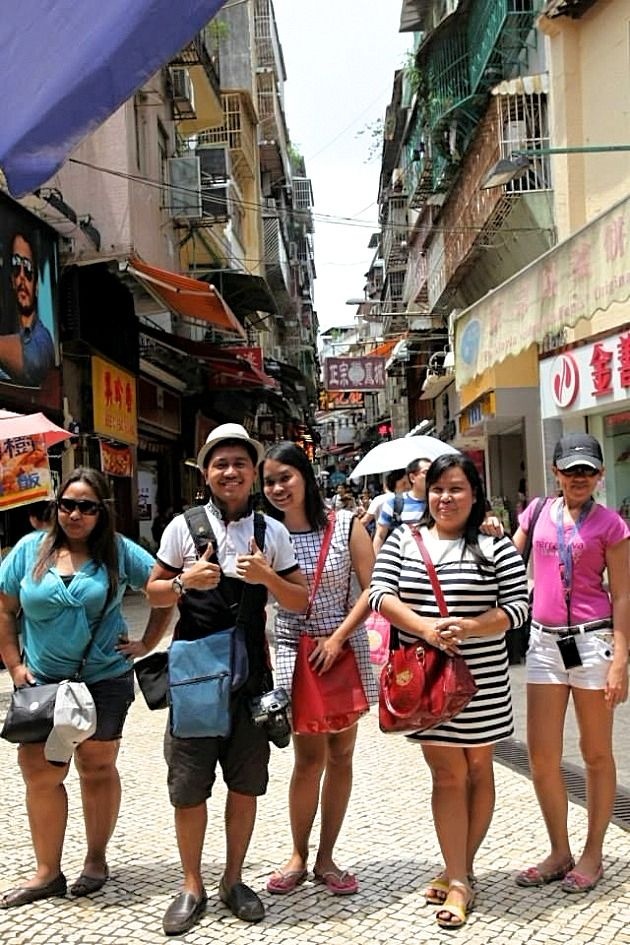 Dasanba Street / Photo Credit: Dimpsy via Facebook
From where we're standing is the Dasanba Street in Rua S. de Paulo, Macau. The place where free food is life. It's one of a kind eating adventure in a street food market that offers an array of food samples that you can never turn down; aside from the fact that it's a disgrace to refuse an offer especially when it's free of charge (LOL). Varieties of food samples from barbeque, desserts, tarts, tapa, bread, cookies and a lot more to mention are all available here. It's an option for you to accept the food sample offer before leading to the ruins of St. Paul Cathedral or grab it after a tiring trek from the ruins but it's best if you choose both -- nothing to lose, it's free anyway. You will never get famished on this street and it's best when you are on a tight budget. LOL!
Let me show you how Dasanba looked like. All the stalls that you can see in the video are food stalls that offer food samples but some tourists didn't know that it's for free. Our tour guide informed us as we started to walk on the street. This video will also show you the other end of Dasanba street where the ruins of St. Paul Cathedral was erected.
► RUINS OF ST. PAUL CHURCH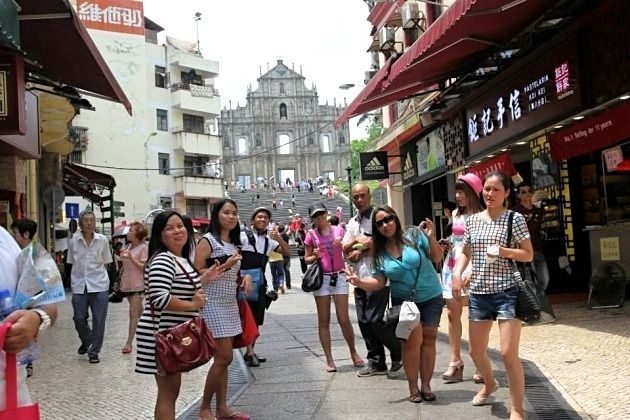 Ruins of St. Paul Church / Photo Credit: Dimpsy via Facebook
From where we at in the photo is the end part of the food street or the Dasanba Street that leads to the Ruins of St. Paul Cathedral. As you can see in the photo, the one in stripes is still holding a food sample, next to her is having her mouth shut because she's chewing the food sample and I in fuschia is holding the Almond cookie that I like most. The old man, the lady in pink hat and the girl in checkered on the right are tourists that happen to cross the street for another food sample just in time when the tour guide called out to take a pose. At the far end of the photo, you can see tiny stairs of the ruins that you need to trek. That is why I highly suggest grabbing the food samples as you go to and fro the ruins. So, never fail to grab some food samples as you head your way out in the food sample street. By the way, you can purchase any food streets on the stalls that offered you the samples. You can have it as presents from your travel to your friends and family back home or solely for self-consumption.
TO BE CONTINUED
A side trip to Macau never stops at the ruins and getting around in Macau for just a day isn't enough for me. Though we missed one of the must-see attractions in the city that seemed like we missed a lot to see inside the Fisherman's Wharf. Can't blame the tour guide since we only told her what we wanted for this trip. Well, next time is the better way to deal with the missing puzzle of getting around in Macau. Hopefully, a solo travel? Why not!
I will end this blog at the ruins since getting around Macau is mostly casino hopping. There are quite a lot of casinos so I choose to have it on a separate blog probably next to this. But for the casino hopping blog, I don't have any photos taken inside the casino since picture and video takings are prohibited within the casino.
Thank you for reading and keep updated on my next blog.
Share us your travel adventure using the Querlo Chat and be rewarded by answering the short survey.
►♥◄ ►♥◄ ►♥◄ ►♥◄ ►♥◄ ►♥◄ ►♥◄
For my other travel blogs, you may click it here.
Related Macau travel blog that you might want to read.