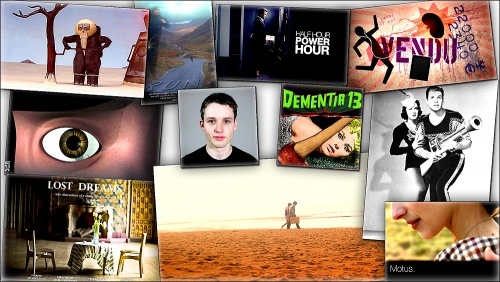 Looks like some filmmakers took our advice and decided to put their films out there to be rewarded for their awesome work! The result? It's
Kevin Parry
, a young and talented stop motion/animation artist that will take Film Annex and the rest of the internet world by storm! In addition to his great films, Parry shared some
behind-the-scenes photos
and drawings with us so you, the audience, can discover how his work came to life. Take a look at his thesis film,
The Arctic Circle
, a stop-motion animation short that we'd like to call 'a tale about temptation.' A clever, ambitious, and well-crafted piece that will give you an adrenaline rush for sure.
Our featured Web TV this week is the the 12-episode movie serial,
Flash Gordon Conquers the Universe
, from 1940. Our hero, Flash (the coolest name ever?)
gets on his rocket ship to visit a distant planet in order to save the Earth from a fatal plague. Of course, he will come across some evil characters, but nothing he can't handle eventually! Flash Gordon Conquers the Universe was praised for its cinematic sophistication when it came out and reflects some of the crucial historical events of its time.
Lastly, here are our 9 top movies of the week:
Half Hour Power Hour
by Matthew Thompson
Dementia 13
by Francis Ford Coppola
Motus
by FatCat Films
Lost Dreams
by Mark Kuczewski
Still
by Tal Haring
HuntEd
by the Vancouver Film School
D'un monde a l'autre
by Duduf
Run
by Anderson West
The Arctic Circle
by Kevin Parry
Enjoy! And don't forget to contact us if you think you deserve to be featured next!
For more updates, follow us
Facebook
and
Twitter
.
The Film Annex Team