A Tale of Two Accommodations
We really miss our cousin overseas, so when we heard she was coming to Kuala Lumpur to attend a wedding reception, we immediately booked flights to Malaysia. Good thing it was Cebu Pacific Air Piso Fare Promo that time so we saved up on air fare costs just to see her, her boyfriend, and our cousin once removed (her son).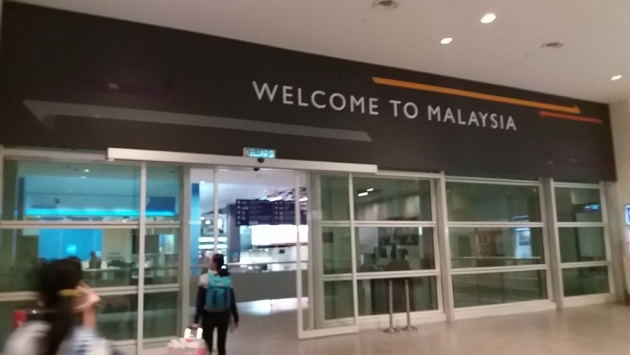 Photo credit: lapiz-lazuli
We were waiting to board the plane when my sister texted our contact person for our accommodation at Mercu Summer Suites and said that we need to pay for the extra night even though they've said via email before that it was OK to check in as early as 2:00 am. Novice that I am in booking hotels, I really didn't know then the unwritten rule that we have to pay for yesterday's slot if were going to arrive around wee hours of the following day.
We were very fortunate that they were extra rooms in our cousin's place at Brunsfield Embassyview (because her boyfriend arrived days earlier than my cousin and her son) so they allowed us to stay at their place on our first night in Kuala Lumpur.
Brunsfield Embassyview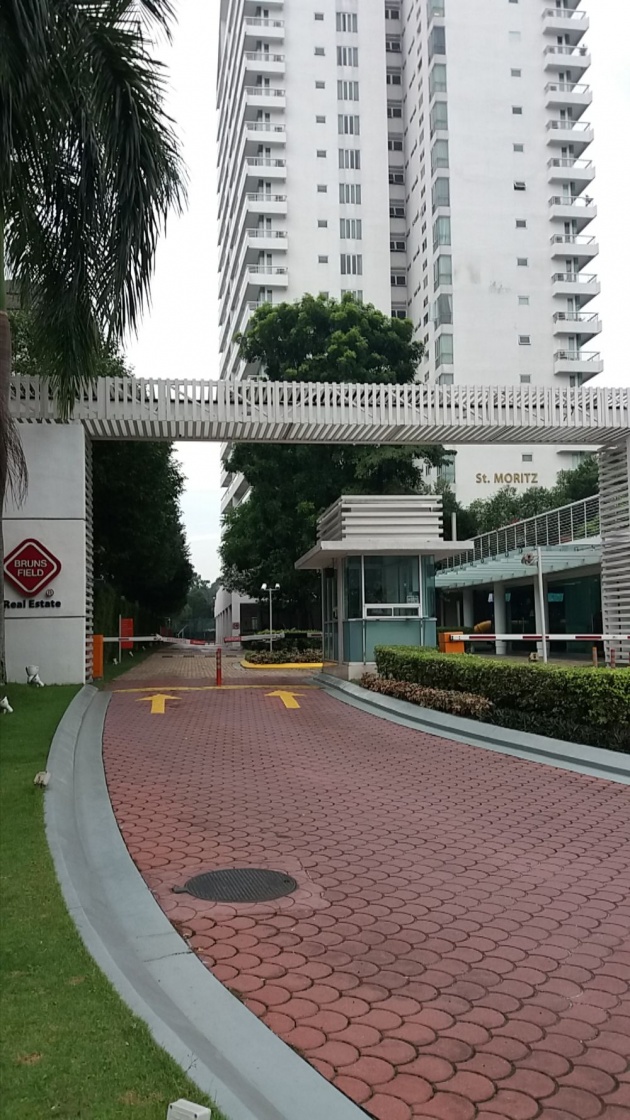 Photo credit: lapiz-lazuli
Brunsfield Embassyview seems like a high rise condominium type of residential space. There are several units of rooms, and each has an area for kitchen, bathroom, dining, living, and bedroom/s, but you share with other tenants the common amenities like gym, playground, and swimming pool. There are no receptionists for you to rent a flat; booking is done online or via contacting the renter.
The Airbnb Room
My cousin's boyfriend booked the place and from what I've heard, he found the unit at Airbnb and rented the 3-bedroom unit for a week. I found it a little expensive but Brunsfield Embassyview was quite bang for the buck for them.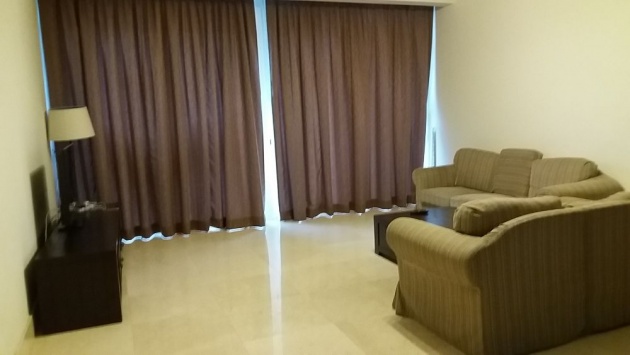 Photo credit: lapiz-lazuli
The living area was a little spacious and if properly done, you can do somersault without knocking off some furniture. The kitchen area was also roomy but as usual, they were few utensils for eating and cooking. I haven't tried the common bathroom because the bedroom we slept in had its own bathroom.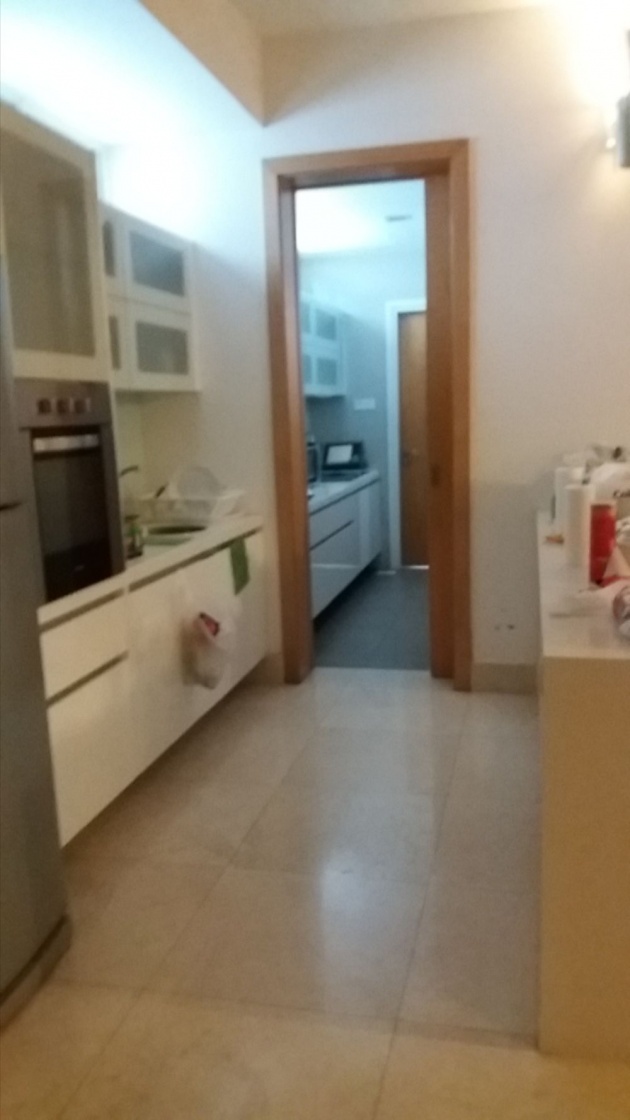 The kitchen area. Photo credit: lapiz-lazuli
As for our designated bedroom, it was clean, the air-conditioning ran pretty cold, the bed itself was very comfy (I slept like a log) and the bathroom's shower heater was a little easy to adjust if you get a hold of it.
Our designated bedroom. Video credit: lapiz-lazuli
Amenities
I wasn't able to tour around Brunsfield Embassyview as we were short on time but I did see some few amenities inside.
Their rented room was located at the rightmost building upon entrance, rightmost corner on the 7th floor. We could see the condominium's swimming pool below but I haven't taken a picture because it was around night time. We didn't have the time to try it out but I think it's not that deep.
From the right side of the entrance, there was a lounge which we used a couple of times to wait for our e-hailed cab and to wait for each other. There was also a children's play area which was still a little clean and presentable.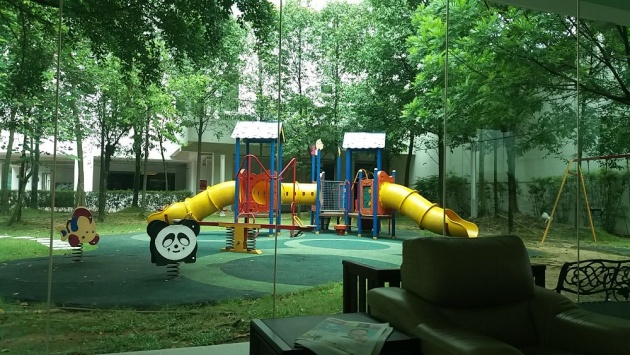 View of playground inside the lounge. Photo credit: lapiz-lazuli
We even saw the blooming newlyweds near the playground when we were about to transfer to our original accommodation.
Mercu Summer Suites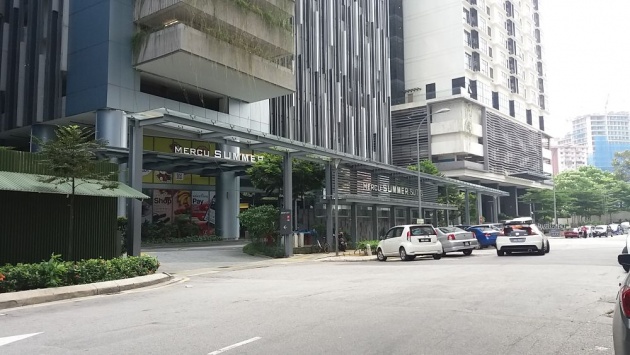 Photo credit: lapiz-lazuli
Mercu Summer Suites seemed like a hotel but with a residential space on its few floors. It is located along the outskirts of the main city, Kuala Lumpur but it is not too far from urban tourist spots such as malls and parks, so commuting is a breeze via e-hailing cabs.
The Residential Room
I've booked our flat via booking.com, and I thought it was a separate building from the hotel because it was listed as Mercu Summer Studios. I knew after that we rented one of its residential units ran by a private owner with a person in charge. The person in charge we've talked to, who was also fluent in English, seemed nice and accommodating (he also loved staying in Laguna when he visited the Philippines). He gave us a key card per person and hoped we enjoy our stay in Kuala Lumpur.
Our rented unit. Photo credit:
lapiz-lazuli
The listing advertised the room for 2-3 persons, but I think an extra person can still squeeze in because the folding sofa bed was a little large it can fit 2 persons. The bedroom also had a queen-sized bed in which 2 people could share.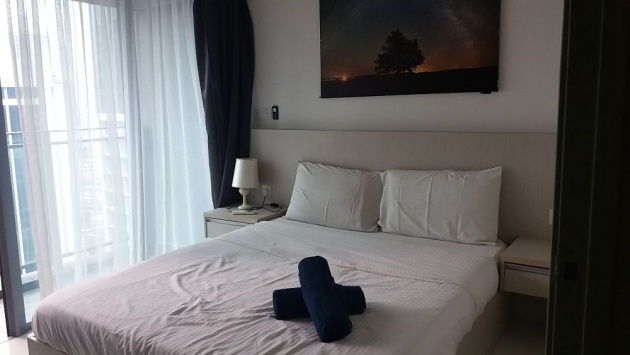 Photo credit: lapiz-lazuli
The place was tidy and cozy but there were broken areas—probably from constant pressure and use—like the mirrored wall in the kitchen and worn out areas on the floor. It was a simple room with minimalistic decors.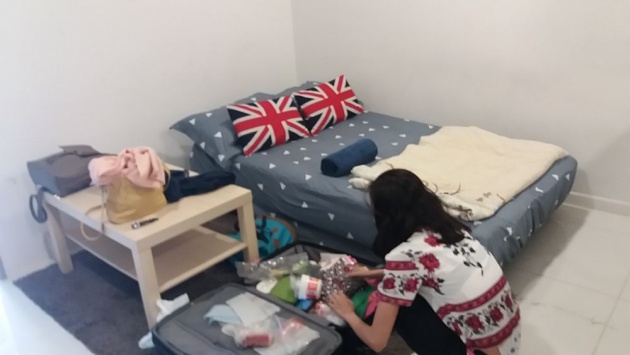 The sofa bed. Photo credit: lapiz-lazuli
The air-conditioning however was a little weak; slightly lowering down the temperature from 25 degrees did the trick. There was a microwave were I heated a snack and my leftover Satay from previous meal. Down below the microwave was a front load washing machine which my mom used for drying out her towel.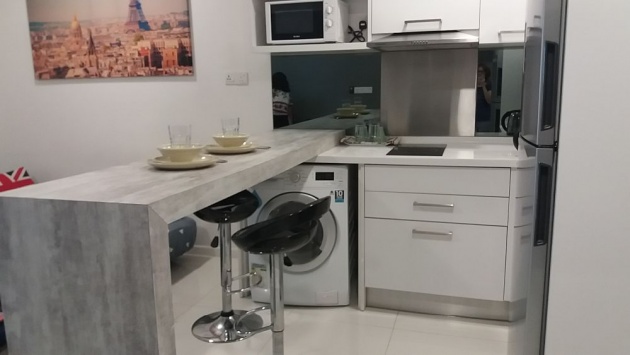 Kitchen and Dining area. Photo credit: lapiz-lazuli
The sink was outside the bathroom. Both have toiletries and there were bath towels provided as well (we didn't use it though). The tap in KL was very clean as I my face didn't react badly (read: pimples) and felt clean after every bath. The room we rented have a balcony wherein there was a clothes rack where we dried our clothes and towels when we washed them or dried them up. There was also free WI-FI at the vicinity.
Amenities
Gym
Our stay in Kuala Lumpur was quite short but I've seen the gym next to the pool. It was small but had weights, treadmill and stationary bike.
Pool
I've tried the pool but only for about an hour because our departing flight was scheduled that same night. The pool looked really small but I was really amazed of how long it was when I had swam from end to end. It wasn't crowded but I've noticed the water very cold (it was night) and slimy when touched by skin.
Restaurants
There were two restaurants located at the side entrance of Mercu Summer Suites: one was a cafe and the other a small restaurant serving Malaysian cuisine. Both had affordable rates although the cafe had higher pricing. It was very convenient for us because we had only so little time to fulfill our itinerary.
Convenience Stores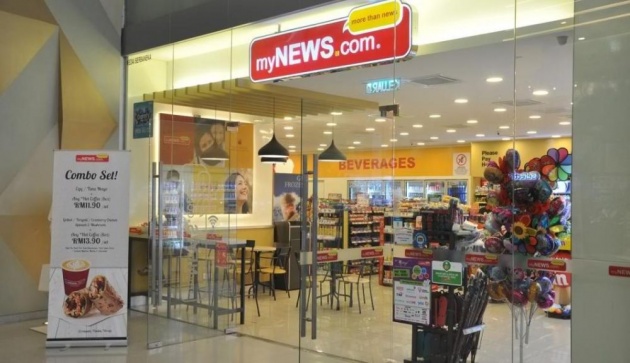 Photo credit: KT Home@Mercu Summer Suites
There were also 2 convenience stores situated next to the 2 restaurants, and another beside the reception desk. The prices were affordable, it almost felt like buying food and water in the Philippines. They also had fruits and ready to eat meals. The biggest convenience store had scrumptious souvenirs for sale. We bought our drinking water branded Dasani at Mynews.com.
So this concludes my tale and review of the places we stayed in at Kuala Lumpur. It was tiresome because of the luggage we need to carry from one place to another, but it was worth it.
And two more things: both front doors of the flat we slept in were really heavy, and Malaysia uses a type-G power outlet.
Disclaimer: pictures, videos and write up are originally shot/written by lapiz-lazuli, unless otherwise stated. Views and opinions on this blog post are truthful, but subjective, and are not influenced by sponsorship of any sort.