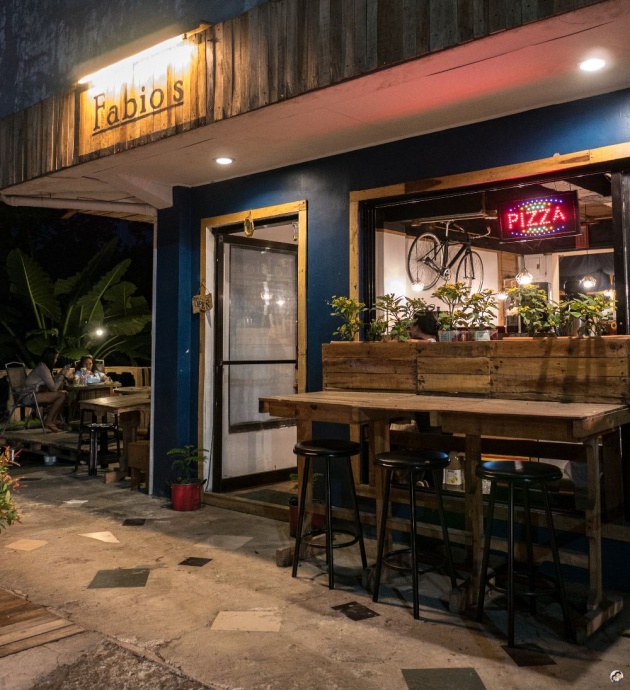 Image credits: Jean Beltran via bitLanders
There comes a moment when I am at home that I crave for the outdoors. It's been weeks since we had gone outdoors so I had asked my husband James if we could go out somewhere in Busay during the weekend in which he positively agreed.
The craving is more of seeing and being one with nature, I really want to go to Busay and feel the cold weather. I somehow found a new and interesting place to have dinner so after four in the afternoon when we were already sure that it won't rain, we headed towards Fabio's Kitchen.
En Route Fabio's in Busay, Cebu City
Google Maps' showed us it was just 30 minutes away from our place, that isn't too far though because going to James' office which is in the Lahug takes around 15-20 minutes depending on the traffic. By that, we both know that this is not too far from the high way.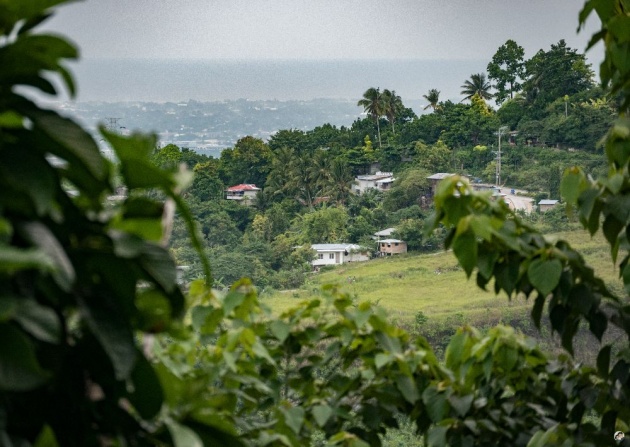 Image credits: Jean Beltran via bitLanders
Unfortunately, there was a heavy traffic on our way at Escario Street. It was enough for me to almost give up and tell James to make a U-turn so we can just abandon and ditch the idea of having dinner there but he was persistent and said it was fine and the traffic should clear anytime soon which it did.
In Lahug, the traffic was a little lighter than in the previous street. As soon as we reached Lahug up going to Busay, we were both excited to turn the speed up a bit and feel the good cold air hitting our faces, we were on our motorcycle.
Video credits: Jean Beltran via bitLanders
After just a good ten minutes from Lahug, we reached Fabio's located along Veterans Drive. It was situated in a rather "unsafe" spot in Busay, why? Well, for me, the road here is just two-way narrow lanes plus it is curvy, shaped like an "S". One single mistake from a driver coming from Busay down to Lahug might end up hitting the restaurant. I bet that has not happened yet so I guess its still cool.
All About Fabio's Kitchen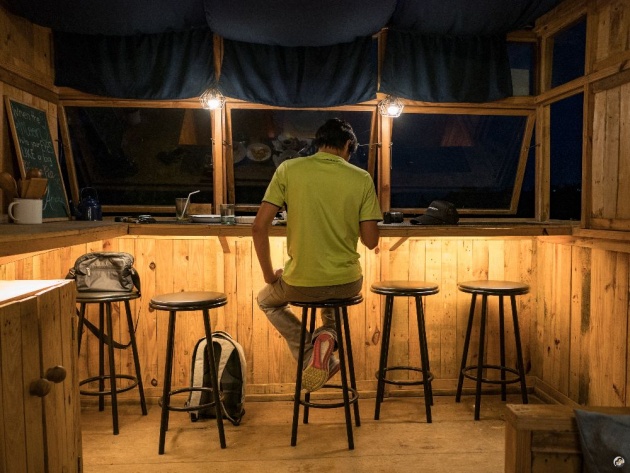 Image credits: Jean Beltran via bitLanders
I found a story online that the eatery is a brainchild of a former couple overseas workers who worked in the construction business for years in Singapore until the wife got pregnant, as it was a delicate case, they decided to return home. Daryl Ismael is an engineer and his wife is an architect, they then opened something that they both love - food.
Fabio's Kitchen is actually the name of their pet dog, a shar-pei. At first, I really thought that Fabio's is the name of the business owner and I also thought he's Italian because based on my research, its best seller is their pizzas. I was all wrong after all.
As Google Map exclaimed that our destination is on the left, we stopped along a spot where there were two other establishments, Sampaloque and Crate.
Fabio's Ambiance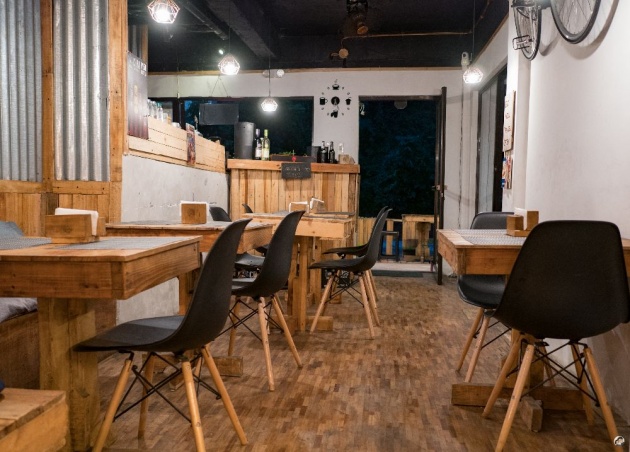 Image credits: Jean Beltran via bitLanders
Reclaimed crates and rustic. I found it really simple and small, just enough to accommodate a small group of guests. It seemed inviting friends to chill and talk over pizzas or coffee.
From the outside, I saw its a two-story building, the eatery is in the bottom, I actually thought there's a second-floor area for dining, I asked their staff who confirmed negative. Outside has a written name of their menus, around four tables were also available for those who want an al fresco dining type.
But if one wants to be a little private, he or she can get inside just like us, feel the rustic and wooden themed interior and watch the view from the end part of the restaurant which is overlooking Cebu City, this also is a good spot for sunset watching, unfortunately, there was no sunset view at the time of the visit because of the rather dark skies.
There are three ways to get inside of the restaurant, first is the front door, second is the door right adjacent to the counter and the third one is from Sampaloque resto, at the rear part of Fabio's Kitchen.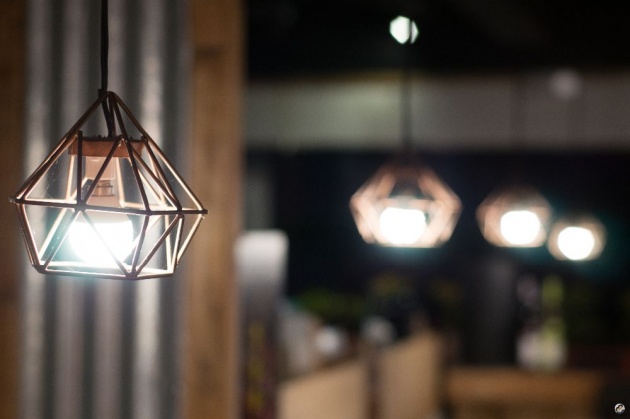 Image credits: Jean Beltran via bitLanders
Its tables were made of wooden crates customized to become tables, it reminded me of Mosia Cafe's tables except that at Fabio's Kitchen, the crates were left as is while at Mosia Cafe, they added thick glass tops and added real plants in it which added to the cafe's beauty. Anyway, leaving the crates as is was still good. The other side of the table has seats made of wood attached to the wall, they provided throw pillows for guests to sit on while on the other side has the restaurant type of chair.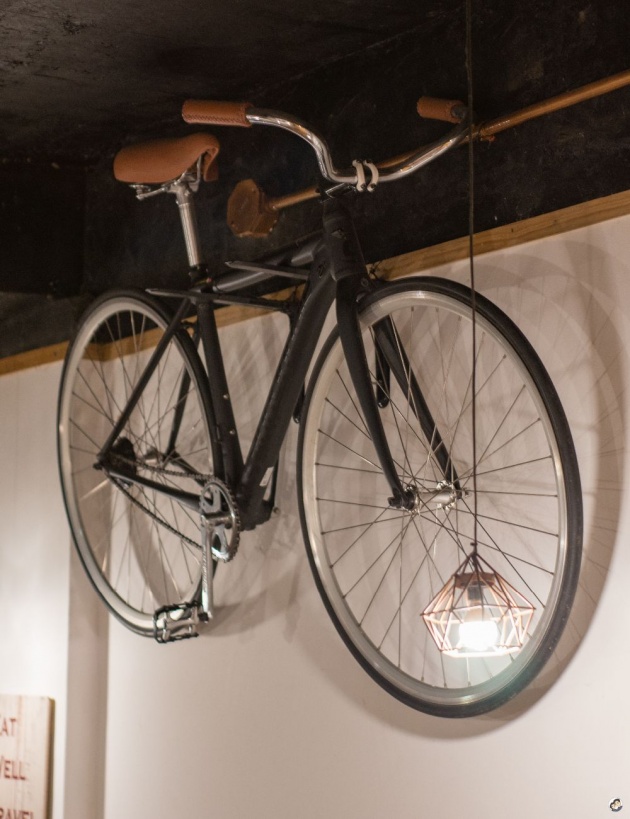 Image credits: Jean Beltran via bitLanders
But at the end of the eatery is a unique dining experience, they got one side table design attached to its wooden plank walls with underneath fluorescent lighting which added good ambiance. The table was still made of wood and there's a glass window giving a direct view of the mountains and it also allows air to come in from outside, in fact, when we were sitting there, the cold air was just giving us the relaxing feeling plus the view of the green hills and trees was good enough.
A bicycle is also hung at the wall just like that of KKD STK+BBQ and I love the geometric pendant lighting too!
Food Menu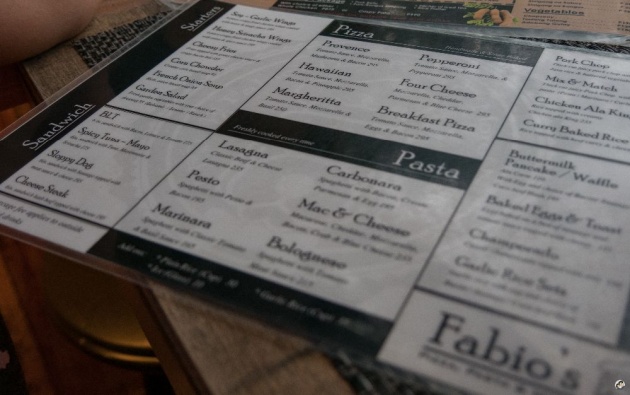 Image credits: Jean Beltran via bitLanders
As the staff offered the menu, I realized Fabio's Kitchen and Sampaloque Resto are actually sisters or partners! I really don't know the exact term but since Fabio's offered Samploque's, we both agreed we will order from both restaurants instead!
Menu prices are affordable, they offer Italian and all day breakfast meals as well while the neighboring restaurants got beers, grilled options plus some shrimps too!
Video credits: Jean Beltran via bitLanders
It was almost six in the evening, we had to have our orders taken and looking at the options, I opted for either a pizza or a pasta! The latter won so I got myself their Marinara, a spaghetti with tomato and basil sauce with three pieces of toasted French Bread. James also ordered Cheesy Fries which is simply fries topped cheese. From Sampaloque, James ordered their grilled quarter chicken, mashed potatoes. Then for our drinks, we got each lemonade, mine was a Blackberry Mint while Strawberry Basil for James.
Taste Test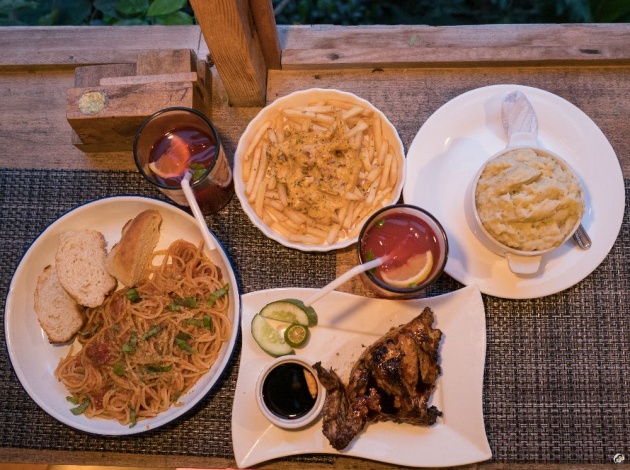 Image credits: Jean Beltran via bitLanders
Price wise, I like that they have good options for affordable prices with a cool, homey and chill place like this but the taste of their food was just so-so. The spaghetti was okay, nothing so special about it, James didn't find the chicken good but enjoyed that they serve a generous amount.
Actually, our orders were very similar to that in West 35's Haven Cafe but see, I super loved the food there that whenever I order something similar, I always compare it to that experience, however, what we had at Fabio's Kitchen is too far down from what we had at Haven Cafe.
Overall Verdict
Image credits: Jean Beltran via bitLanders
If anyone would like to escape the city, feeling chilly and enjoy a good view of the mountains, either alone or with a partner or perhaps with a group, I would recommend this place because it isn't too far from the city yet it already gives you the coldness of the mountain breeze.
Although, I should say that Fabio's Kitchen place only can accommodate a few heads but the good thing is that they are friends with the neighbor restaurants that if you and your group can't fit in Fabio's, they can have you seated at the neighbors'.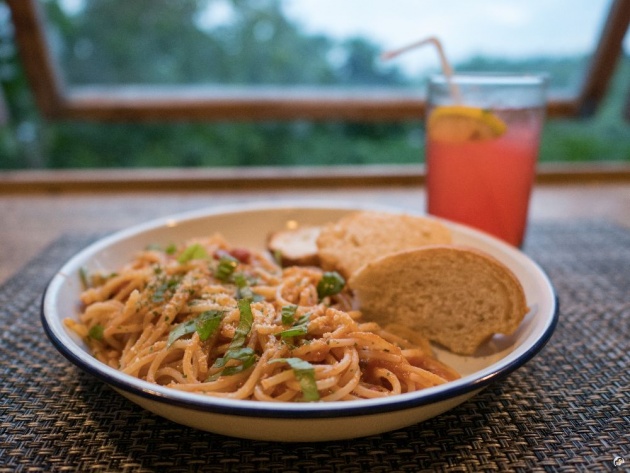 Image credits: Jean Beltran via bitLanders
Food is okay, do not expect too much but just enjoy the scenery and the availability of Italian cuisine. They also serve Cebu craft beer at Php 150 each so it is worth trying however, I don't think we will come back again. Rating this 6 over 10 stars!
This blog entry was written and published by Jean Beltran-Figues for bitlanders.com.
Join me, click here to sign up.