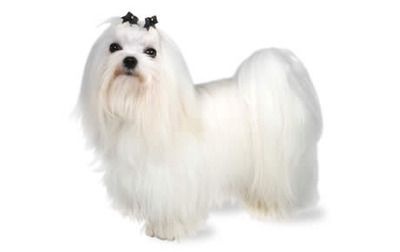 Throughout his long history, the Maltese has been given many names, such as the "Melitae Dog," "Ye Ancient Dogge of Malta," the "Roman Ladies Dog," "The Comforter," the "Spaniel Gentle," the "Bichon," the "Maltese Lion Dog," and the "Maltese Terrier." Today, he is known simply as the Maltese.
This elegant toy dog breed is famed for the silky white hair covering his body. Straight and thick, the coat falls all the way to the floor. Many years ago, Maltese came in many colors, but these days they are always white. When a properly built Maltese moves, he seems to float beneath his cloud of white hair. Because he doesn't have an undercoat, the Maltese sheds little, and many people consider the breed to be hypoallergenic.
But the Maltese is more than his coat. Completing the picture is a slightly rounded skull, black nose, drop ears, dark, alert eyes, short, straight legs, and a graceful tail. He's a sweet, intelligent dog who is devoted to his people. And as one of the smallest of the toy breeds, he's well suited to apartment or condo living. Wherever he lives, the Maltese is responsive to his environment and makes an effective watchdog.
Although they look delicate and aristocratic, Maltese can have a lot of energy. They learn quickly if rewarded for their efforts. Because they have a long history as companion dogs, Maltese require a lot of human attention and suffer from separation anxiety. If left alone for hours each day, they can bark and become destructive.
No breed is perfect, and Maltese sometimes are intolerant of small children or other dogs, especially if they have been overly pampered by their people. If this occurs, they can become very protective, barking and even biting if animals or people are perceived as a threat to their relationship with their beloved human family.
Even tolerant Maltese are not a good choice for families with small children, however, because they are so small and can be easily injured. Like all dogs, they must be taught their place in your home, and require proper socialization and basic obedience training.