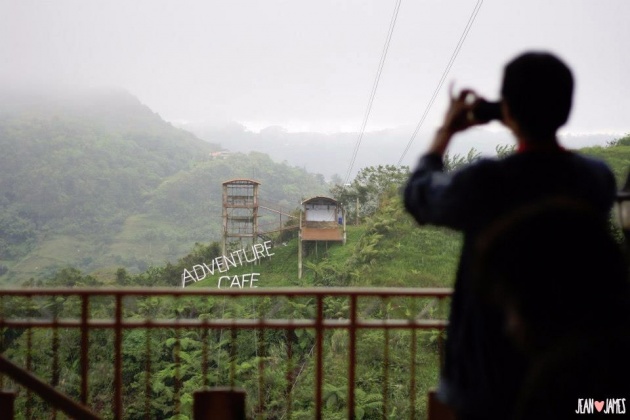 My colleagues and I were thinking of adventure when we were on our way to Adventure Cafe at around six in the morning. As a part of a very active team while I was still working in the BPO company, almost all of us even without proper sleep would love to go out, spend some good eating time at a nearby restaurant or an instant adventure. We are lucky that Cebu even if it is a busy city, we can still find some place to enjoy nature which would not really take a lot of effort and travel time. In fact just thirty minutes away form the building where we were situated, we already have a highland area where we can get to see the city from above. It would be a great place to stay specially during hot and sunny days because of the cool breeze and no air pollution around this area.
The only downside of course is that one needs good vehicle to get there. We however found a way about it by renting a van but then we later learned that the colleague has a van himself so we cancelled the booking and just went there with his car instead.
Five in the early morning when we end our shifts and that is just perfect for us to have breakfast in Balamban where this Adventure cafe is located. A forty five minute travel away from our office in Cebu city and we had to take a van to get all of us there, we were more than ten but the others have their own vehicles.
We were expecting to do the same thing as what this video shows. Credits : Laiventures YouTube
What's so much fun about having friends and colleagues with you on a road trip is that we don't ran out of jokes and anything to talk about. All of us will burst in laughter whenever someone fires up a silly joke and we would happily just go along whenever someone tries to start singing. So it was all laughter when we were on our way and since the shift had just ended, everyone were talking about their customers and the ones they had spoken over the phone during the entire eight hour shift.
Now if you have not worked yet in a call center, you wouldn't know that it is really fun and at the same time challenging to be in this specific venture. It has good and also bad times of course but then the good times are a majority. Maybe the downside is the lack of sleep but nevertheless, you'll definitely enjoy specially if you are working for a support which is in line with your college background. As for me, I had been into the IT side as a Technical support for mobile devices and also Internet Service Providers. But anyways, that's already done and I wouldn't like to be a part of the night shift life anymore. I have moved on and I am loving the job which I have right now.
So going back, everyone of us know that it was a bit gloomy that day but since we were all in there already, we just proceed and tried our luck. A thick fog had welcomed us when we reached the town of Balamban, it is a higher area and as per the locals, it is just normal that they get thick fog specially when it is early morning.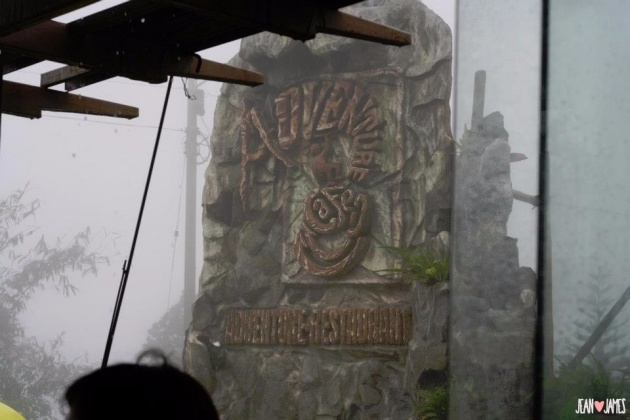 The rock wall signage from the outside of the cafe. It is really fascinating and inviting. Design wise, it is attractive.

Here's a view of their huge rock carving with the cafe's logo and name on it. It was already raining by that time. It was unfortunate that it started raining when we reached there. The signage from outside was appealing and actually we thought that it was some kind of a wall climbing adventure too that they are offering. The smiles in our faces turned into frown since we already know that the adventure which we were all anticipating would not anymore be done today since it has already started raining. Well anyway, this gives us another reason to come back soon.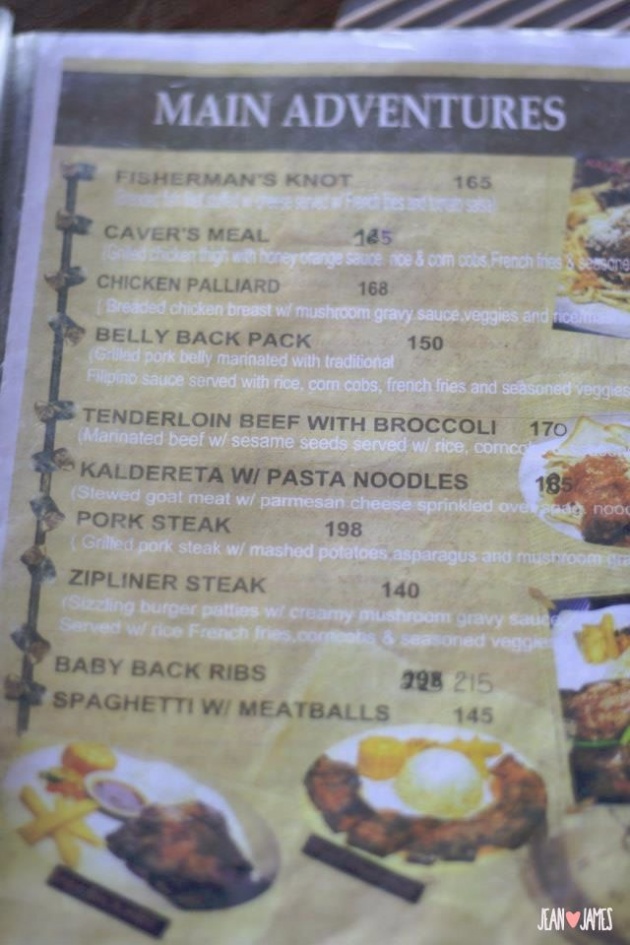 Menu at Adventure Cafe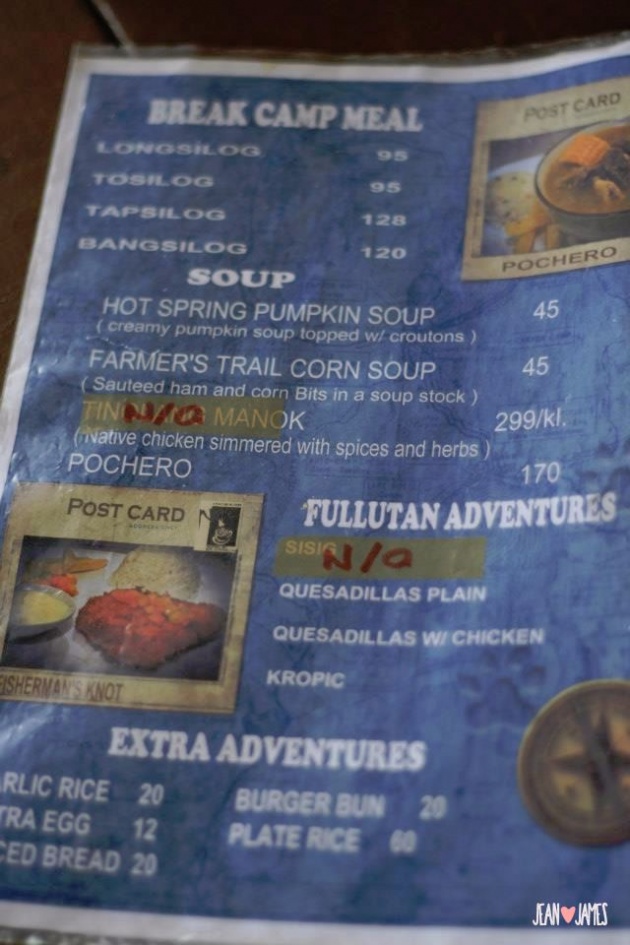 We ordered of course breakfast meals.
But the sun started shining again while we were looking out the menu and checking the place. We then ordered our breakfast so they can prepare it for us which would take some time. But then after we ordered our breakfast and the crews were already preparing the zipline stuffs so we can have our fun and adventure time later on but the rain came and started its bad activity once again. It was really a bad timing for us so we decided to not pursue the zip line activity anymore also, the crews said they won't allow us as well to do it anymore even if the rain will stop again because it is already wet and kind of dangerous if we would still pursue it. We agreed as well.
And so we just stayed inside then of the cafe, ate our breakfast slowly hoping that the rain would stop so there won't be problems when we would go back to the city. We talked about everything and all the jokes we could think of to kill time and maybe perhaps to get the weather's attention and make it happy but then it didn't happen. It slowed down the rain but never really stopped.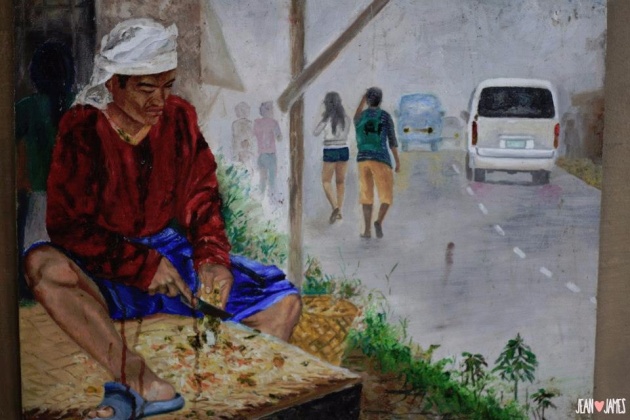 This is actually a familiar kind of painting because I am always seeing these locals doing this just near the highway.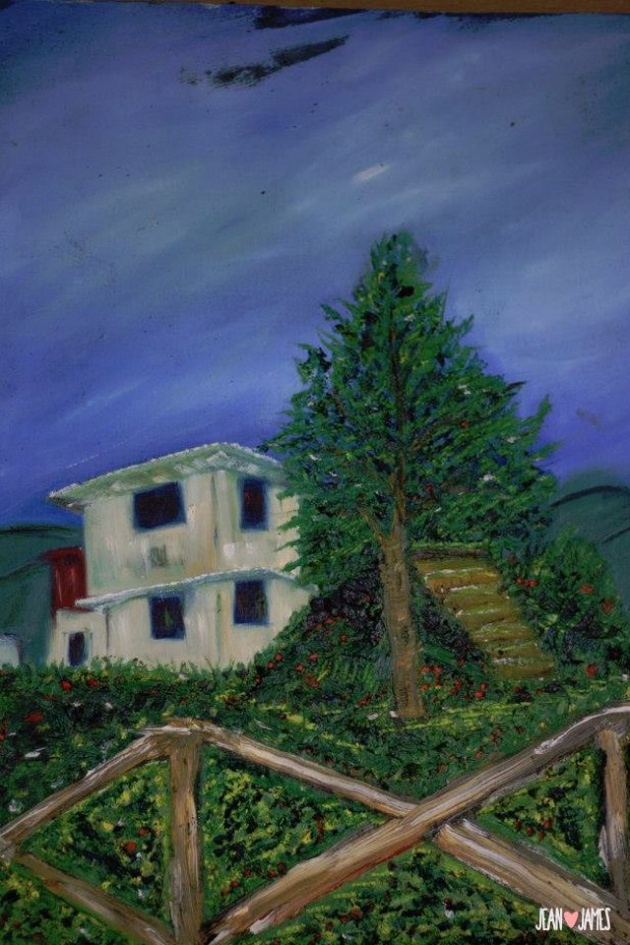 The Balamban area is abundant of pine trees so this painting perhaps was inspired by those trees.
We enjoyed the place instead with what the cafe had inside, there were a lot of paintings in there which was painted by the owner of the cafe himself. It was a nice view and there were other paintings just bring dumped in the zipline area. We all wondered as to why it was just being dumped and that the paintings were not hanged in the walls. Only a few were being displayed. I would have loved to bring one at home and display in the dining area.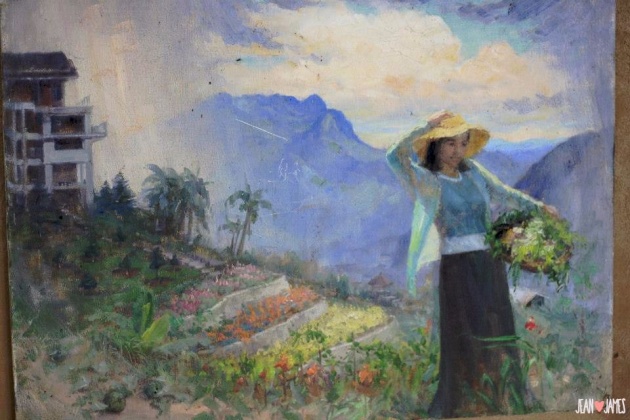 Painting of a woman picking or harvesting from the flower garden. Reminds of me Sirao Garden.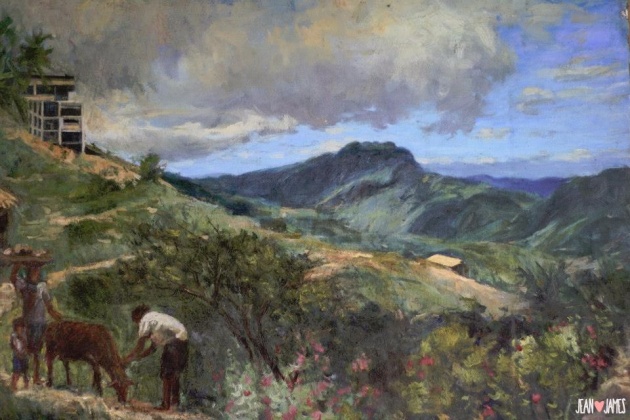 Here's a landscape painting of I guess one spot where the artist had gone for an afternoon walk.
Mostly of the designs were more of the province life and I believe it is inspired from the fact that the owner lives in the uphill area. Looking at the painting, there were mountains, skies with huge clouds on top and also farms of flowers and gardens of vegetables. Also there were pine trees and other plants. Most of these can be seen from where we are located and I suppose the painter is able to find his subjects just by looking at what is surrounding him.
Well we also found a spot there which has padlocks with names of certain lovers. It is a mini The Seine Bridge of Paris except that the padlocks were not as much as the one in Paris but it was quite obvious that there have been a lot of lovers and couples who had visited this place.
Some other activities which can be done in Adventure Cafe. Photo credits Ramon Vidal
We learned as well that aside from Zip Line, the cafe also can arrange for Wall Climbing and the special activity which is called the Shout Wall where in a customer can go buy some breakable items like glass plates, cups, mugs and everything breakable and throw it in the Stress Wall while shouting so to relieve stress which one has been keeping for awhile.
Here's an example of the Shout Wall. Video credits to jezardavao's Youtube
That we didn't also experience because the area is downstairs which we can't go into due to the rain. Anyways, another reason to come back though.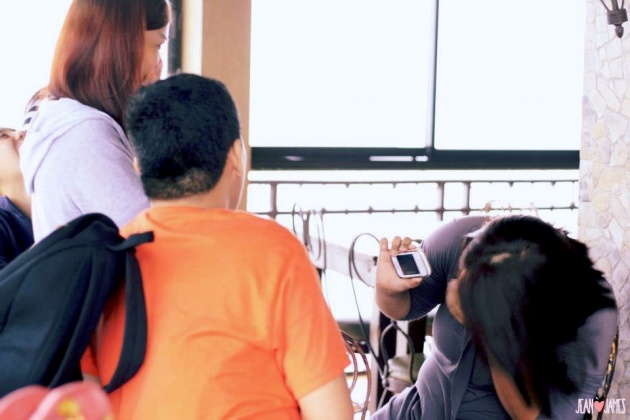 My colleagues playing the Pinoy Henyo game.
Anyway, our day ended with no zipline but full of laughter. We were a bit disappointed but we have to choose happiness. There will be more time and we will go back soon!
Content and Images by Jean Beltran-Figues
All rights reserved