Dick Advocaat thinks Jermain Defoe's wonder-strike in the Wear-Tyne derby could give Sunderland the perfect boost to keep Premier League football at the Stadium of Light next season.

Head coach Advocaat claimed his first win since taking over until the end of the season from Gus Poyet courtesy of Defoe's stunning 22-yard volley in the final minute of the first half against Newcastle United.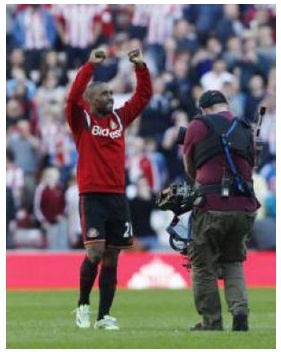 The 32-year-old striker's brilliant winner lifted the Black Cats up to 15th and three points clear of the relegation zone with seven matches remaining.

Defoe watched striking partner Steven Fletcher's flick on drop invitingly for him before he displayed astonishing technique to power a dipping volley into Newcastle goalkeeper Tim Krul's top left corner.

Advocaat, whose side face Crystal Palace this Saturday at the Stadium of Light, said: "Jermain gets paid for scoring goals. It's just a first win for me. We had to win today, there was a lot of pressure on the team.

"I had the feeling when we arrived on the bus with the way the fans treated us, I felt it was something special. This helps us in our aim to be outside the bottom there on May 24.
"I said to Steven Fletcher, 'it's time to do something now'. I said to Defoe 'do I have to say something to you'? He said 'no, I know what I need to do'. So I'm taking credit for the goal. I'm not sure if the players will be able to celebrate, they're all tired in there."
While Defoe's moment of magic earned Sunderland a fifth straight victory over Newcastle for the first time, the bigger picture was that it has given Advocaat a greater chance of leading the club to top-flight survival.
The former Holland coach said: "It was a well deserved win, and I was proud of the team. It was a brilliant goal, we had good opportunities to get some more goals and give us some breathing space, but it wasn't to be. We know we have still three home games to go and we have to get those points there. From tomorrow we start concentrating on Crystal Palace."
Newcastle struggled to deal with Sunderland in the first half, hardly making an impact in the opposition half. The Magpies, who have now lost four league matches in a row, are still nine points above the bottom three.
But head coach John Carver, who hopes to stay in the job beyond this season, was far from happy about his side's display even though they could have clinched a point in the end had Spanish forward Ayoze Perez found the target with a volley from six yards.
Carver, whose side travel to Liverpool on April 13, said: "We have to look over our shoulder, we're down to the bare bones and we have to think where the next point is going to come from. Some players can't handle the pressure of these games, let's be honest about it.
"Maybe some can't handle it. It's the manner of defeat more than anything else. If we'd have had a right go and been on the front foot I could have said at least we've had a go. I can' make things up though because we've not done that."
Newcastle goalkeeper Krul was criticised for waiting to have a joke with Defoe for the volley which stunned the Stadium of Light as the players left the pitch at half-time.
Carver said: "TIm Krul is the most passionate man about this club, but sometimes when someone has a bit of brilliance about them then you can congratulate them. I've got no criticism of Tim, he appreciates a bit of skill because he couldn't have done anything about it."