Yesterday I had the great opportunity to be part of the AGFAF retreat, Afghan Girls Financial Assistance Fund, at Lawrenceville School, in New Jersey; I was invited by Leo Motiuk to be part of the workshop with 23 Afghan Girls, and also as the speaker at the dinner later in the evening in front of the students, the members of AGFAF, the Lawrenceville School representatives and supporters of both organizations.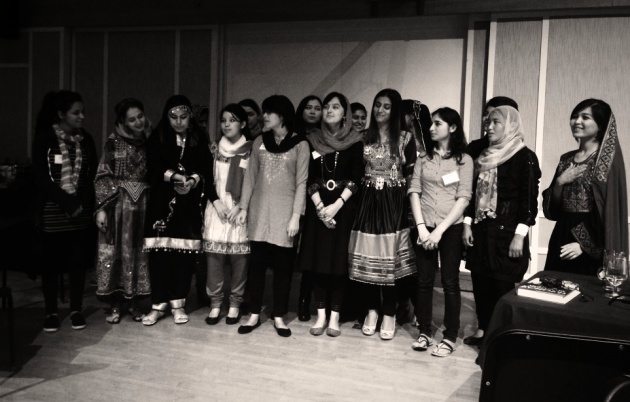 Fereshteh Forough, Women's Annex board member, Semyon Maltev, Film Annex Filmmaker and Fedar Khurzalov, Film Annex Marketing Manager, joined me; we arrived at Lawrenceville School campus in the early afternoon and we immediately started the workshop to educate the students about the Film Annex platform and our role within the company. Two fantastic young ladies, Fatima Haidari and Yasameen Mohammadi, who worked at the Women's Annex / Film Annex offices in Kabul this Summer as writers and marketing assistants, and also part of the AGFAF program, were waiting for us. We spoke extensively about the great qualities and potentials of Afghan Female Writers and Filmmakers and the fact that they are leaders in the Buzz Score Performance of the entire Film Annex Platform well ahead of their male peers in Afghanistan, USA and rest of the World, for further information check the Film Annex Community Page.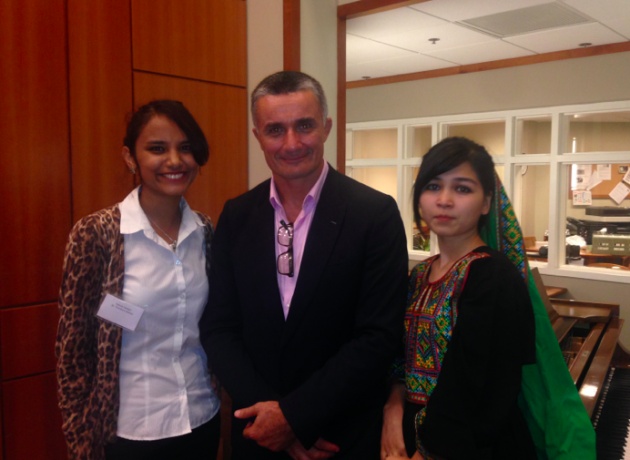 During the Workshop the Film Annex team, including Fatima and Yasameen, addressed the Afghan Students with information about our own role within the company and how we use and work on the Film Annex platform. The most interesting part were the questions of the students; we filmed the entire event and we expect to broadcast it in the next 7-15 days on Women's Annex and Film Annex.
Here below an interview to Yasameen Mohammadi in English, shot a few weeks ago in Kabul at the Film Annex / Women's Annex Film Studios:
Here below an interview to Fatima Haidari, shot a few weeks ago in Kabul at the Film Annex / Women's Annex Film Studios:
Leo Motiuk is a very intelligent and thoughtful man who has patiently educated me about AGFAF mission and future projects; in the last two months Leo Motiuk and I spoke several times and established many point of collaboration, agreement and common goals; he is one of the smartest people I came across since the beginning of our work with Afghanistan; last night I was astonished by the incredible achievements of AGFAF and the vision of Leo Montiuk and his partners for a better future.
Another meaningful person in this process has been Graham Cole, former Dean of Lawrenceville School and Head Master of Westminster School; he has helped us all through out the event and expressed great experience with academic education for young students.
My vision is to educate young students, girls and women to understand the world of Digital Media through Digital Literacy, with the purpose of Building Local Talent and arm them with the necessary tools for Story Telling; I want them to express their thoughts, ideas and feelings and discover new heroes and role models. Fereshteh Forough is a leading thought leader on the concept of Citizenship and Communication without Borders and she opens up her vision in the video here below, much more will come in the coming weeks, including her attendance to TEDx NYC.
To make this day even more important and meaningful, my parents, Roberto and Giovanna, arrived from Italy joining us during the beautiful Photographic Show by artist Zalmai, with incredible portraits and landscapes of Afghanistan and its people

Read more about Digital Literacy, Education, Knowledge and Learning, for Afghanistan, Central South Asia and other Developing Countries, Investing in Social Enterprise for Women In Technology, Digital Literacy and Social Media and How Female Students from Afghanistan Earn Money On Film Annex; Sustainable Education, Business and Philanthropy.
Please visit my personal page on Film Annex and subscribe. Please also visit Women's Annex and subscribe to it for updates, articles and videos.