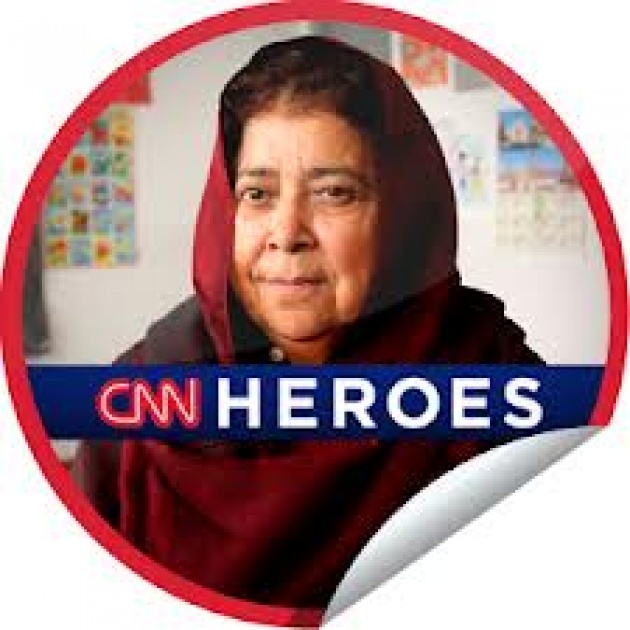 Since 2007 CNN has been honoring individuals who make extraordinary contributions to humanitarian aid. These "heroes" come from all over the world, and have distinguished themselves in helping their community and positively affecting the lives of others. In order to be nominated (and voted), it doesn't matter who you are or where you come from, as long as your actions speak for themselves. This coming December 2nd the 10 finalists will receive $50,000, and the winner $250,000.

One the candidates for CNN Heroes this year is Razia Jan, a woman who has been fighting to educate Afghan women in rural Afghanistan. The problem is not the lack of education in Afghanistan. The real challenge is building the logistics for a safe education, because girls are object of discrimination by nature, and have often to deal with life-threatening attacks like having their drinking water poisoned, being thrown acid on their face, or even having their classroom blown up. Here terrorists would do anything imaginable to prevent them from learning. Despite these dangers, Razia continues to keep the doors of her Zabuli Education Center open. This place provides education free of charge for about 350 girls, most of whom would usually not have access to school.
In addition, Razia founded Ray of Hope Foundation, a nonprofit organization dedicated to improving the lives of women and children in Afghanistan through community-based education. Founded with the belief that education is key to positive, peaceful change for current and future generations, the foundation strives to provide opportunities to learn and grow in a safe, nurturing environment.
Razia's project of improving the education system in Afghanistan by knocking down the walls of gender discrimination and inequality is challenging, but she's not alone. Filmannex and the Afghan Citadel Software Company are partners in a project - the Afghan Development Project - to bring Internet classrooms to 160,000 children in Herat, the third largest city in Afghanistan. During the next 3 years each of the 40 schools selected will see the addition of 10 brand new computers connected to the World Wide Web, with a consequent huge impact not only on their future professional opportunities, but also on the Afghan education system and the economy of Afghanistan. These students could become the key players to significantly impact the future of this country for the next generations.
Giacomo Cresti
http://www.filmannex.com/webtv/giacomo