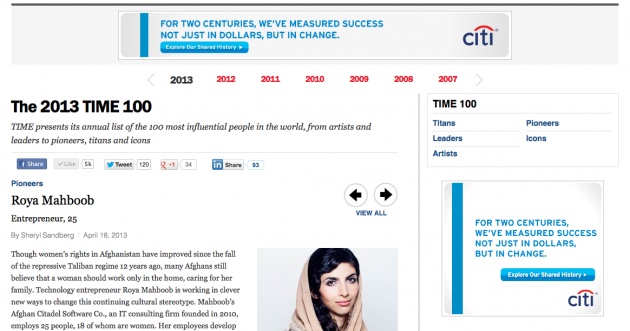 The advertising of companies like Citibank allows TIME Magazine to exist, operate, share ideas, educate. This is a sustainable way to distribute news. Today, thanks to the contemporary Ad-Network technologies like Real Time Bidding and Revenue Sharing, the same concept can apply to individual writers and readers, including young women and men from developing countries like Afghanistan.
In the last few weeks, we have been working on the creation of an Ad-Network and Publisher platform focused on the cultural, geographic and demographic needs of Central and South Asia. The Ad-Network is managed by the Afghan women of
Women's Annex
, and its revenues benefit the growth of sustainable business and education in the region, starting from initiatives like
The Afghan Development Project
and the
Examer Vocational and Educational Software
. We are developing this project with the Advertising representatives of consumer products present in the region, and we are looking to grow their base of advertisers and consumers.
Advertising acts as the fuel to development and education in Central and South Asia. It empowers women to work from their homes or schools, while achieving financial independence within their local cultural traditions. The same advertising revenues that fuel the growth of companies like TIME and Film Annex will benefit female social and digital media experts from Afghanistan.
This is how it all started:
This also allows us to put Afghan young women and men on the digital map of the World Wide Web, define them with specific demographic studies, and develop tailored digital applications and language navigation. We are dealing with payment systems like Mobile Payment Technologies and the possible introduction of online bank accounts and savings.

"All starts from Herat, Afghanistan"
.... This is the new frontier for Advertising and Online Social and Digital Media. I call it the
New Herat
:
NO POLITICS, JUST INTERNET.