Fereshteh Forough, a founding partner of the Afghan Citadel Software Company, visited New York City last week as part of her three-week exploratory US business tour in collaboration with Bpeace, an organization whose tagline is: "We believe that creating jobs creates peace". Fereshteh Forough's biography is a must read. Even better, I invite you to watch her interviews at Film Annex on her Web TV. Fereshtesh was born in 1985, and during the last 26 years, she lived in Iran, Afghanistan and Germany, got her Masters in Data Engineering in Berlin, and founded a successful company with Roya Mahboob. She is also a lecturer at the Computer Science faculty at Herat University.
I was an early bloomer, opening an office in Los Angeles at the age of 21 after 21 years in Florence. And now, after 20 years in New York City, I can't recall meeting successful and driven people like Fereshteh Forough and Roya Mahboob. I started importing sails from Holland when I was 17 years old. My father took me with him on his trips to Paris and Milan to attend Textile and Fashion shows since I was 15. I have been involved in business for the last 26 years, roughly the age of Roya and Fereshteh.
When I meet someone, particularly in a business relationship, I like to understand the level of confidence, experience, independence and above all the ability to deliver what was discussed. I like doers.
I came across Roya Mahboob thanks to a short documentary by NATO, "A businesswoman in Herat". The synopsis of the video starts with: "Roya Mahboob runs the most successful software development company in Herat". After exchanging a few emails, I already knew she was an unusual person. Her professionalism is amazing. I wired the funds for our first Internet classroom, and she delivered it in two weeks, along with a great video documentation of the project.
I met Fereshteh last Friday, as she spent some time in our film studio, met my brother and partner Tommaso, and our partner Mike Sweeney. She got on camera to talk about herself and the vision we share about building schools in Afghanistan, connecting the Afghan youth to the global community of the World Wide Web with digital media, and supporting Afghanistan educational system and economy. In 15 minutes, she delivered a fantastic portrait of our project in both English and Dari (Persian), and didn't need a second take or any explanation. She just delivered what she thought. She is now flying back to Kabul so that by the end of this coming week, they can start the construction of the second Internet classroom in Houz-e-Karbas.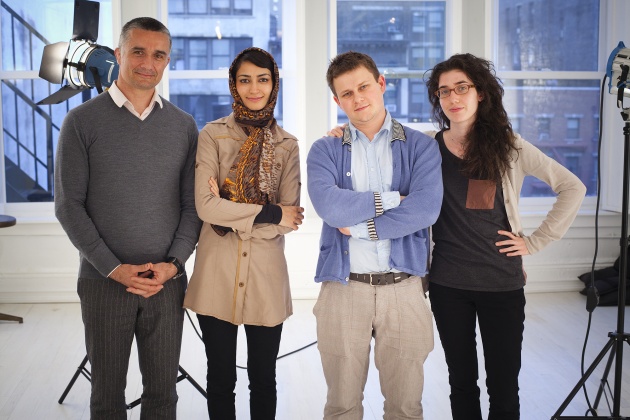 Can I ask for more? Afghanistan women entrepreneurs are on a different planet.
follow me @rullifrancesco