an Afghan company has started manufacturing and assembling computers and components, with big plans for the future.
Blue Sonic is a company founded by an expatriate Afghan called Sayed Hashmi. Sayed has begun manufacturing some computer components in Afghanistan, and already assembles complete computers, phones and other household devices within Afghanistan. Based in Kabul, the company has an assembly line and is soon to open a showroom. The company has plans to roll out manufacturing and shops throughout Afghanistan.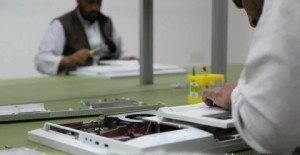 Sayed Hashmi, CEO, Blue Sonic, said, "Blue Sonic is the first Afghan IT or computer manufacturer."
Sayed said, "Being a human, and the humans are all the same, why the rest of the world have all these services? Why not Afghanistan? As an Afghan, for me, whatever I have done in Canada or another part of the world, I want to bring those all good things to Afghanistan."
"Why not give Afghans better service centre? Why not give them better trust on my product? Why not to give them reliability? Why I want to manufacture product in Afghanistan?" said Sayed.
Sayed is optimistic about his business in Afghanistan since there is no competition in his area as Blue Sonic is the first company to manufacture computers in Afghanistan.
According to Sayed, 60 per cent of the Afghan population is comprised of youth that gives good numbers to start business in Afghanistan.
"We are making actually the computer casing and some other parts at this first stage. We have a plan to manufacture most of these things in a long term. Our business plan is to see the Blue Sonic company will be manufacturing not only computers, most of the electronic devices such as a TV, home appliances. This is in our plans,"
He said, "Being an Afghan, it's my responsibility to bring business to the country, bring hopes for the people, bring confidence for the rest of the people who are in business. Investors are coming from outside to Afghanistan. It's a duty for all Afghan to come up front, give the hope for all other people to do business in Afghanistan."
"I see good opportunity. It's not only to make people happy, but it's realistic, it's real. There is a business. There is opportunity in Afghanistan," Sayed added.