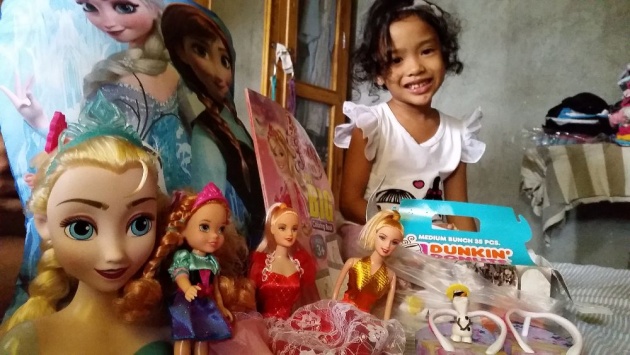 Christmas had somehow become a season of giving and my niece, Aiesha Zaila received her gifts too! She is a fan of the movie Frozen, like she plays the songs over and over again every single day. We sing them together when she asks me to as well.
And so before Christmas day, she had been asking everyone to give her frozen stuffs.
Here's what she received with the corresponding givers:
> A frozen pillow with Princess Elsa, Princess Anna and Olaf on print from Tita Jean, yes that me!
> A Princess Elsa head for make up and hair do game from her daddy.
> A little Princess Anna from her daddy too!
> Three dolls, a barbie coloring book and a pair of Barbie slippers from her Ninong James, she is also a fan of Barbie though.
> A little Olaf wearing sunglasses and a hat from daddy as well.
> And some dunkin Donut munchkins and Red Ribbon Chocolates from her Tito JOnas and Tita Gecell.
She loves everything she received and grateful to the givers too!