I have been saying this and I will say it again, I am a free or discount sucker and since AirAsia Airlines is offering their RED Hot Piso Sale, I am not letting this pass!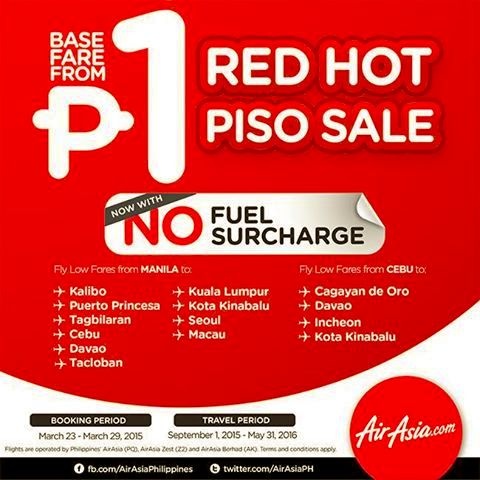 The seat sale is for Manila, Cebu, Boracay, Puerto Princesa, Macau, Kota Kinabalu with a base fare of Php1. With travel periods: 1 September 2015 till 31 May 2016. Just perfect for our first anniversary!

I immediately opened their website, booked a round trip ticket for February 23 with returning date of 27th for me and my husband of course. That only cost us 1200 with a baggage fee of 170 for 15kgs. This is my first time to book a ticket with AirAsia and I was a bit skeptical with the site but it was totally user friendly and one thing, unlike CebuPacificAir's website, this didn't give me a time-out error!

And our destination on the next year will be.... BAGUIO! I had been dreaming to go to this place and I will be doing it soon! I can't wait to see the strawberries and the places that our co-bitlanders, Ako-eto has been showing in his galleries and blogs.

I am looking forward to be making our itinerary for the three nights and four days stay!