Hide Away Grove Resort in Bantayan Island entrance. Video credits: Jean Beltran-Figues via bitLanders.com
If you are fond of travels and getaways, I bet you are very much familiar with airbnb and what that is for. All over the world, travelers use this to book a room or an entire house to stay on during a trip. What it differs from the other kinds of website and applications is fact that there are house owners and other establishments such as condo units in which allow guests to stay in their homes without real business licenses like how hotels do. Just a membership of the website and you should be able to make a posting of your room or house and you should be good to go.
Here's a short chatbot about travel:
But although I have been aware of this site, I personally had not used it until last week when James and I planned out our Bantayan Island escape. You can check on the story here: Bantayan Island Again Day 1
Half of our second day was spent at the resort where we stayed overnight and the second part was spent chilling at the quiet and cool resort, Ogtong Cave Resort. Click the link to read about the story.
This new blog entry is all about reviews for Airbnb app and the resort where we stayed at overnight.
AIRBNB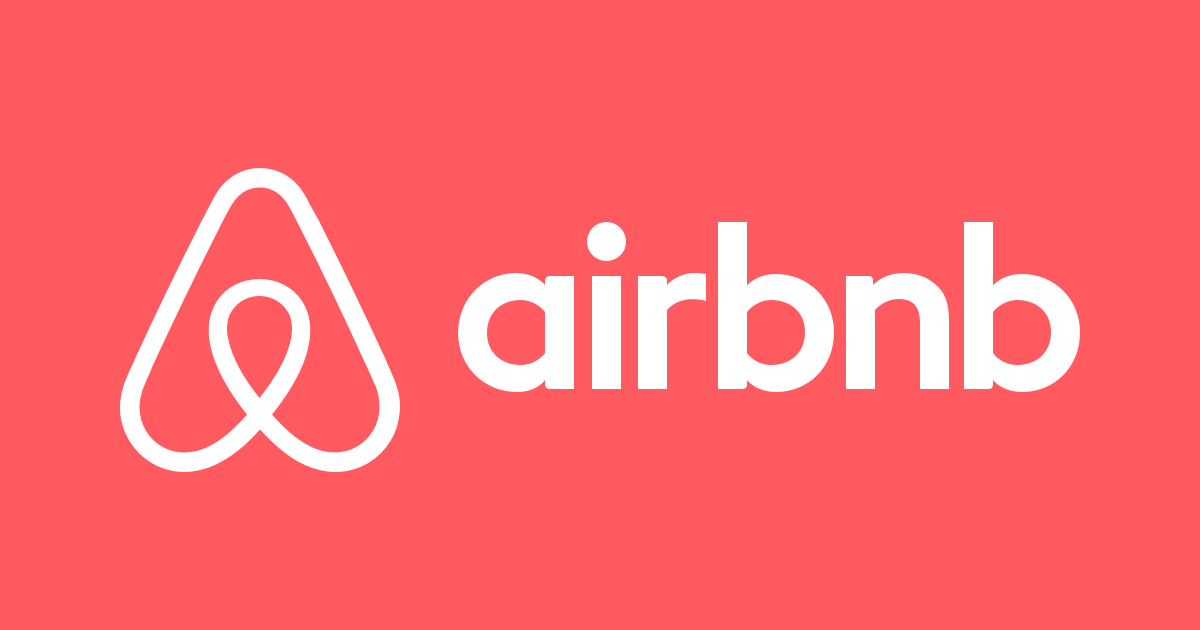 Image credits: www.airbnb.com
After years of just ignoring the Airbnb application, I finally decided to download and install it because I was trying to find new resorts in Bantayan Island. The online sources showed certain resorts but they have high prices given that there was a long weekend so everyone in the city were just very hyped up to go on a weekend getaway and that's very understandable, everyone would like to go to the beach on a weekend.
So I had opened up an account with the application. What really encouraged me to sign up was the free credits given to those who'll be signing up on a certain referral link.

So who doesn't want free points anyway? Of course I do so I got to my Play store and downloaded it. I somehow found a resort for the Bantayan escapade for a low rate of Php 976. However, upon check out, I didn't realize that there are more fees to be included which are the cleaning fee and processing I guess.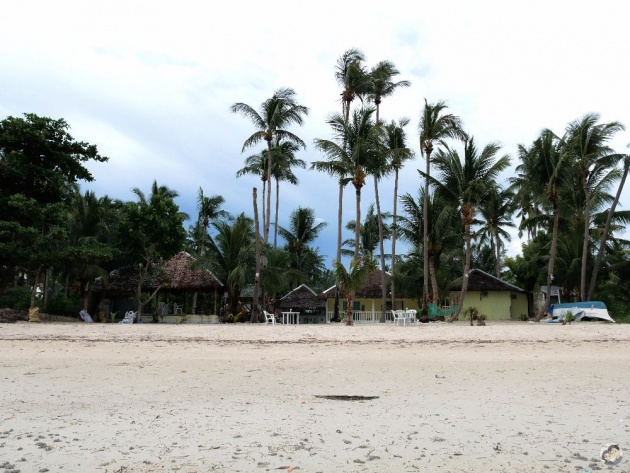 View of the resort from the beach. Image credits: Jean Beltran-Figues via bitLanders.com
While Airbnb doesn't have its own building, it has enabled an online marketplace so that its members can offer specific host services. These services vary from offering of vacation or other properties for accommodations, single or multi-day activities in various categories, access to unique events and locations, and a variety of other travel and non-travel related services.
Its mobile application gives more freedom for each user and it has this certain sections:
EXPLORE
On launching the app, this is here it routes the users to search for whatever they needed thus the section is referred as Explore. It has options for homes, experiences and places.
Homes are for the hotels and hosted properties for rent for those travelers and others who are looking for a place to stay in any specific location. It ranges from unique places to villas and to tree houses or even hotels and some other common houses.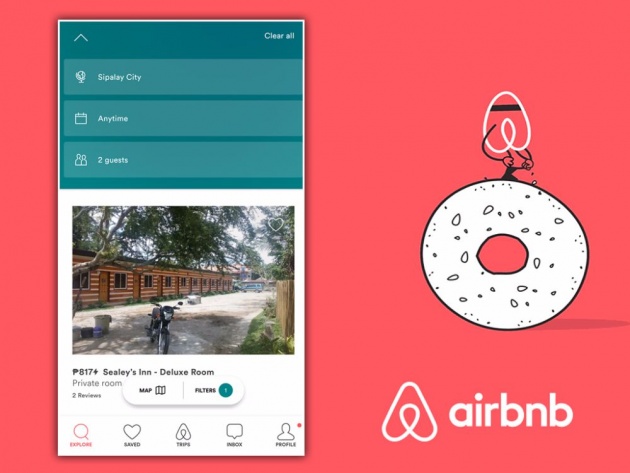 Image credits: animade.tv
Experiences are for activities offered by institutions who have posted their services in the application. There are lots of activities offered depending on the location inputted in the search bar.
Places have certain categories such as arts and culture, drinks and nightlife, entertainment and activities, food scene, parks and nature, shopping, sightseeing and wellness. Basically, these are all options of certain spots that one can visit when going to this specific location.
Users can always make changes to the filters available on the app but also get to add the exact city, province, the dates and the number of guests just like the other common property advertisement sites.
SAVED
Quite understandable because it keeps a record of things or places the user like while browsing over the application. When that happens, users can always save them so they can share it with other friends who'd like to join him for the travel.
Click on start exploring if no saved items are listed yet so one can start looking for certain places. I still don't have any available saved item so far.
TRIPS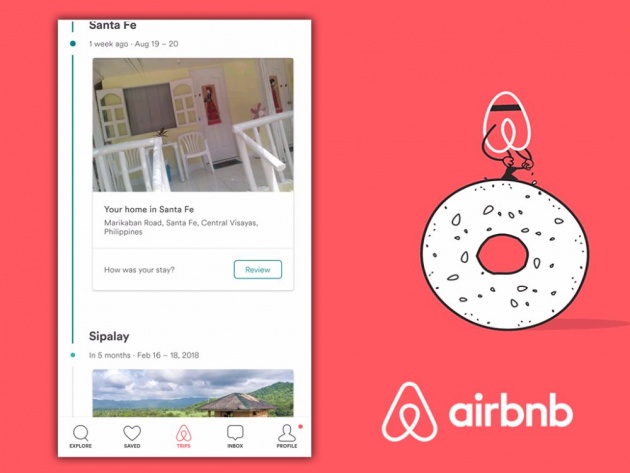 Image credits: animade.tv
This section holds all the bookings which have been confirmed or paid all throughout the usage of the application. It lists the experiences according to the date. I like how it displays the bookings though which also includes an option to give a review to the places one has already visited while another option to look for the exact location of the property with the Map button which redirects users to the Google Maps application.
There's a timeline as well showing the list, currently, I have two on the list.
INBOX
A section for keeping the communication with the host. It is way easier to communicate with the owner of the property you'll be staying. So if there are questions and concerns before the travel time, this section should be used.
I had received a message from Rene, the host at Hide Away Grove Resort telling us about the vehicle which can take us from Santa Fe to their location.
PROFILE
All details including the name, address, payment options, everything about the app can be found as well in this section. The points as well which were given to me is listed in this area.
Well, I actually like the fact that I can communicate directly to my host and it's more of a personal connection compared to hotels which doesn't seem to really care much about the guests so I have tried the application again after finding another property which is very nicely situated above a hill in Negros Occidental so I booked it right away.
James and I will stay there for 3 days and two nights on February next year for our wedding anniversary. I totally believe that it would be a great experience to be away from ths hustle and bustle of the city.
But for now, let me share the experience at the recent Airbnb trip booking with Hideaway Grove Resort.
HIDEAWAY GROVE RESORT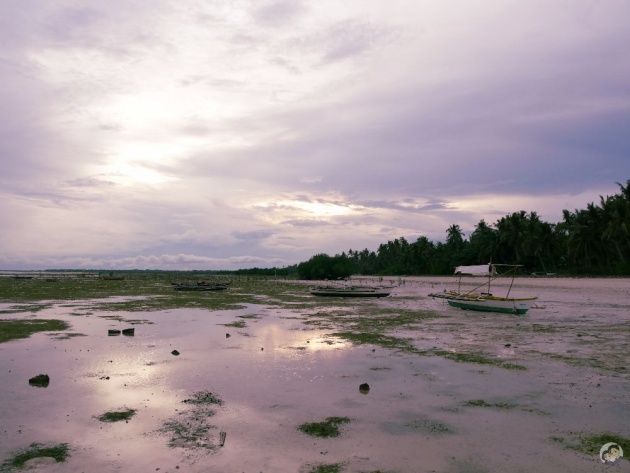 Sunset time, but no sunset because it was about to rain. Image credits: Jean Beltran-Figues via bitLanders.com
A motorcycle has to be rented for us to get to the resort, it was not a big deal because we already planned to rent one so we can go to whichever location we want without the hassle of looking for any vehicle. Motorcycles for rent are very common in the island and it costs Php 250 to 350 depending on the motorcycle but this is good for 24 hours so it is a good deal.
I miscalculated the location though because it was way farther than what I had imagined. It didn't help as well that it was raining when we were on our way to the resort but we reached there complete with hands and toes so we were good.
It is given that the months of August until the end of the year is not a good time to go to the beach because there are sea grasses floating everywhere, summer is indeed the best time to come by in the island. There are also lots of garbage brought by the waves, one more reason to hate plastics!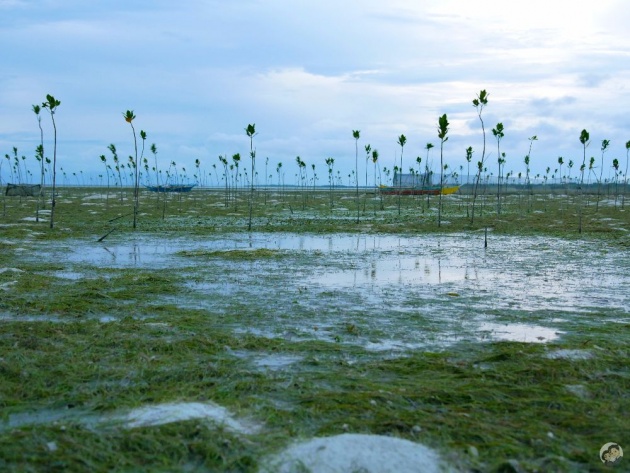 It was good to find baby mangroves in the area, and look at those sea grasses about to give up! Image credits: Jean Beltran-Figues via bitLanders.com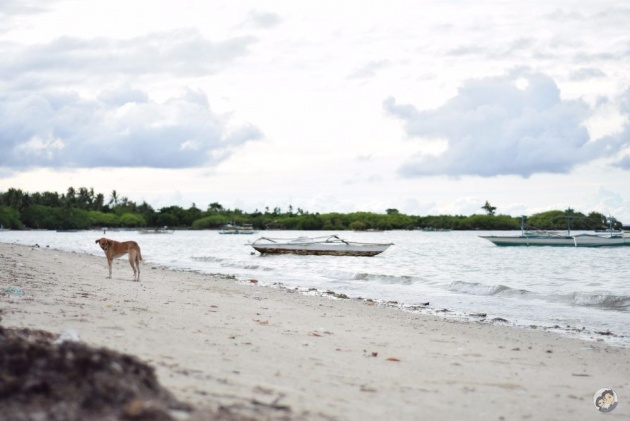 A local dog looking at us while we roam around. Image credits: Jean Beltran-Figues via bitLanders.com
Dead sea grasses all over the shore. Image credits: Jean Beltran-Figues via bitLanders.com
Anyways, this is a very small resort with some parts of it still under construction. The room we have rented is the bungalow 1, it was already ready when we reached there, in fairness it was clean and white! The room includes free water supply with glasses and plates and utensils included in it. There's a bamboo made furniture on the right where hangers were also available for our stuffs. Two towels were provided, in the washroom, there were free shampoo, soap, toothpaste and toothbrush too! Shower was fully working and the flush as well which was good. But our favorite part of the room is perhaps the bed. It was very comfortable that we had good sleep that night.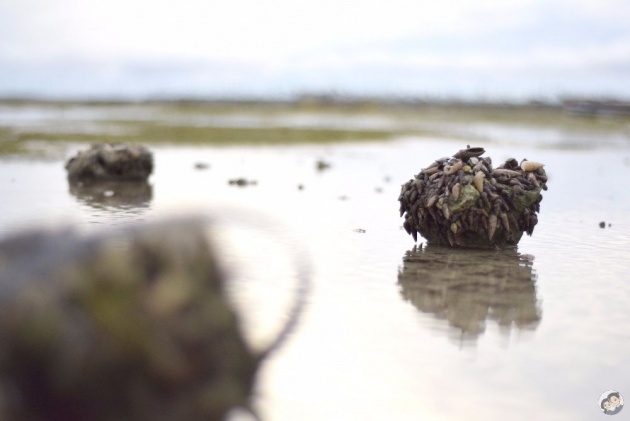 These snails are all climbing up the island stone! Image credits: Jean Beltran-Figues via bitLanders.com
We also had dinner in the resort but we didn't like the food much opposite to what the reviews say, perhaps there were missing ingredients. Anyway, we still had fun at the shore when it was low tide on the afternoon of our first day. That night, we also took some time at the hammock outside but it was too windy to stay out. Of course, we have to make the most out of our stay here so we had our breakfast in the shore area where the resort has tables and chairs displayed.
The room, mattress and free water supply. Image credits: Jean Beltran-Figues via bitLanders.com
Overall, it was not a spectacular resort, in fact the Siquijor's Norwegian Dream Resort was better. I am rating it 5 out of 10. Five because of the room and the add ons in it as well as the management. However, the beach is not that impressive, I recommend visiting other beach resorts nearer to main Santa Fe.
Here's a video showing some spots of the resort:
Video credits: Jean Beltran-Figues via bitLanders.com
xoxo,
Jean Beltran-Figues