One of biggest hit phenomenom in The Philippines right now is AlDub. AlDub (sometimes known as MaiDen) is a fictional "love team" featured in the Kalyeserye portion of the "Juan for All, All for Juan" segment of the variety show Eat Bulaga!.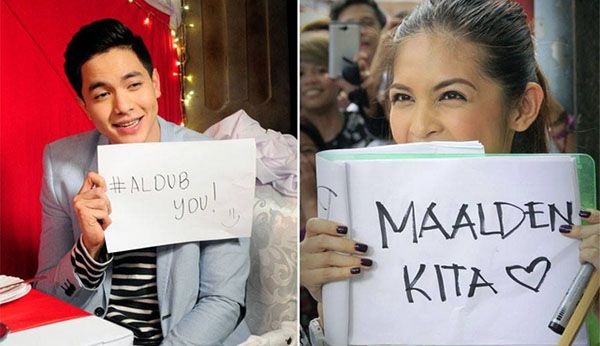 Who are they?
The tandem includes Filipino actor Alden Richards, who plays a fictionalized version of himself, and Yaya Dub (Divina Ursula Bokbokova Smash, a playful reverse-acronym of Dubsmash), played by the Philippine's Dubsmash queen and actress Maine Mendoza. Richards first appeared as a host of Eat Bulaga!‍ '. Mendoza originally appeared as Yaya Dub in the show's "Juan for All, All for Juan" segment.
What is AlDub?
The couple's main communication is via dubbing audio samples of popular songs, films and TV series, and handwritten messages on screen.
On September 5, 2015, the couple finally saw each other for the first time.
Sa Tamang Panahon
Tickets to the much-anticipated event of the love team have already sold out. The event "Sa Tamang Panahon" will be held on October 24, 2015 at the Philippine Arena. The benefit show will see Richards and Mendoza unite with their fans.
Proceeds of the event will go to the construction of "AlDub Libraries" in various schools nationwide.