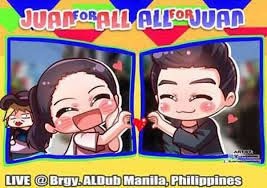 Aldub is the newest phenomenon, not only in the Philippines but also Worldwide!
It now holds the most trending hashtag in Twitter! It is also cover in the CNN and also in BBC.
The show is from the Philippines' noontime show "Eat Bulaga." Aldub is a combination of the name of the two lovers named "Alden" and "Yaya DUB." It is all about the love of two people, they two are waiting for the so called "Tamang Panahon." They also have the three lola's namely "Nidora, Tidora, and Tinidora" and the three are called Kalye's Angel.