The adrenaline is gushing. The countdown has started. The battle lines are drawn. All the political actors in Afghanistan are gearing up with a degree of thrill and caution for the biggest political spectacle: Presidential elections in April 2014. From Washington to Kabul, and every capital in between, people are watching keenly. The historic democratic transition will see the new government taking charge and new man at the helm, replacing Hamid Karzai after his chequered tenure of 12 years.
These elections come at a crucial juncture in the history of this war-weary country. The ominous threat of extremism and terrorism still exists. The malaise of corruption, nepotism and patronage still beleaguers the political system. The national economy is still dependant on the foreign aid. The menace of opium and narcotics still dominates the discourse. The blatant war crimes continue to be reported from major provinces. Education and health care sectors still languish in cold.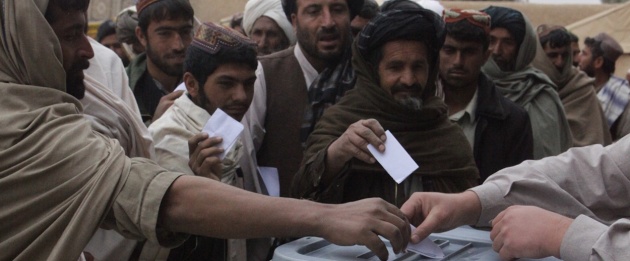 Political experts opine there is no plan or strategy in place to facilitate the smooth political transition to a new ruling dispensation. The bottlenecks remain, primarily because both the U.S. and Afghan government have failed to establish a robust political system that can help ordinary Afghans exercise their franchise and elect candidates of their choice without any coercion.
Whoever comes to the power, the challenges are massive. The new man has to tackle the menace of corruption. He has to work for good governance. He has to crackdown on narcotics and opium trade. He has to eliminate threats from armed opposition groups. He has to warm up to neighboring states and closely work with the international community.
The culture of corruption and inefficiency, which threatens to destroy the social and political fabric, goes unchecked. The previous government, instead of taking bull by the horns, allowed it to go on the rampage. The country has earned the dubious distinction of being the most corrupt country in the world on Transparency International corruption index second year on trot.
According to popular opinion, the frontrunners in the race include Ashraf Ghani, Abdullah Abdullah, and Zalmay Rasool, but there are a few dark horses too.
The 2014 elections will determine the course the war-weary country takes. The future political stability of the country depends on the outcome of these elections. It will test the trust and confidence of Afghan people in the electoral system and their political leadership.
There is a widespread perception in Afghanistan that the United States acts as kingmaker, and whoever the U.S. supports is likely become the next president. Whether that is fact or fiction, the United States can certainly encourage young and educated Afghans to get involved in politics.
It is time the international community invests in the future leadership of Afghanistan and facilitates peace and stability in the region.