Aloo keema (mince with potatoes)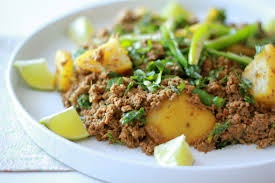 Ingredients
Beef mince ½ kg
Potatoes 5-6
Onion 2 medium size
Tomatoes 2-3
Black paper whole (kali mirch) 6
Cloves (loung) 6
Black cardamom 1
Coriander powder 1 table spoon
Red chillies 1 table spoon
Green chillies 3-4
Ginger garlic paste 2 table spoon
Salt to taste
Oil 3-4 table spoon
Cumin seeds 1 table spoon
Garm masala powder 1 table spoon
Turmeric powder ½ table spoon
Coriander leaves 1 bunch
Cooking directions
s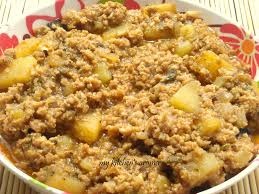 Take saucepan in oil add all whole spices and fry till aroma appears.
Fry chopped onion till golden brown.
Now add tomatoes add ginger garlic paste turmeric powder, salt and red chillies fry till oil leaves the sides of pan.
Now add mince and fry it for 10 minutes.
Now add potatoes fry it and add 3-4 cups of water and cover the pan. Let it to soften the potatoes.
Add green chillies and coriander leaves.
When potatoes are soft and oil comes on the surface turn off the flam.
Sprinkle gram masala powder and garnish with ginger and coriander leaves.