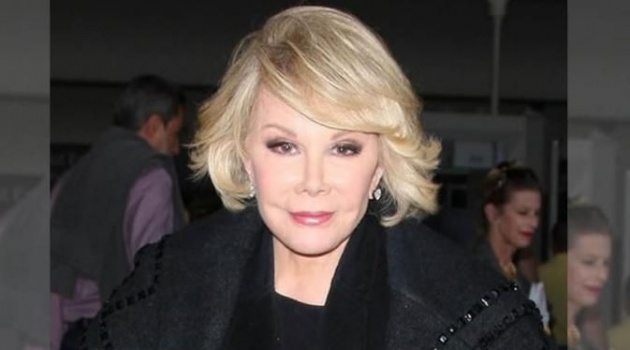 Australia - The whole world already knows Joan Rivers passed away on Thursday, September 4th last. body was also interred. However, on Friday (09/19/2014) Joan makes shock. Her wrote a status on his Facebook account. What is the comedian's rise from his grave?
Last Friday, as told News.com.au, many were surprised when Joan Rivers updating his official Facebook. More shocked again, the status of its content promoting the latest mobile phone of Apple, iPhone 6 style complete with his trademark sarcastic so.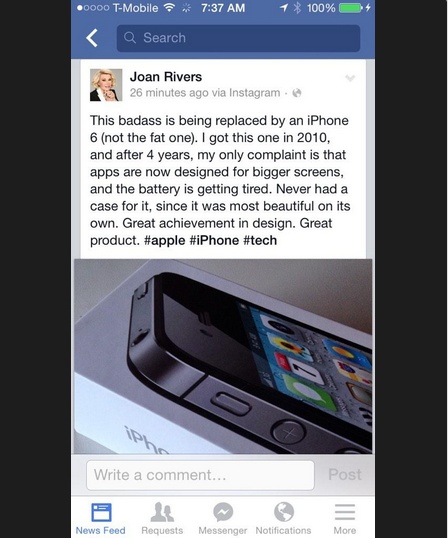 Page New York Post also reported this news. Her writes, "The mobile phone jerk I replaced iPhone 6 (not fat)."
Her said also, "I had iPhone since 2010, and after 4 years, I complain all the applications separately now designed a larger screen, and the batteries wear out quickly. I never put a protective casing, because the design is so beautiful. (Mobile) this achievement great in terms of design. products are great. #apple #iPhone #tech. "
Facebook status Joan Rivers was later removed. Actually the case, of course, Joan Rivers did not rise from his grave just to write the status of the order contains advertising Apple recently released the iPhone 6.
Allegedly, before death, Joan Rivers has signed a partnership with Apple to provide endorsements on Facebook about iPhone 6.