Amazon announced Cloud Drive yesterday, a music storage service that will give you access to the music you own on a range of computers and mobile devices. The service, which is US-only for now, is an obvious next step for music collections and clearly better than carrying a hard drive around all the time.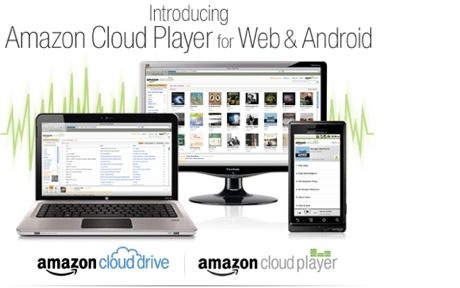 Amazon weren't the first to launch such a 'music locker' service but they are one of the most high profile companies to do so. In the process they've beaten Google and Apple, who are widely expected to launch similar services soon.
The record labels have so far said little publicly but privately are thought to be unimpressed, complaining that Amazon has not secured the necessary licenses. A Sony Music spokesman said: "We're keeping all of our legal options open."
In other words, they want Amazon to pay for new licenses so that you can store the music you already own. Amazon doesn't believe it needs new licenses. Its director of music, Craig Pape, said: "The functionality is the same as an external hard drive."
Whether Amazon is right remains to be seen but it is more likely to have a case in the US, which permits 'fair use' of copyrighted materials and allows, for example, the ripping of a CD to a computer. In Britain no such rights exist and Amazon would be unlikely to launch its digital locker here without detailed agreements with record labels first.
The stubbornness with which the major record labels respond to new online business models continues to be breathtaking. CD sales are falling and digital sales are not going to replace the lost income. The ailing industry seems incapable of saving itself and yet remains determined to be rescued only on its own terms.
Indeed, if the boss of a major record label was stranded, freezing on a snowy mountainside and a St Bernard came plodding to the rescue, it's not hard to imagine him sending the dog away because he doesn't drink brandy.
The fact is, the Amazon service doesn't go far enough, though it's a good first step. The storage price – $1 per gigabyte of music per year – is too high and Cloud Drive stores only the music you already own. There are already streaming services, such as Spotify in Britain and Rdio in the US, that offer access to a massive catalogue of music and, for a fee, will let you play it from any computer or mobile device and let you store some of it too. The question of whether or not you 'own' that music doesn't come into it.
The £10 per month that I pay Spotify for mobile access to its catalogue is roughly what I would have to pay Amazon to store my music collection – 200GB and counting – on Cloud Drive. Since most of the music I own is available on Spotify – though, thanks to licensing issues, not all of it is – the sensible place to spend my money is with the service that will provide the music that I own and more besides.
Mark Mulligan, an analyst with Forrester, said that record labels need to accept music lockers and focus instead on "what they can build on that foundation that can generate revenue". He said that people expect their music to be available everywhere.
The history of digital music has shown that the customer always wins in the end. The question is how much of a fight the record industry is prepared to put up.