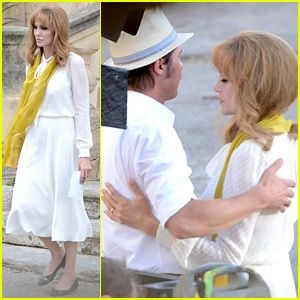 Angelina Jolie stands looking so statuesque while filming her new movie By the Sea wearing a blonde wig on Wednesday (October 29) in Sannat, Malta.

The 39-year-old actress was also seen on set that day with her husband and co-star Brad Pitt. They filmed a scene where they embraced and appeared to hold each other.

PHOTOS: Check out the latest pics of Angelina Jolie

Here's a synopsis of the movie: Set in France during the mid-1970s, Vanessa (Jolie), a former dancer, and her husband Roland (Pitt), an American writer, travel the country together. They seem to be growing apart, but when they linger in one quiet, seaside town they begin to draw close to some of its more vibrant inhabitants, such as a local bar/café-keeper and a hotel owner. Check out Angelina and Brad in the first stills from the movie, in case you missed them!

Look out for the film, in theaters next year!