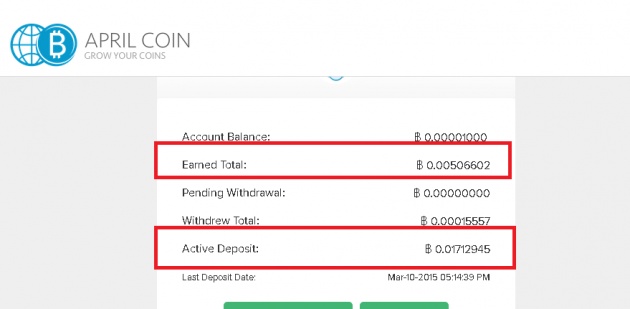 Aprilcoin is an officially registered private investment firm. The main aim of the company is to work on cryptocurrency exclusively BitCoin, engaged in BitCoin mining and cryptocurrency trading. They work hard to earn as much profit from Bitcoin market as possible. They offer you the best possible platform for starting and expanding your online investing venture. They assure that if you select them as your investing vehicle, no matter whether you are a seasoned individual or a novice, you will surely attain huge success.
There are numerous reasons why one would wish to join them for their online investing endeavour. For example, AprilCoin offers you some of the best possible and intelligently devised investment plans. You can opt for any of their investment plans depending on your requirement and expertise. However, no matter which plan you opt for, you are sure to earn huge profit and substantial returns on each investment you make.
The lowest investment you can make is B0.0001. As of now I invested my faucet earnings in Aprilcoin. So everyday, I collected satoshis in my Xapo Wallet then transfer my earnings to Aprilcoin. My satoshis are now earning 0.1% per hour or 2.4% per day.