When internet got famous and almost every person who was curious, started to use internet, mainly because they would like to communicate through chatting, emails, messenger, etc. with their loved ones - family, friends as well as anything related to their job. No one would even know there would come a time when they are not only the two persons who read and keep an eye on this communications, but also those who are spying.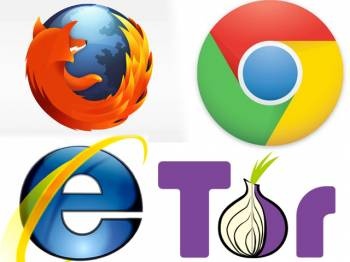 For us, hacking is the only way when someone intrudes our computers and mobiles and this is why every precaution is taken to minimize or get rid of this threat. For this purpose, we use softwares like Anti-Virus, Firewalls, Identity-theft protection software, Safe Web Browsing, etc., but for hackers and spies, even these softwares fail to protect us and we are always at the hackers' and spies disposal. I am sure you must have heard some real-life stories where a person is "e-robbed".

Only today, I have come to know that American government (includes FBI, CIA, etc.) is spying on you and me as well, but now, a specific web browser that helps them in spying has been named. If you are thinking it is Google Chrome, Firefox or Inernet Explorer (IE), etc., then don't worry, because the browser, which was rumoured to be safe and no one could intrude your computer or internet and could not get the sensitive information, is Tor. National Security Agency (NSA) of America said that people who use the browser Tor or want to know about this web browser are particularly watched and been spied on. Similary, the softwares like Tails are also been watched.

Tor is a software which is installed on USB and is connected to the computer to run internet. This software is supposed to protect the user from his/her internet usage while it is not possible which sites were visited and which information was sought after. The experts said that while Tor and Tails help people in using internet discretely and secretly, so it seems only technology savvy people would be using these softwares.

That is the reason the American spying agencies are watching over them. It is surprising as well that this browser was developed by the American spying agency and it was known to many that this browser is safe and no one can get through this to grab a person's sensitive details and this is why many hackers and those who are involved in illegal activities would love to use this web browser. Edward Snowden, the ex-NSA technologist released some documents to media where it stated that it was actually made for spying and any story that said it was safe, is totally fairy tale.