I've been watching TV series this past few weeks and I thought of sharing my TV series reviews aside from doing movie assessments. I hope this still fall into the category being explained by Micky-The-Slanted-Salerno so I could get extra buzz scores.
Today I decided to share about my personal views after watching Arrow Season 1, I really love this series and I would want to watch it over and over again, I can say I am a big fan of Arrow although I also love The Flash and Supergirl, which will be my topic in my next TV series reviews.
~ ARROW SEASON 1 ~


Photo Credit: https://images.spoilertv.com/Arrow/Season%201/Posters%20and%20Wallpapers/
Arrow is an American drama, action and adventure television series that stars Stephen Amell, Katie Cassidy, Colin Donnell, David Ramsey, Willa Holland, Susanna Thompson and Paul Blackthorne. The first season of Arrow was released and premiered on the tenth day of the tenth month of the year 2012. The first season is consist of 23 exciting episodes with more or less 45 minutes each. As of April 2018 Arrow is already in its 6th Season and still running.
Watch Arrow Season 1 Trailer below!!
Video Credit: moviehungervideos via www.youtube.com
SYNOPSIS
The story revolves around the life of Oliver Queen, a billionaire's son who was missing 5 years ago and was presumed dead after a ship accident where he lost his father. He was later discovered alive in a remote Pacific island. After that, he was brought home and welcomed by his mother, Moira, his younger sister, Thea and his stepfather, Walter.
While trying to catch up with his family and friends, at night Oliver becomes the vigilante who hunts the people who are in his dad's notebook, the first guy to go down is a despicable real estate mogul who has swindled millions of money from innocent people, these kind of cheaters are poisoning their city and he wants to make revenge although this activity was being kept from his loved ones, I mean he made it as his secret.
However, Oliver's family and friends noticed that he changed although he really did because of what he experienced while being stranded in a deserted island. There were many horrible and unexpected things that happened to him in that island, which in turn made him a more fortified fighter.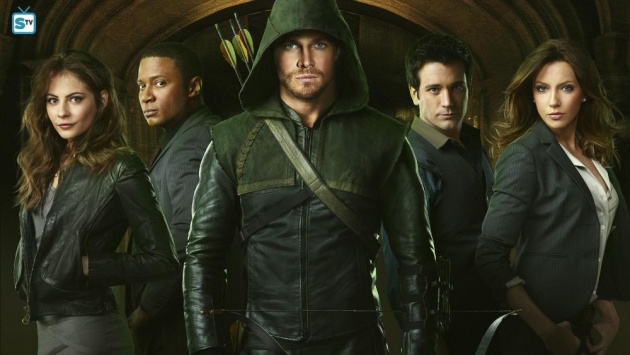 Photo Credit: uccexpress.ie/arrow-season-1-dvd-review/
Watch Arrow Series by Clicking this --> ARROW SEASON 1
CHARACTERS
Photo Credit: www.pinterest.com
The story also involves the life of Oliver Queen's family being a billionaire. Their family owns a very large company. He has a younger sister named Thea and her mother is named Moira. Oliver also had a girlfriend named Laurel Lance (a lawyer) whom he cheated on with her sister, Sara. Laurel love Oliver Queen so much but hated him because he had an affair with other girl who happened to be Laurel's own sister.
Photo Credit: www.pinterest.com
Laurel Lance is Oliver's girlfriend and she is a lawyer. He really loved Oliver but he also hates him for cheating on her with her sister. Sometimes she blames Oliver why her sister died but she knows it really not his fault. Laurel's father is a cop which is Quentin Lance.
Photo Credit: https://en.wikipedia.org/wiki/Colin_Donnell
Tommy Merlyn is Oliver's best friend and he is also a billionaire. His family also owns a very large company. His father is Malcolm Merlyn who is a friend of Oliver's mother and father. Tommy's father has a dark secret that will reveal in the first season of Arrow.
Photo Credit: IGN via www.youtube.com
John Diggle was the bodyguard assigned to Oliver when they found Oliver 5 years after a yachting accident which left him stranded in a desolate island.
At first, Diggle doesn't like Oliver because he always ditched on him which caused him to resign as Oliver's bodyguard. But later on, Diggle became more than just a bodyguard to Oliver but became his associate in his job in protecting the city.
Photo Credit: www.pinterest.com
Thea Queen is Oliver's younger sister. She is still a minor but always goes to parties. Oliver really loves her younger sister that when something happens to her sister he immediately finds a plan to save her.
Photo Credit: http://smallville.wikia.com/wiki/File:Moira_Queen_Arrow_TV_Series_003.jpg
Moira Queen is Oliver's mother. She was married to Robert Queen who is Thea and Oliver's Father but now she is already married to their stepfather named Walter Steele. Their mother also has a dark secret but she said that that secret is for her family to be safe.
Photo Credit: http://images.tvnz.co.nz/tvnz_images/arrow/2013/04/
Quentin Lance is Sara and Laurel's father who is a cop. When he found out that Oliver cheated on her daughter, Laurel with his other daughter, Sara and that Oliver was with Sara when she died he really hated Oliver and blamed him for the death of his daughter, Sara.
Oliver Queen in Arrow Mode
Photo Credit: Josh Foster via http://itsalltherage.com
Overall, the ARROW with its perfect superhero setup, with so much actions and adventures is a must see series, a whole lot of fun to watch!
~~~~~~~~~~~~~~~~~~~~~~~~~~~~~~~~~~~~~~~~~~~~~~~~~~~~~~~~~~~~~~~~~~~~~~~~~~~~~~
For more movie reviews you may visit Manny The Movie Guy on bitlanders page HERE.
Video credits: Mannythemovieguy via bitLanders
You might want to participate also in this querlo survey chat below: