Last night a huge derby was played, anticipated by many to be one of the matches of the season. There had been a huge hope for the match to be a classic and would have goals in it. Arsenal came in front of Tottenham to show the fight of strengths in conquering North side of London, both the teams have great spearhead with the ability to destroy any team in front of them at any day, and it was as well expected that both teams would fight fearlessly against each other. Arsenal all season has stayed in the top mix and is claiming to be one of the favorites in race to the title. So, what it takes to become Champions of Premier League? There are several things that make a champion worthy of it and its status as the best team of the league, that include fearless displays, dominating or at-least matching bigger opponents and showing class in big matches not only in small matches. Arsenal in recent History have been a fighting team and a real attacking team, a team who dominated many of their opponents and played with a great attacking style. Last night Arsenal met Tottenham in a huge North London Derby, although I was waiting al week for the match but I was really disappointed both by the result and play of the match.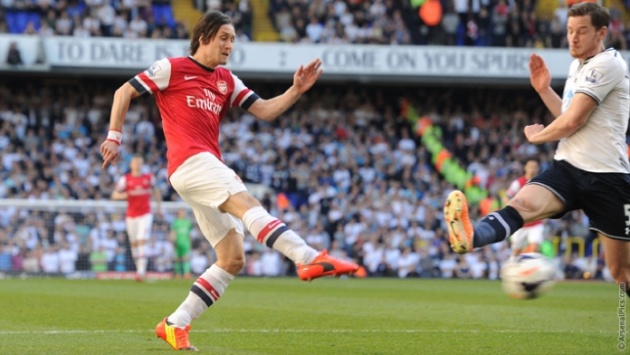 Arsenal at the start of match scored within first two minutes and that goal was a lucky and one in a million shots goal scored by veteran "Tomas Rosisky". No goalkeeper and team can do anything about such a lucky goal, running from the right and on about the edge of penalty box fired a shot straight at goal that was then luckily converted into a goal. After that goal the match gone one sided, a team of Arsenal caliber sate deep and tried all the way to defend against Tottenham. The main thing that bothered me was the annoying defending of the team, what is it worth of winning a match with coward display and trying to stand by luck? Nothing, well it may be worth three points but if Arsenal can look at them, they will find themselves in a shameful position. Arsenal all night stayed in their own half and almost deployed the defense of six players, all trying to stop the force and play of Emanuel Adebayor. Only one player that was occasionally moving into Tottenham's half was Olivier Giroud, and Arsenal looked all night trying to stand on their foots and resist buildup play from Tottenham midfield. Although there was a great sense of fight and attack in Tottenham players but there was nothing meaningful from Tottenham players especially from Townsend and Chadli who both have disappointed last night in the final third of the field.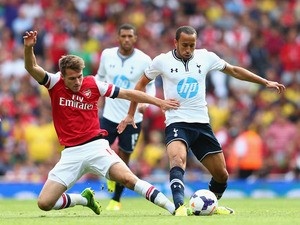 Arsenal can count themselves lucky to still got the three points after such a bad display last night, it would have been completely a different story had Tottenham produced something meaningful in the Arsenal penalty area. Although the match is now finished and Arsenal can again look at the top, but I am not convinced by their display and I do not believe they are worthy of their position at the top. They are equaling Liverpool's points and position in the Premier League, Liverpool are a team who won against their most hated enemies at their opponents own home ground and won by great 3-0 margin, Manchester United in every way are bigger then Tottenham but lost by such a manner to Liverpool. Liverpool are now joint second in the Premier League and do look like worthy of their current position, because they are winning by style and are fighting bravely. I do not think in any way Arsenal deserves to be Champions of Premier League and if they do win the league, it will be a disgrace to Premier League's status.