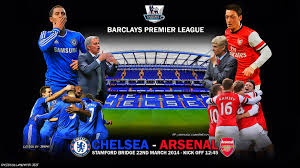 Football is a game of people who posses will and passion to fight and win, when you do not respect its values and your concern is only the material not the beauty of the game, you will get, you will be punished and you will be made shameful. I have recently written about Arsenal's tactics to win the games with their dirty and coward defensive minded play. Since the middle of last season Arsene Wenger changed the play of Arsenal and after that Arsenal have consistently won matches and won lot of points. However, it will be appropriate to say that Arsenal have won points not matches because on many occasions they were called as a lucky team, some matches they won were because of referees involved some because of the oppositions lack of attacking sense but many of these matches were won by their deep defending. Arsenal fans, critics who love Arsenal have all this season shouted that they are real contenders for the title, since the beginning of this season; they were at the top and were winning points. From Manchester City to Liverpool whoever they were up against they defended and were looking to sit deep and let the other teams attack them. Before the match against Chelsea they faced Tottenham and with the lucky goal from Rosisky they edged the match and defended for almost 87 minutes.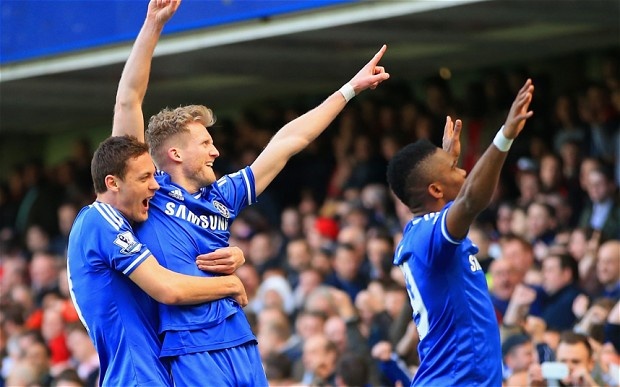 Arsenal came against Chelsea this week with the same mind that they will sit deep and will get the points away from Chelsea. Arsene Wenger opted for the same team from Tottenham match and but this time was up against a team who was in full confidence and full scoring mood. Lead Schurrle and Samuel Eto'o Chelsea bring in confidence from recent results that included wins over Tottenham and in European Champions League. Arsenal started with the intent of defending the match and played with slow tempo and short passes, but it wasn't going to stop Chelsea breaking in and the Chelsea broke Arsenal's highline with Eto'o running behind defender and finishing the ball beautifully. The first goal scored within first six minutes knocked down Arsenal very badly and until they could have got their conscious back Andre Schurrle scored a goal with just two minutes from the first goal. Arsenal then got their feet back and stood for almost 10 continues minutes but Kieren Gibbs made a blunder with his hand ball in the penalty box, the ball touching the defender's arms and the referee sent him off with the penalty awarded to Chelsea which was then converted by Eden Hazard 17 minutes into the match.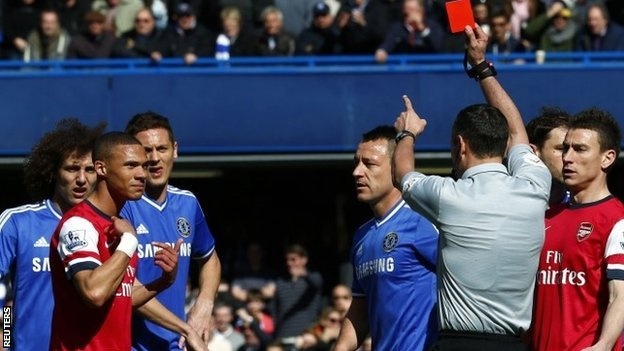 With this Chelsea were leading Arsenal 3-0 and showed Arsenal the light that what it takes to be a champion and what a bigger team really plays like. Arsenal by then were short of players and were playing with only 10 men on the pitch and with all the happenings all hopes were lost. Arsenal sat deep and tried to defend how they were doing all season but Chelsea were totally unstoppable and it became very difficult for them to stop the Chelsea attacks and thus finished conceding six goals in the match and scoring nun. I think this match showed the real face of Arsenal and the defects their team has, they always seem to try ride over luck and defend in matches but there is not the same story repeatedly. Alex Oxlade Chemberlane was the most poor player on the pitch for Arsenal, however, nun in the Arsenal team showed guts to take the team forward. They have a tough run coming in with the matches against Manchester City and Everton and it is not looking good for title hopes (Laughingly!!!) if they have any.