I wrote about Siomai House a week or so ago and thought I should make my own. Alas, it all almost went to naught. Wasn't able to cook any chili garlic to go with it so I guess it's fine it didn't turn out perfect yet.
Let me share with you what I did to cook failed shumai.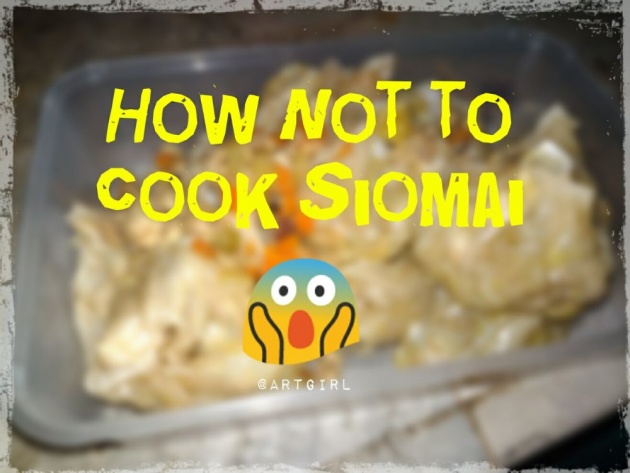 ♦ Steps in Making and Cooking Failed Siomai ♦
Okay, so even if I am not an expert in making siomai I will tell you how I cooked my failed version.
Sunday was my market day so I bought some meat and veggies to finally try cooking this favorite Filipino dessert. This recipe is good for 4 people I think, I didn't count how many I made but I think it's enough for 4 people.
♥ Ingredients ♥
1/8 kg ground beef • 1/8 kg ground chicken
1 small carrot • Few pieces of Baguio beans
1 big marble potato • 5 garlic cloves
1 red marble onion • 5 tablespoons calamansi soy sauce (toyomansi)
5 tablespoons of fish sauce • 1 pack molo/wonton wrapper
2 plastic packs of ground pepper
a teaspoon of cooking oil • a pinch of iodized salt
a pinch of turmeric powder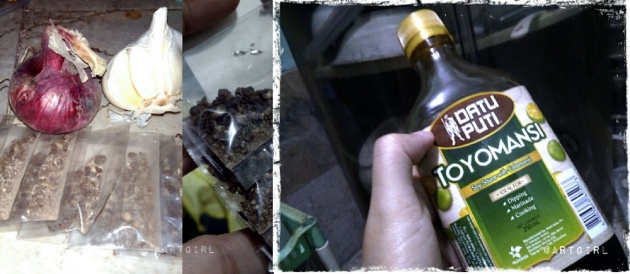 ♥ Cooking Instructions ♥
1. Combine ground beef and chicken together.
Mix the meat and add the toyomansi to taste. I put some toyomansi because I like it. :P
2. Pre-cook the combined meat for a few minutes then let it cool.
I fried it a bit in the non-stick pan with a bit of cooking oil then boiled it.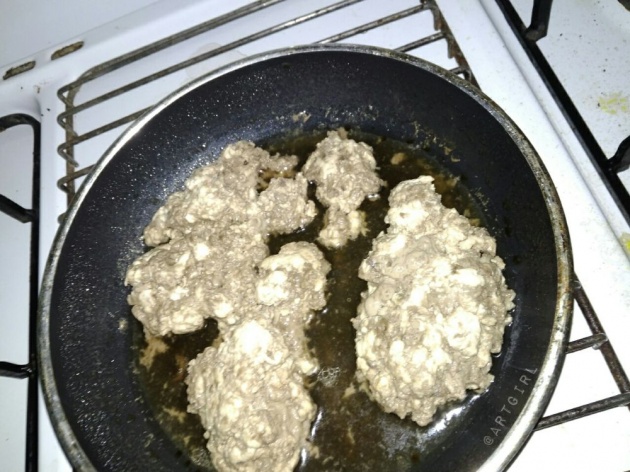 3. Mince all the vegetable ingredients, including garlic and onion then combine them all together.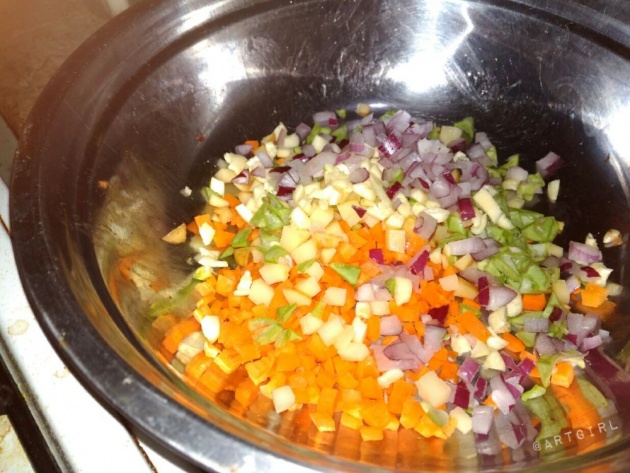 3. After combining the main ingredients, add the spices.
You can add turmeric, salt and some more toyomansi too if you like. I just mixed all the spices in it. Haha. You can interchange this with #4. Heck just mix everything up whichever way you like.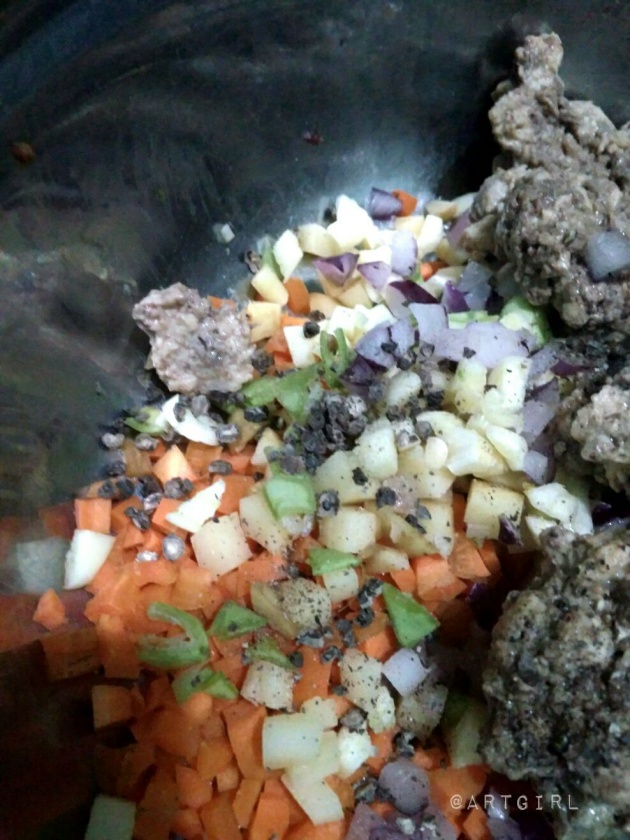 4. Add the pre-cooked mixed meat to the veggie mix or vice versa and mix them all well.
Don't forget to add the fish sauce too.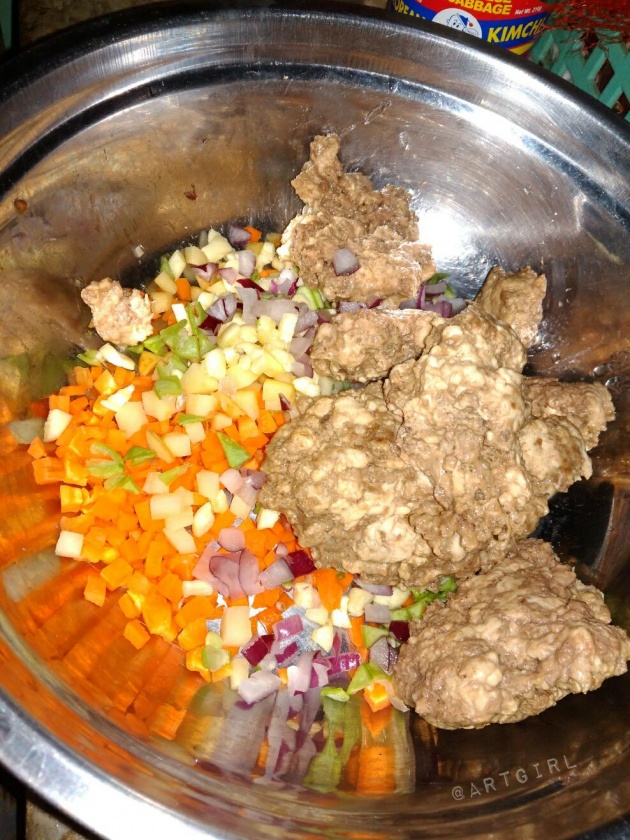 6. After mixing, get your molo/wonton wrapper and start putting a tablespoon or less of the food mixture and just wrap it all in.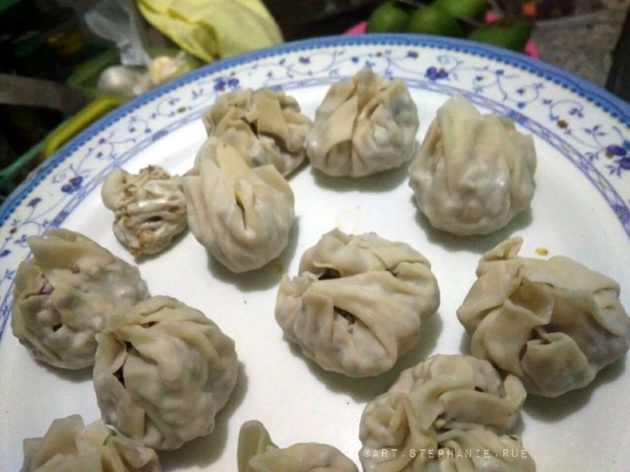 7. When you're done wrapping everything, prepare the steamer.
If you don't have any or if your rice cooker steamer part is missing like ours, find some big cookpot and put water and a mug in it then put the uncooked siomai on a glass cookpot cover like I did to steam it. Or do what you want, find something to steam it in. If you have a steamer then that's perfect! Boil some water until it's steaming hot!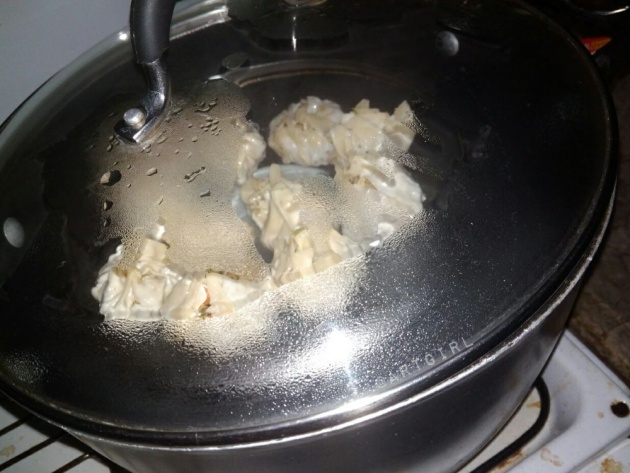 (Photo credit: ArtGirl via Bitlanders)
8. Steam/cook for about 10-15 minutes.
Some people cook them for 8-10 minutes, others for 15-20 minutes others cook it longer. Up to you which one you'll choose. And then once you think it's done, take them all out of the steamer. Voila!
Hahaha, if you followed my instructions to a tee then it's not that easy to remove all of them from where it's on right? Congratulations! You've made some failed siomai too if you did this!!!
If you want to see my failed siomai, check my gallery. It might have been better if I had just put some cooking oil on the steamer thing before steaming it. Ah well.
And that my friends is how you don't cook siomai.
Want to make some giant siomai's? Watch this crazy guy, haha!
Just don't watch the video 'til the end if you only want to see the big siomai because he's going to eat some pieces of those and then there's his dog near the end.
What I like about his method is he's not using cooking oil to line his steamer but he used some parchment/baking paper over the steamer. Apparently parchment paper is what's used in baking for lining cupcakes and others... Just use that when you find some if you don't want to grease the steamer.
Goes to show how much I know about cooking eh? haha.
I think I can eat one giant siomai in one meal and that's it. :D But of course I'm petite so one or two is enough for me.
♦ What to Do to Cook Good Siomai ♦
I guess you now know where I made a mistake in cooking eh? If you want to make the perfect siomai, follow these tips!
1. Do not forget this #1 tip when cooking siomai.
Brush on some cooking oil on the surface of the steaming plate or thing where you will put the uncooked siomai on.
If you don't put some oil on it, your siomai will stick to the steamer pan. If it sticks, you're gonna have a hard time removing it and you will get disappointed like me in the end. Or if you want to use baking/parchment paper like I mentioned above, go right ahead. Better to use either one than be sorry later.
Oh wait, I discovered something from Germany! Put some torn vegetable leaves on the steamer, like lettuce or cabbage, before you put your dumplings/shumai on so you don't need to use any oil or parchment paper at all! Wow isn't that something?
2. Second Important tip
Don't put them in sticking beside each other. Don't let each uncooked ones stick to any other one.
If you cook them really close to one another, then of course when they get cooked they will be sticking to each other like they got pasted together. Trust me, it's not something you'd want to happen.
I should have watched this video instead before I cooked my siomai... :(
Extra tip:
If you're going to use half-cooked meat like I did, I think it's better if we add beaten egg/s and mix it in with everything at least to make them all stick together. It's easier to form them into siomai if it's sticky and can probably prevent it from hardening like if egg was used in dough or something.
* * * * * * *
Okay okay in case you haven't seen the final result in my gallery yet, I will show you what it looks like before it became ruined. Aside from each one sticking to the steamer and being difficult to remove whole without damaging the shape, most stuck to other siomais. I'm telling you, do not cook them beside each other. If you do, this is what will happen. Siomai stuck to each other plus stuck to the steamer = Disaster cooking 101.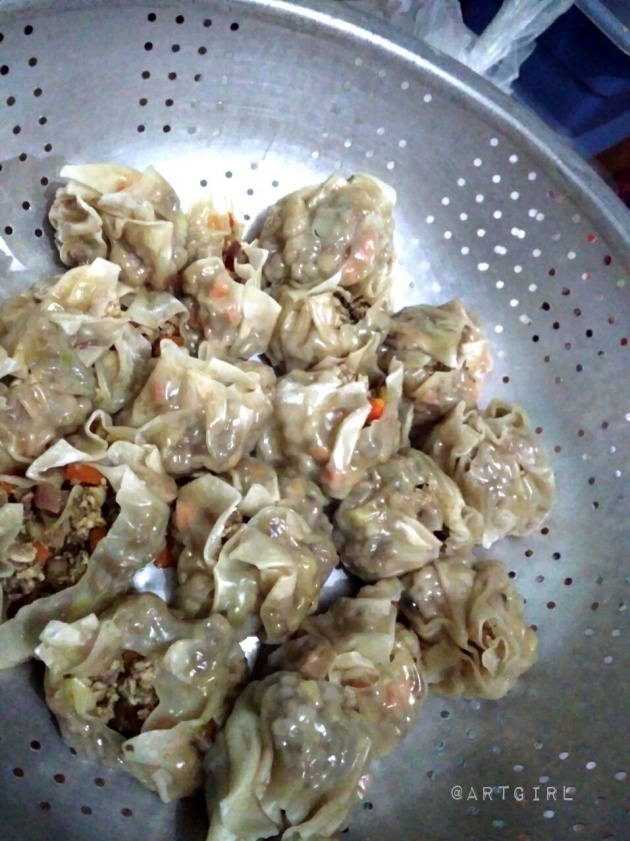 That image is before I removed them all from the makeshift steamer. Everything got damaged so no complete final pictures of the first batch. I did two batches in separate cookpots so it was so disappointing to fail at my first siomai experiment. I don't think I'll do one anytime soon.
I guess I failed to watch more good siomai cooking videos that's why I didn't realize I have to put some oil. Only thought of it when everything was already steaming inside and so I would have damaged each siomai if I had removed them earlier too.
Almost each cooked shumai was spilling out it's guts, if not, some of it was partly spilling out some hole, because they were not easy to remove from the cooking surface. Had to forcefully remove them so there you go. Going gentle on 'em didn't do anything so I just took 'em off and got disappointed each15 didn't look like the perfect siomai at all. I mean, why isn't it as white as the siomai you see being sold out there? I'm guessing it might be the molo/wonton wrapper's fault or the time it spent being steamed but I'm no expert...
Maybe let's just pretend I cooked the perfect siomai. Haha.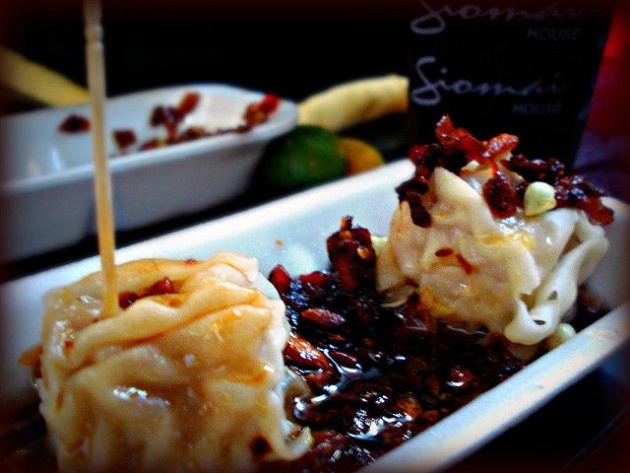 Anyway, I did get to eat delicious "failed siomai" for breakfast and other meals. I fried them with some rice and yummm.
Wanna try my recipe? Let me know what happens if you do!
For my other food and health related blogs, click below:
If you're not a Bitlanders member yet, sign up and click here
and be appreciated for what you post plus earn extra $$$.
If you have any problem or site issues, read the FAQ then please report and send an email to cs[at]@bitlanders[dot]com.
All images are copyright of their respective owners.
Written for Bitlanders by ArtGirl. All rights reserved
© Art x Stephanie Rue