Hello, Bitlanders. It's been a while since the last time I uploaded a post here. At the moment, Bitlanders is still on it's AI Themed Blogging challenge.
This AI Themed Blogging challenge started about two months ago and is still on-going. I have participated in and have written several blog posts related to Artificial Intelligence.
Here are some of my posts related to Artificial Intelligence.
These are just five of the AI-themed blogs that I have posted. You can find more at https://www.bitlanders.com/Artbytes/blog_post.
It this C-Blog, I will share my thoughts about an AI-Themed movie that I have watched recently. This movie could have been included in my post: 6 Artificial Intelligence in the Movies That Went Crazy. Well, that will make it Seven.
The title of the movie is "UPGRADE".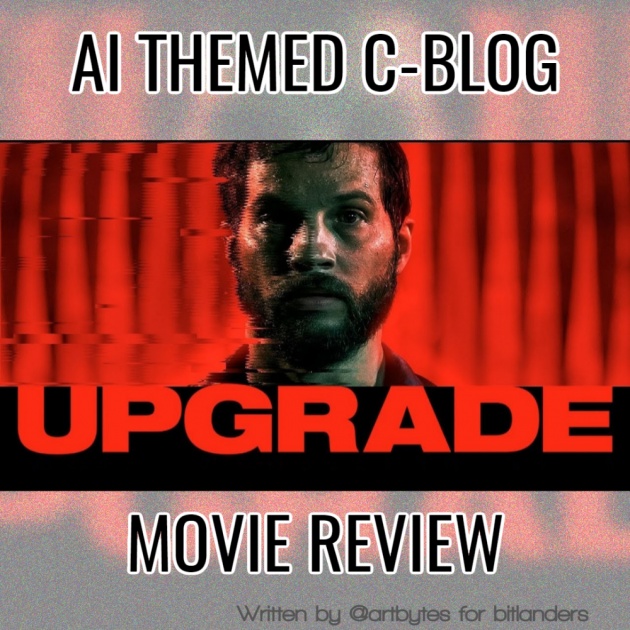 AI-THEMED CBLOG: UPGRADE MOVIE REVIEW
AI-Themed C-blog: Upgrade Movie Review
'Upgrade' is a 2018 cyberpunk sci-fi movie. Starring Logan Marshall-Green as Grey Trace. Trace is a technophobic (a person who fears technology) auto-mechanic in a time when humans rely heavily on artificial intelligence on almost anything and everything.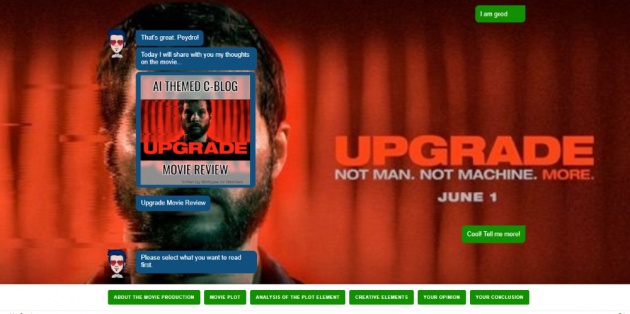 Image Credit: Screenshot of cblog 'AI-Themed C-blog: Upgrade Movie Review'
In this c-blog, I will share with you my thoughts and rating about the movie 'UPGRADE', I hope you will enjoy the chat.
~°~°~°o0O0o°~°~°~
If you like this chat-blog, please share.
John Reynold Loberiza (a.k.a @artbytes) is a freelance graphic artist, web developer, and blogger. He is also a licensed Financial Adviser under Insular Life.
The content of this blog post is the author's original work. Proper credit is always given to the respective sources of information and images. Please feel free to check out my other blog posts: http://www.bitlanders.com/Artbytes/blog_post
If you have any reactions or inquiries regarding the subject of this post, please write it in the comment or send the author a private message.
Follow me on Twitter: http://twitter.com/jrlcentral
or email me at jrlcreativeideas@gmail.com

°~°~°o0O0o°~°~°~
Join Bitlanders

If you are not a member of Bitlanders yet and you are a content creator- a writer, blogger, photographer, an artist or a hobbyist, you can earn from your creations (blog posts, photos, artworks, or videos) by uploading them in Bitlanders.
You can join Bitlanders by clicking this link-> http://bit.ly/Join_bitlanders