[Artificial Intelligence] BabyBus Channel Revie
Video credits via YouTube
What is it with BabyBus using advanced technology to keep kids watching their shows and subscribing to their channel? Today I will give you the most comprehensive review that I have been looking for when it comes to kids channel that you and your kids can watch through YouTube Kids or even the original YouTube channel itself.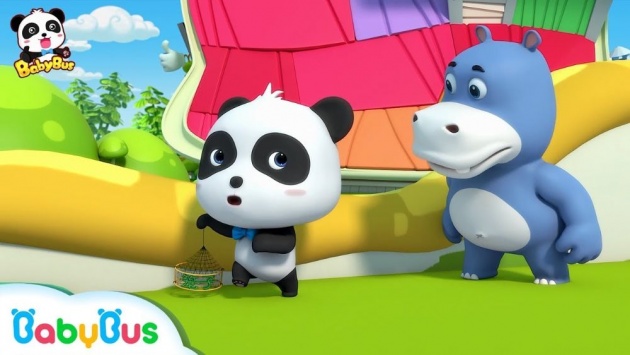 BabyBus Channel Via YouTube - Image credit via YouTube BabyBus Channel

What's keeping kids hooked and keep watching one video over the other with BabyBus?

What I have noticed with this kid-oriented show is that the characters, mainly two pandas, used advanced technology most of the time. For daily activities to even their famous rescue team. This baby channel is actually not just for toddlers. It is a channel for kids age 6 years old and above to really help them appreciate every lesson they are watching.
BabyBus allows your kids to learn with their interactive games that you can download for free in the Google play. They mainly focus on topics about health, language, technology and science, the safety procedures if there are calamities, arts and crafts to let kids be creative, the society and its warning for kids. Like you cannot just go with a stranger who jumps in front of you and take you in exchange for candies and sweets.
What I did like about them is they also teach kids basic security and what to do during unavoidable circumstances like fire, earthquake, and a lot more. It teaches kids not to panic and think properly to be safe. Which is intriguingly awesome for parents to teach their kids in a fun way as well.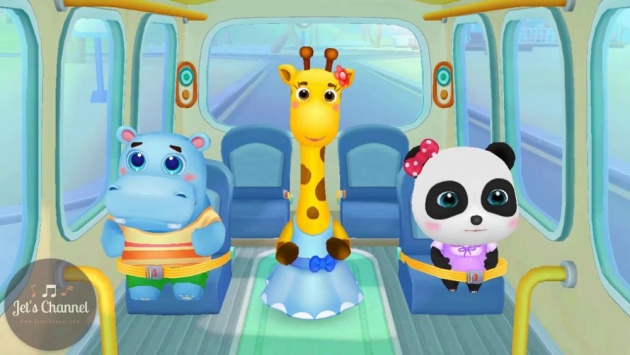 BabyBus Episodes - Image credit via YouTube Channel
Now BabyBus does not stop with safety precautions and practices. They even use their cute animation to showcase state of the art artificial intelligence system fully operated and supported by machine learning, algorithms, and robots.
They have emergency services that run faster and on time when needed. And they are mainly robotics and machines that have programmed what to do. The cool part? They have been showing kids what the future might be with robots and AI around.
I like to think that kids would be educated properly with the right values about life. Being nice and responsible at the same time. There a tons of ways to teach kids today of the great value and humanity. Keeping this simple and always aware of what and what not to do.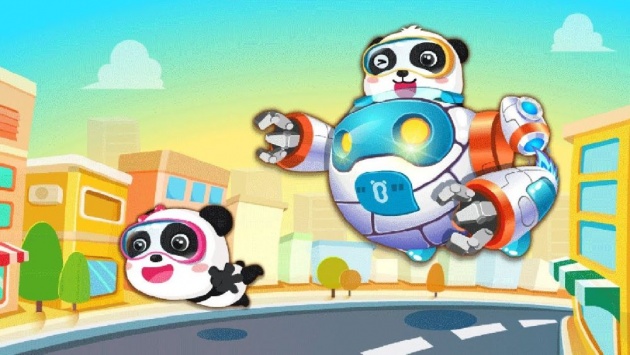 Robots and Rescue team - Image credit via BabyBus YouTube Channel
BabyBus Characters To Look Forward
After deliberately looking for more reviews about the BabyBus channel, it somehow is interesting to know little about such a great video that kids should watch to keep them educated and be smart. I mean, it is not about singing nursery rhymes but more informative content to let kids, toddlers know what to do when there are emergencies.
Here are the lists of characters to get you and your kids familiar about;
Miumiu
She is a female panda on the YouTube Kids channel which showcases wit and calms for every situation. Who wouldn't, right?

Kiki
The boy counterpart of Miumiu who always gets into some sort of mischief at times. The best part is, he is like portraying kids and what they should do next time. I haven't seen any "not-so-good" influence over the course of me watching with my toddler. So I can safely say that BabyBus is carefully taken into consideration the scenarios on how to teach kids what to do

Whiskers
A cat with lots of things to look after with. But he is just a kid, just like your kids, that always gets into trouble and being reminded by his father of what to do every time.
Video credits via YouTube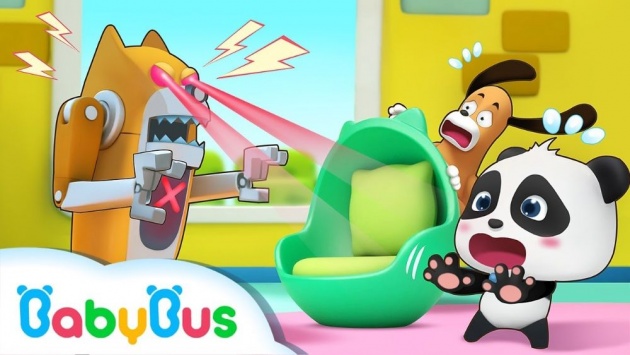 BabyBus episodes with robots and teaching kids what to do in certain situations - Image credit via YouTube
BabyBus Using Artificial Intelligence For Video
If you haven't watched any video by BabyBus on YouTube And YouTube Kids, then I strongly suggest doing so. There are a lot of things that you and your toddler will learn. from simple and basic things to do if your kid might have been lost in an amusement park, or the mall, for example. Always look for a security guard and know your parent's mobile number for emergency purposes.
One of the things they always teach kids are the safety precautions and emergency procedure during calamities, Like what to do on an earthquake; never use the elevator, do not panic and find a place to stay like under the table to avoid falling objects, and wait for the rescue team to come. They also have a whistle at hand to signal someone to locate them. Even when there is fire, they will also teach kids what to do. Or be cautious with their actions. What to play and whatnot. I think that is really cool.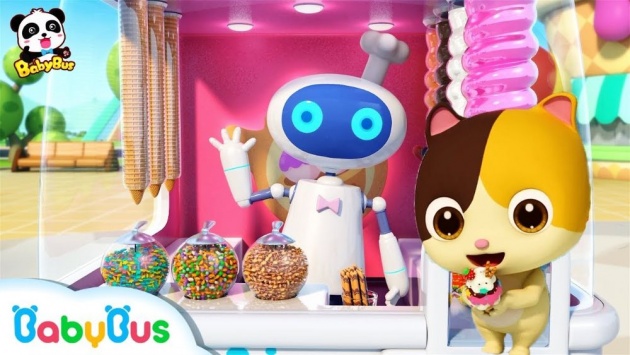 Robot Ice Cream vendor to assist characters - image credit via YouTube
Where do they use Artificial Intelligence, machine learning, and advance technology?
They used their advanced technology when they rescue someone or have to deal with an injury. Like for example, some has broken their leg, they have an auto scanner to check your whole body and locate the injury and give the first aid before you undergo a medical procedure to help you get cured. They can even sink to enter the body and repair your injury (Which I think is a really advanced and creepy procedure! Lol)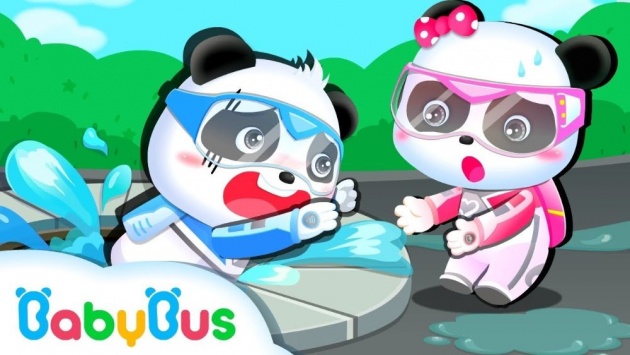 Rescue team BabyBus - Image credit Via YouTube Channel BabyBus
They usually used technology for emergency purposes only and to help. They never used any technology for their own sake. which I find really nice to teach kids the right value of humanity. Artificial Intelligence through kid-oriented shows like BabyBus is a great deal to watch for toddlers.
Teaching kids, not to open the door for a stranger and the risk that may follow for their actions is essential. Same as not following anyone and always ask help from authorities. Telling the right thing and admitting your fault, learning from it. You see, these kids show should also be watched by adults at some point. we will learn a lot of things.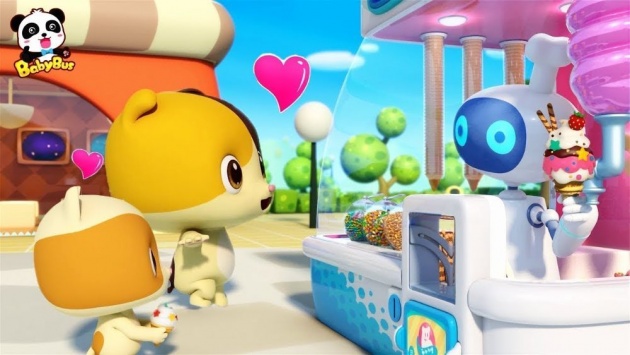 Magical ice cream robot vending machine - image credit via YouTube BabyBus Channel
Robotics And BabyBus Technology Content
Robotics is an interdisciplinary branch of engineering and science that includes mechanical engineering, electronic engineering, information engineering, computer science, and others. Robotics deals with the design, construction, operation, and use of robots, as well as computer systems for their control, sensory feedback, and information processing.

Source: Wikipedia
With BabyBus founder and CEO Tang Guangyu, believes that kids should be introduced to educational and technology-related content to keep their curiosity at its peak and help them mentally develop. The advancement of technology through the use of robotics is also introduced to most videos by BabyBus.
These technologies are used to develop machines that can substitute for humans and replicate human actions. Robots can be used in many situations and for lots of purposes, but today many are used in dangerous environments (including bomb detection and deactivation), manufacturing processes, or where humans cannot survive (e.g. in space, under water, in high heat, and clean up and containment of hazardous materials and radiation). Robots can take on any form but some are made to resemble humans in appearance. This is said to help in the acceptance of a robot in certain replicative behaviors usually performed by people. Such robots attempt to replicate walking, lifting, speech, cognition, or any other human activity. Many of today's robots are inspired by nature, contributing to the field of bio-inspired robotics.

Source: Wikipedia
Robotics are present throughout the most episodes of BabyBus. There are robot cleaners and vendor machines. Robot vendors to attend to your needs and a lot more. Artificial Intelligence, machines and robots are part of their daily lives. Which in the future, will also e likely to happen.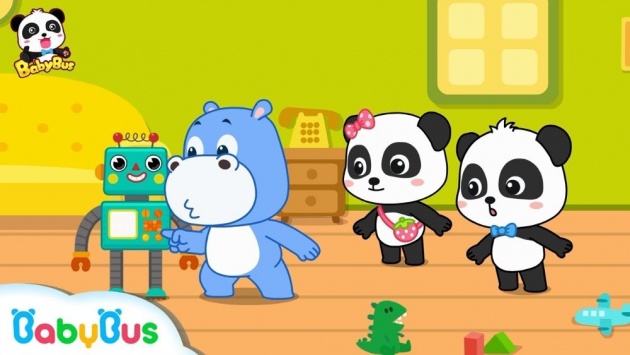 Artificial Intelligence with robots to interact with BabyBus Characters - Image credit via YouTube Channel
Robots all have some kind of mechanical construction, a frame, form or shape designed to achieve a particular task. For example, a robot designed to travel across heavy dirt or mud, might use caterpillar tracks. The mechanical aspect is mostly the creator's solution to completing the assigned task and dealing with the physics of the environment around it. Form follows function.

Source: Wikipedia
I hope that this review will help you decide whether you will allow your toddler to watch this YouTube Channel. Nonetheless, it is always the parents that need to check what their kids are watching even if you already set parental control in the settings. To learn more about this and other interesting features that you can enjoy with YouTube Kids, you can interact with me in this c-blog. click fullscreen resolution here...
===
On a final thought:
These things should be learned and taught by parents and not just through videos alone. we have to supervise what our kids are watching and see to it that they learn something good and informative aside from being entertained. Parental control is an option that is developed in accordance with how vast the world of technology can do to ourselves and our kids. Yes, we can limit the screen time, but we have to be vigilant about what our kids are watching. Are they making your kids dumb or smart?
All images, links, and video content on this blog post are given proper credits.
Have you joined bitLanders? Click here and claim your $1 today. Want to read more blogs from me? Just click here.
bitLanders AI-themed blogging
After the successful launch of "The bitLanders C-blogging", conversational AI blogging by Querlo powered by IBM Watson and Microsoft Azure. bitLanders continues to support its joint venture Querlo. We believe in our mission to promote our future - Artificial Intelligence (AI) - and build AI conversations via blogging, here we are to introduce "bitLanders AI-themed blogging!"

Source: bitLanders