video credits: Movieclips Trailers via Youtube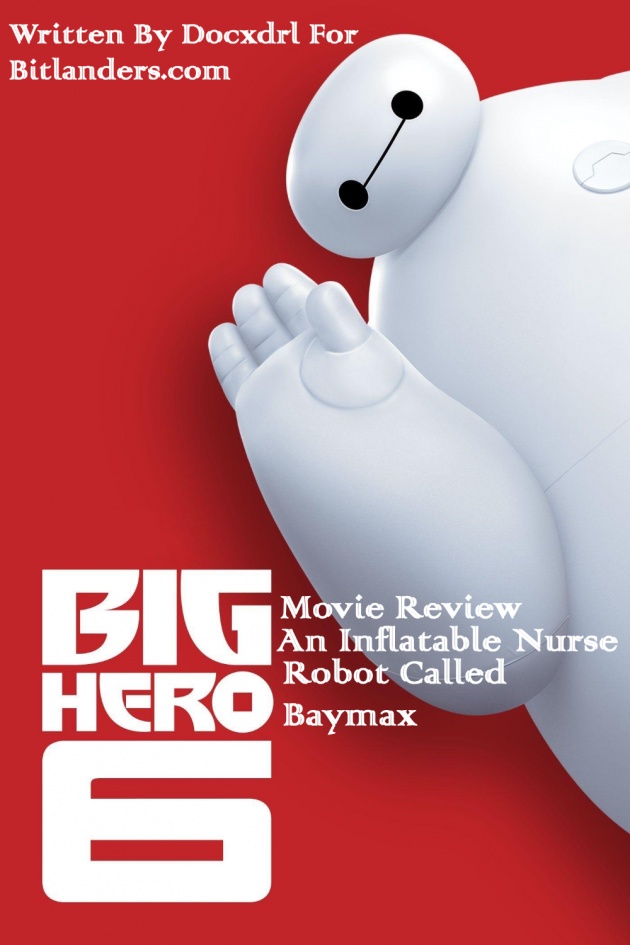 Big Hero 6 Movie Review: an inflatable nurse robot called Baymax: edited by Docxdrl via Canva
Disney has been steadily re-establishing herself as an animation powerhouse with the success of movies like Frozen, Moana, Zootopia, and Tangled. Here comes another epic movie: Big Hero 6.
It is impossible to forget the exclusive thing about Disney's animation. That is, among most animations studio, Disney brings the most impressive, original, mind-blown and colourful animated movies that make headlines for months in the world.
To have the opportunity to review this movie in Bitlanders, I can boldly say; I am satisfied with my care Bitlanders
In line with movies like Frozen, The Princess and the Frog, Big Hero 6 falls into the category of animation genre with an emotional heart unlike any other in the category of animation artificial intelligent movies.
Disney threw heartwarming moment all through the runtime of the movie. These moments I will rightly point out are about a boy Hiro Hamada, surrounded by nerds' as friends and a health care prototype robot called Baymax, they try to save the world from an unknown villain.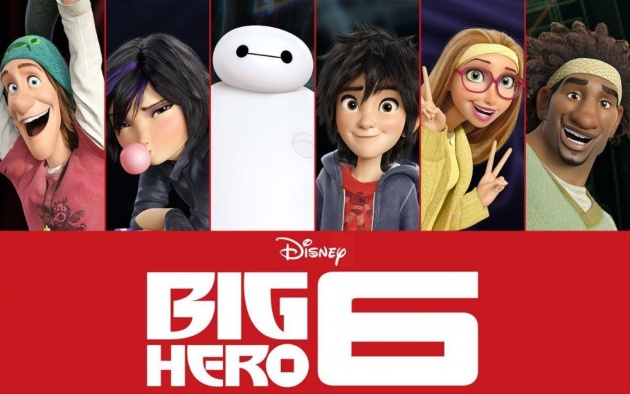 image credits: Wallpapercave
The movie is loosely based on the superhero team of the same name by Marvel Comics of a young robotics prodigy fixated on trying to blame someone for the death of his elder brother, until...
In recent years, we always sit back expecting nothing less than a complete original, colourful and wonderful projects from Disney to hit the cinemas so we can pay for our tickets. It is safe to say Disney is delivering according to the expectation of its viewers.
Therefore, when Disney decided to hit the cinemas with a cool movie about artificial intelligence (AI) and health care, fingers crossed, I just have to see such a movie.
Big Hero 6, the first Marvel comic book to get a Walt Disney makeover, is a beguiling kids movie. It is also a beauty to behold for its skillful digital animation in 3D
In their creative process, they have achieved a feat many animators would consider as inspirational if they wish to remain in the animation industry for long.
With the help of a few friends (If not the only friends he has), Hiro set out to make things right, he ends up becoming a Hero and unveiling the mystery that if left unchecked could bring ruins to all of Fransokyo!
The Movie Short Story
Hiro Hamada is a teenage prodigy in the city of San Fransokyo, unable to put his intellect to good use; he enjoys back-alley illegal bot-fights.
However, his elder brother Tadashi Hamada is a student of San Fransokyo Institute of Technology. Tadashi introduced his little brother to his nerd's friends: GoGo, Wasabi, Honey Lemon and Fred and together with their inventions.
Tadashi showed his little brother his own invention: an inflatable nurse robot named Baymax. Baymax is knowledgeable about the human body and human psychology thanks to a programmable chip in his chest.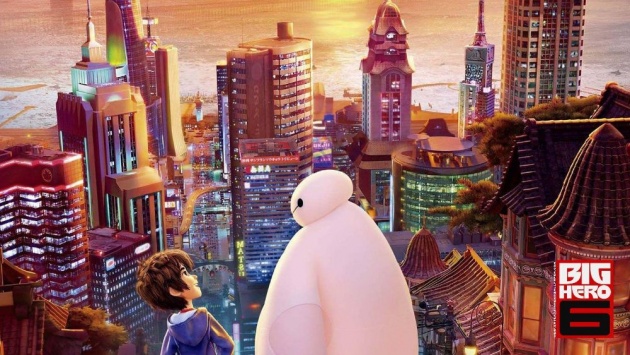 image credits: wallpapercave
While hero was inspecting Baymax, Professor Robert Callaghan walk in and Hiro soon wants to be enrolled in San Fransokyo Institute of technology.
Tadashi encourages his little brother that if he wants in, he should come up with something that can impress Robert Callaghan in the next robotics exhibition coming up.
Using his intellect, Hiro creates thousands of little micro-bots controlled by a neural transmitter. Whatever the wearer thinks the micro-bots do.
During Hiro's presentation at the exhibition, he won the crowd attention and a high-profile technology guru named Alistair Krei. Alistair offers to buy Hiro's micro-bots invention on the spot. Hiro declines Krei request and was later presented with acceptance letter into San Fransokyo Institute ofTechnology by Prof. Robert Callaghan.
Tadashi friends and Hiro are heading to the bar to celebrate Hiro's acceptance into the Institute when fire erupts within the exhibition hall. With the information that Robert is still inside, Tadashi rushed for the rescue only to be sent flying by an explosion that ends his life.
The death of Tadashi took a toll on Hiro and he became distant from friends. His aunt and guardian try to encourage him to go back to school, Hiro is unwilling until…
He accidentally hurt himself in his room, to his surprise, Baymax, Tadashi robot-nurse rose to his aid. The reunion was soon stopped when Hiro finds one among his micro-bots wriggling.
Baymax asks Hiro if finding where to micro-bot is willing to go will make him happy and He answered yes causally not knowing that Baymax will follow the bot.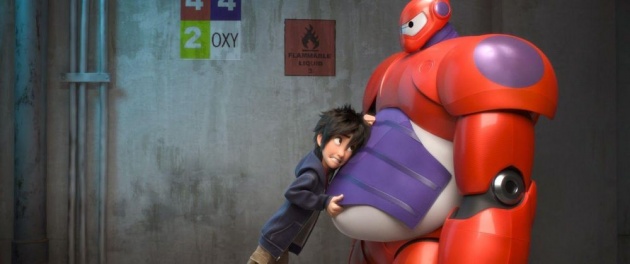 image credits: wallpapercave
Chasing down the direction which the Micro-bot is going, Hiro and Baymax find themselves in an old warehouse. Inside the warehouse, Hiro was surprised to see a machine churning out similar micro-bots in millions.
A masked man showed up and they barely escape with their lives.
The Content of the Movie
Big hero 6, a movie with action to spare, a high-end digital adventure and the larger than life superhero movie with endless fun, warm touch of theatricals, crazy attention to details and a heart that is as big as the heroes portrayed in the animated movie.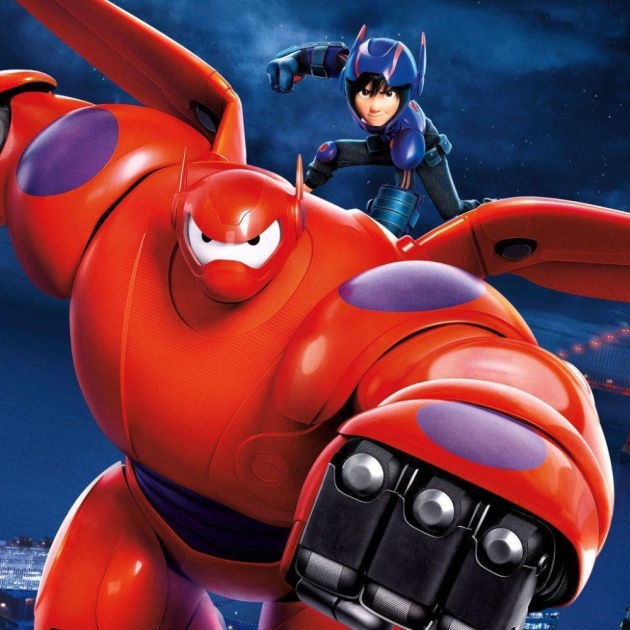 image credits: Wallpapercave
The animated movie is a masterpiece that forms memorable depiction of heroism in its narrative flow, dramatic foundation and a live-action that can be enjoyed over and over again with all family members.
Naturally, movies are supposedly in the perspective of the directors, the actors playing their characters and the overall angle in which the camera is used in capturing actions, this movie has it all.
Hiro Hamada never had the intention of going to school to learn what he can learn on his own at home. But when he was shown the other side of the school, he got carried away by trying to live up to the expectation of ingenuity that surrounds him.
Like most animated action hero movies, it is based on a tragedy that defines the start of heroism. Heroes are born so that other people cannot feel the pain that moulded the hero to what he/she is.
The team behind Big Hero 6 clearly have good intentions, as well as being the smoothest operators around
The movie is a great movie, it helps calm my nerves down, as the heroes team up not for revenge, but to correct, to bring out the true purpose of putting a cape, a spandex or just doing it for the sake of it is the right thing to do when the opportunity revile itself.
Unlike Tadashi Hamada whose core values is helping in any way possible, Hiro Hamada is set on making money from bots fight, and then accidentally set out to find his masked villain and finally, the robot Baymax help him to unveil his true potential, our programming does not allow us to hurt humans.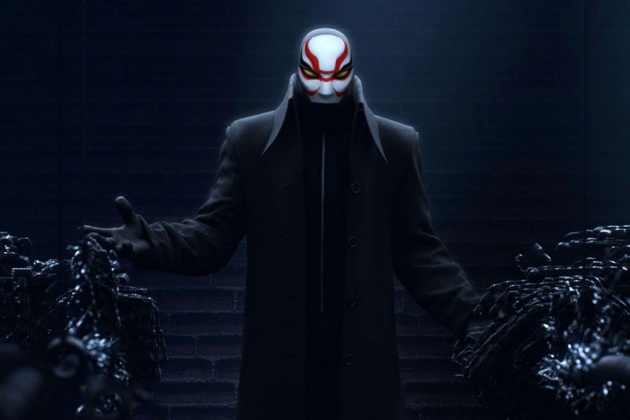 image credits: Wallpapercave
Life is full of expectations, disappointment, and cruelty. When Hiro Hamada expectations were cut short by the death of his brother, he shut himself out from the rest of the world until the accident in his room that awakens Baymax
I heard a sound of distress. What seems to be the trouble?
The humour that is being coded in the robot Baymax, the need for helping an injured person, a person in distress or to just give the individual paramedical care just to see the human says I'm satisfied with my care is that intriguing. To spend an hour plus to watch Big Hero 6 over and over again is totally worth it!
It is, after all the Baymax show and he is cute cuddly comedy gold. Fortunately, although Big Hero 6 has various flaws, he's generally on hand to patch them
This movie is not about a killer robot, nor a robot trying to become sentient or any other of that crap. It is just about a robot with serious coding and health care service-oriented. The movie certainly excels in every area of importance by creating a vibrant, fully alive world of beauty, love and respect for human life. Even beyond the core close Hiro-Baymax relationship, its ability to cope with loss, overcome tragedy, stimulate friendship and the realization of the significance of family is what makes the movie on a class of its own in the genre of animated superhero movies.
The Cast of the Movie
I'm certain that most at times it is the special bond between the actors and their character that paved ways for a brilliant movie. The cast that voiced the animated movie are Scott Adits as Baymax, Ryan Potter as Hiro Hamada, Daniel Henny as Tadashi Hamada, T. J Miller as Fred, Jamie Chung as Go Go, Damon Wayans Jr. as Wasabi, Genesis Rodriguez as Honey Lemon, James Cromwell, as Robert Callaghan, Alan Tudyk, as Alistair Krei. These guys are great actors. For each of them to voice Big Hero 6 in a way that made the animated movie this epic, is a once in a lifetime collaboration that may not ever happen again.
The Collective Works of the Actors
Sincerely, when it comes to handpicking actors that will take on certain roles in movies, I don't know how it is done. But I'm certain of one thing though, the actors that voiced Big Hero 6 sure knew how to put in their best emotionally, psychologically, morally etc to have brought forth this movie perfectly in every way.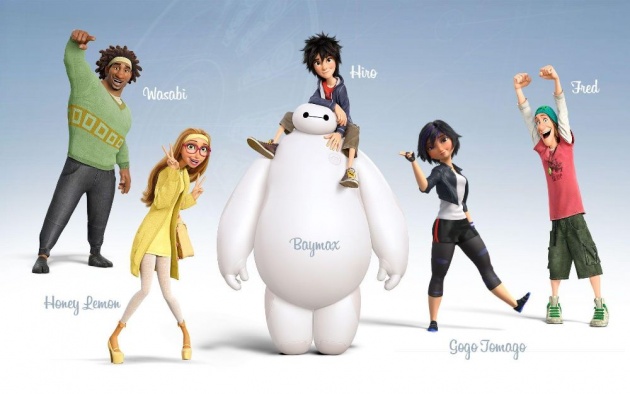 image credits: Wallpapercave
Though critics may think the animated movie is overhyped and it does not bring out the best in the movie. I beg to differ with their opinions and perspective concerning voicing this particular movie.
The Heroes of the Movie
Animated superhero movies are my speciality, and I can't write of the acting of Scott Adits as Baymax. Baymax, an artificial intelligence who does not lack beside manners, although unable to understand the complexities of human emotions but willing to go to any length to hear from his patient
I am satisfied with my care!
Is undoubtedly a fascinating creature of sentient possibilities!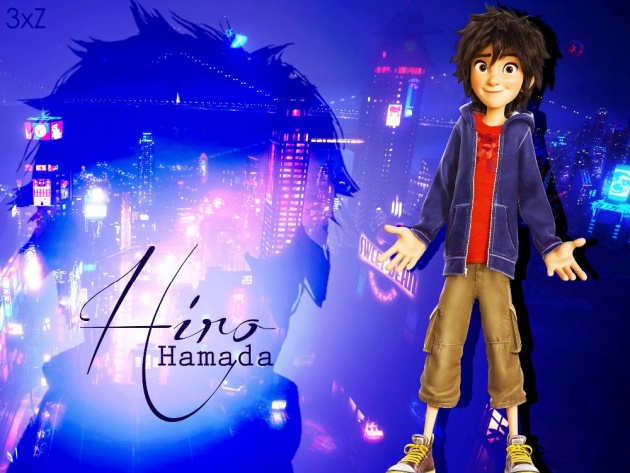 image credits: Wallpapercave
Disney should be applauded for their efforts for the first time in a long time as heroes in their own way to have brought something different than what is a norm with their studio
A family film that doesn't pander to its audience, a comic book film that [isn't ] dark and gritty and a Disney film without talking animals. Now that definitely IS heroic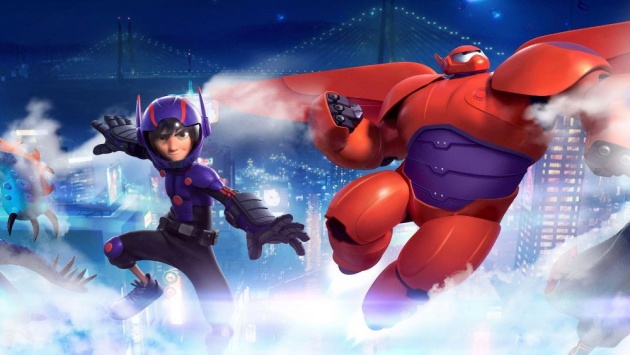 image credits: Wallpapercave
It is not just Baymax acting, but the relationship, the bond and mutual understanding that exist between Hiro Hamada and Baymax elevates the character Baymax from just a robot to give it something close to a soul as it is possible to feel or want to be detached from the fluffy, Muskmelon plus size walking talking robot.
Big Hero 6 may not have the heft of other commentaries on the superhero genre, but it has an emotional heart unlike any other
Baymax certainly builds a tangible connection at the molecular level with Hiro and the audience that resulted in a loveable & memorable moment, an honest artificial intelligence display of care ever portrayed in movies.
Overall Impression of Big Hero 6 Animated Movie
It's not often I write an overall impression of any movie, but to seldom have written one, I'm sure you can guess the why. Ever since we have been locked within the boundary of Bitlanders Artificial Intelligence Theme Blogging, I think I have hit the jackpot in Artificial Intelligence.
Most often when we speak, read and write about artificial intelligence (AI), we are often focused on things like, the destructive nature of AI, we are concerned with what will happen if the machine/program deviates from its original purpose and goes on a killing spree.
chat with me and find out more please... and you can click here for full page chat
I think all these perspective of ours about AI need correction or rather a different approach. We can create a robot that will not turn into killing machine. When coding, let's creates a fail save that the machine can always that can rewrite to original programming parameters.
When Hiro Hamada lost it and was about killing Prof Robert, the team were there to help, but back in the basement, Baymax was able to close his console so that, Hiro's new programming could not interfere with the primary purpose of his design.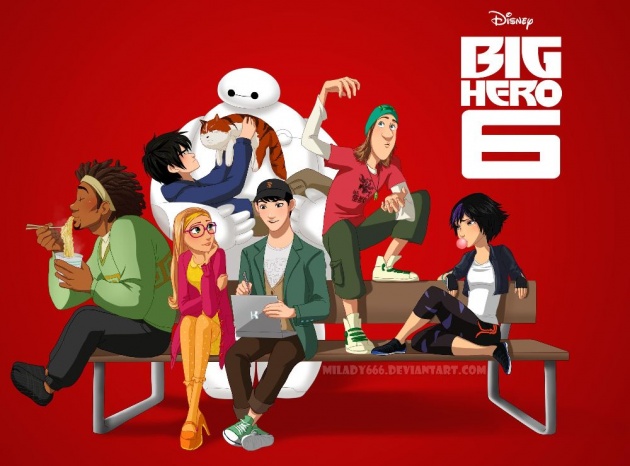 image credits: Wallpapercave
Machines may not be sentient, but to have the ability to not falter from their primary purpose will definitely lead the world a time when man and robots can co-exist without the fear of robot becoming sentient.
Miss Hillary I'm satisfied with my care in Bitlanders!
On A Final Note
Big Hero 6 is an action-packed animated film. The movie is overflowing with humour, and the purest heart ever depicted of robots in movies. The movie is standing tall among all movies reviewed in this category and is the epitome of modern animated film.
video credits: Walt Disney Animation Studios via youtube
The film embodies everything good about animation and human dreams of artificial intelligence in the future.
It not just about creating a robot for health care, but is about a robot with the ability to feel, understand and try to make his patient feel good within the parameters that may not cause harm to humans or to itself but willing to sacrifice itself for his patient to be satisfied with his/her care.
You may also want to read the following
Alita Battle Angel: An Angel in Berserker Body
Astro Boy Movie Review: A Robot with Human emotions
you are welcome to come JOIN US