Video credit Accenture Insurance Via Youtube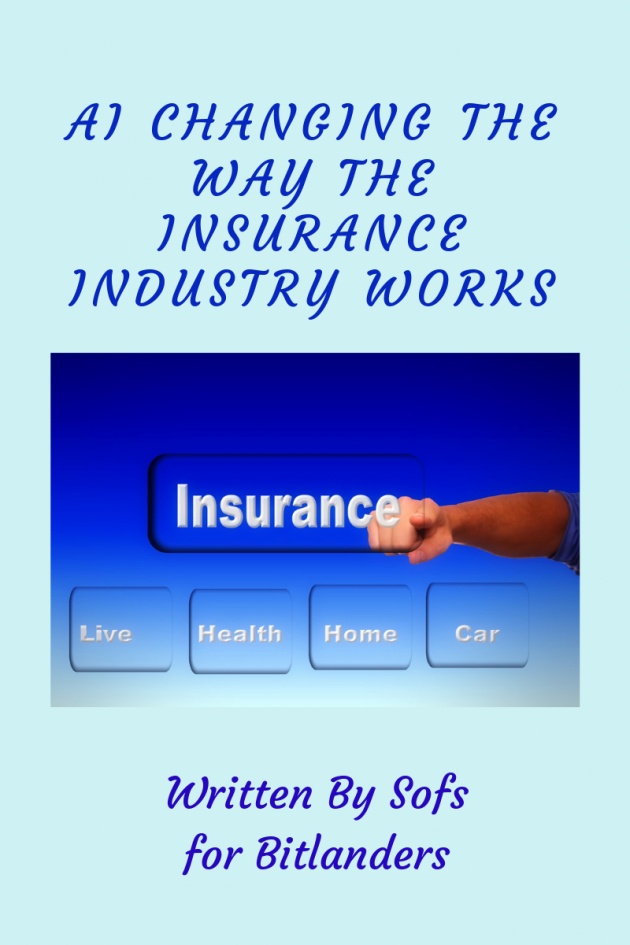 Image credit created by Sofs using from Pixabay
"At a fundamental level, insurance is a social good. It's about a community of people pooling their resources to help the weakest members in their hour of need. That should be the most loved industry, but it's 180 degrees away from that," - Daniel Schreiber
The Impact Of AI On The Insurance Industry
Have you ever had to make an insurance claim? I have had to make a couple of health insurance claims last year and I assure you that it was one of the most annoying tasks I have ever had to do in my life.
This experience had me wondering if insurance companies would ever feel the touch of automation. I am glad to see that Artificial Intelligence is making an impact on the way insurance companies work and will continue to make the changes needed to make the industry more customer friendly.
An April 2017 Accenture survey found that 79% of insurance executives believe that: "…AI will revolutionize the way insurers gain information from and interact with their customers."
Why Insurance Companies Need AI?
Most insurance companies rely on traditional processes that are outdated. The process involves so many people handling the paper work. This could only mean one thing, that your money is delayed at every desk.
In a paperless world, it is rather archaic to make customer do so much paperwork. It is really a put off for customers, but more importantly it shows that the industry is really lagging behind and is ripe for change.
"AI is having a profound impact on the insurance industry across the board, from strategy and policy pricing to marketing and administration," the CEO of AMPLYFI, Chris Ganje, as told to Forbes.

Image Credit Geralt via Pixabay edited by Sofs
The Major Bottlenecks Which Need To Be Addressed By AI
If insurance companies need to stay relevant, they need to need to change with the times.
Today people seek to have access to information and instantly. We live in the age of the internet and automation is the answer. According to a survey Accenture, as on today, '74% of customers would like to interact with modern technology and appreciate the computer-generated system of insurance advice'.
Meet customer expectations. The industry needs to meet the expectations of the customers and keep up with the competition to be able to stay afloat. The processing time for buying a policy or settling claims need to be reduced.
Change Workflow .The delays in the claims caused by inefficient systems creates huge problems for people who are facing an emergency and need the money instantly.
Win the trust and confidence of customers. Customers pay their premiums in the hope of getting help in their hour of need. Nonetheless, it is this juncture they face the brunt of the outdated processes, huge paperwork, time delays and human inefficiency which leads to loss of faith.
It's estimated that AI can drive cost savings of $390 billion across insurers' front, middle, and back offices by 2030. The front office is the most lucrative area to target for AI-driven cost savings, with $168 billion up for grabs by 2030 - Report by Autonomous NEXT seen by Business Insider Intelligence.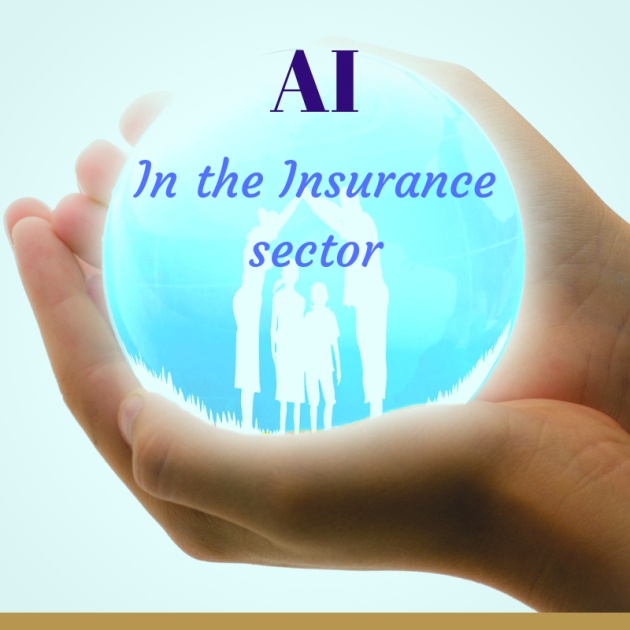 Image Credit Monam Via Pixabay edited by Sofs
How Can AI Help Insurance Companies?
AI has a lot to offer insurance companies. By investing in AI companies can create controlled, automated processes for increased productivity and quick settlement of insurance claims.
AI could help in the following ways -
Streamline the workflow
Raising operational efficiency with the use virtual assistants to provide required information to prospective customers at any time of the day.
Help new customers make the right decisions regarding insurance packages
Making use of data to reach out to customers at the right time
Reducing cost involved in these outdated processes.
Ease of use
Faster claims settlement
Better customer experience
Predictive analysis for better risk management
Decrease likelihood of fraud
Millennial consumer behavior is forcing irreversible changes across financial services leading to the emergence of digital-first and app-based services for banking, loans, mortgages, and investment. As the millennial cohort start their own companies and move into decision making roles in business, commercial insurance is beginning to undergo the same revolution." - Richard Hartley, CEO & Co-Founder of Cytora
Many companies are already moving towards change. 75% of the industry already uses AI based fraud detection technology. Taking a step further to improve processes will change the way the industry works and how customer perceive it.
The following Chat blog discusses the five areas in which AI will make great impact in the way insurance companies work. Kindly join me in the discussion.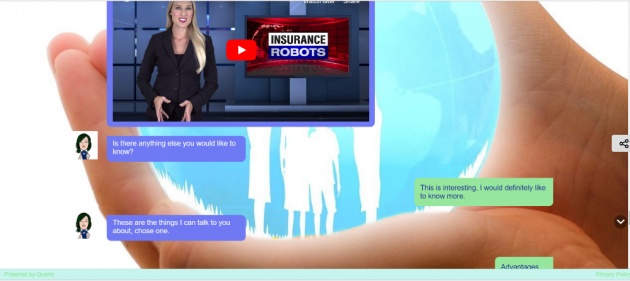 Image credit screen shot from Querlo chat on Artificial Intelligence Changing The Face Of The Insurance Industry
Querlo Chat On Artificial Intelligence Changing The Face Of The Insurance Via Bitlanders
Final Thoughts
The insurance industry has been lagging behind due to its traditional and outdated practices. With the adoption of AI the insurance industry will witness a sea change in the amount trust and loyalty that customers would deposit in the company.
The use of virtual assistants and other AI technology will surely reduce the time taken for prospective clients to buy a policy, reduce costs, save processing time, settle claims faster and improve customer relationship all in one go.
Employing AI could result in significant cost and time saving both for the company and its customers, but most of all automation brings about ease of use.
However, over automation could be an over kill warn experts in the field. It is important to marry technology to human talent and ensure that both work hand in hand.
Although automation may take over the jobs of many in this industry, it is the need of the hour to make it more productive and customer friendly.
****♥♥♥♥♥****
This blog post is written in support of the announcement made by Micky-the-slanted-salerno about the Bitlanders AI-Themed Blogging.
After the successful launch of "The bitLanders C-blogging", conversational AI blogging by Querlo powered by IBM Watson and Microsoft Azure. bitLanders continues to support its joint venture Querlo. We believe in our mission to promote our future - Artificial Intelligence (AI) - and build AI conversations via blogging, here we are to introduce "bitLanders AI-themed blogging!". -Credit: quote from bitLanders
Image Credits
Image credit for Querlo Chat background Monam via Pixabay
All images used in this blog have been duly credited, no copyright Infringement Intended.

My other blogs that may be of interest to you
Chatbots The Future Of Businesses
Artificial Intelligence Changing The Face Of Education
Current Trends In AI - What the future holds for us
[Artificial Intelligence] Trans-Humanism - The Future Of Mankind
Thank you for reading and interacting with me on this blog. I hope that information I have shared on this blog has been helpful to you.
Would you like to share your thoughts on AI and earn through Bitlanders? Follow this link and claim your first $1 reward on sign up.