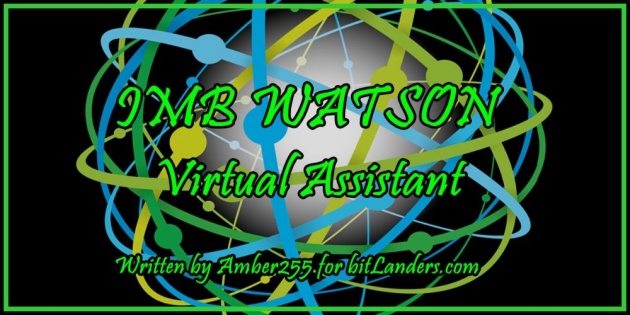 [Artificial Intelligence] IBM Watson Assistant - Photo credit: wallimpex, edition by Amber255 via bitLanders
Robots help us; robots replace us in many spheres. Often, it is difficult to explain how modern technology works. And when it comes to cognitive computing and the IBM Watson system, it seems that this topic is not accessible to an ordinary person to understand. But this is not at all the case: professionals can explain everything, including the most complex matters, and with quite accessible words. Today, IBM Watson cognitive system and other innovative solutions work for the companies.
Cognitive technologies are the direction of the development of artificial intelligence systems. Their main task is to help people in making decisions in difficult situations. There are several industries and processes that require management with a huge number of changing parameters, complex dependencies, hard-to-predict results. In this case, decisions should be made in the mode of time close to real.
IBM Watson is very well known because of its appearance on the Jeopardy television game show seven years ago when it defeated two champions. Then Watson was a large complex of different programs, which was built specifically for this game, and at that time, its capabilities were aimed at understanding natural language. To do this, it was necessary, firstly, to translate the voice into text and, secondly, to correctly interpret the received textual material. Thus, the system initially knew how to interpret the text, parse the questions, and understand their meaning.
Getting started with Watson Assistant - Video credit: youtube
Since then, IBM Watson appears regularly in the news as new customers seek to use their first-class voice recognition capabilities. Watson not only hears the person who speaks but is also known for being able to better understand what has been said than other similar systems.
Of course, now the level and performance of IBM Watson are higher than in 2011.
Virtual assistants go with many modern operating systems and services. They make the lives of users easier, helping to quickly launch the necessary applications, manage the Internet of Things systems, and quickly find the necessary information on the Internet. And thanks to artificial intelligence, some can also learn in the process of working with you.
Such companies as Google, Amazon, and Apple are constantly updating and modernizing their virtual assistants. Now, in this field, IBM offers a plan that allows others to use the well-known IBM Watson as the back of their interface.
IBM Watson already has a strong competitor - Amazon with Alexa For Business. Bret Greenstein, IBM's IoT Product Manager, says that they created the service not to compete with Amazon but at the request of customers. He also claims that companies with more sensitive data, in particular, those working in the field of energy and telecommunications, are more likely to use Watson Assistant than brands such as Alexa or Siri, which are positioned primarily as systems for private clients. With IBM's Watson Assistant, they will have greater control over their data and communication with end-users.
In my new Querlo chat, you can find information about these themes of IBM Watson assistant:
1. What is IBM - Watson Assistant?
2. How to set up Watson Assistant?
3. Possibilities of Watson Assistant.
4. IBM Watson Assistant WordPress Plugin.
5. IBM Watson Voice Assistant for the Internet of Things.
Please, chat with me about IBM Watson Assistant on Querlo (the link will open chat in a full-screen mode):
Watson Assistant has already been used by Harman to create a voice assistant for the Maserati concept car. Also, using IBM's service, an intelligent Pepper robot system was assembled to help visitors to Munich Airport find their way to the desired location. Other companies are also actively developing virtual assistants technology.
Also, IBM Watson Assistant customers will be able to call their voice assistants as they please, to keep up loyal relationships with customers and not mislead them. While the same Amazon and its assistant, Alexa, essentially force end-users of certain devices to build communication with several brands in parallel (such as thermostats from Nest with voice control from Amazon Alexa).
The idea that one assistant will rule your life is kind of frightening. - Bret Greenstein.

Credit: pressfrom
Watson Assistant helps the brands communicate with customers.
IBM is hoping that the new service will be in demand from third-party commercial structures who want to use virtual assistants in their activities, as the market for the latest technologies continues to show strong growth.
Although Watson Assistant can offer many, if not most, of the same features like Google Assistant or Alexa from Amazon, it does that indirectly. IBM made it clear that they had no intention of selling hardware to customers. IBM intends to sell its assistant to companies that need such services, but do not have the resources or the desire to build them themselves.
IBM hinted that they expect Watson to become popular among hotel application developers.
Watson helps you unlock the value of your data in entirely new, profound ways. By freeing your employees from repetitive tasks, you can empower your teams to focus on more creative, higher-value work. With insights from Watson, you can predict and shape future business outcomes, while rethinking your practices and workflows.

Credit: ibm
Watson Assistant provides control over personal data. Any voice assistant created on the basis of this IBM product works only with the information that is provided or collected in the process of interaction with people.
It is quite difficult to predict the future; it's not for nothing that most experts, speaking about modern solutions, use the phrase "in a modern rapidly changing world". The situation is indeed changing very quickly and often unpredictably, but the main trends in the field of cognitive technologies are still quite clear.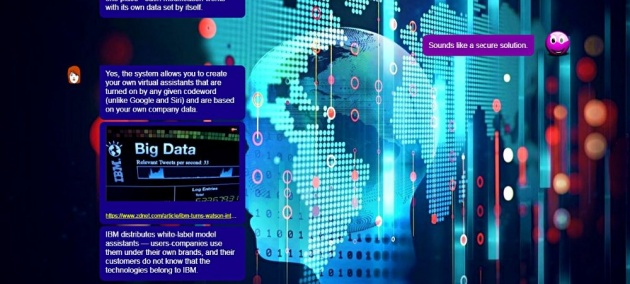 [Artificial Intelligence] IBM Watson Assistant - Photo credit: screenshot from querlo
I think Watson will soon come in the form of service simply to each person - you can ask a question on almost any area of interest and receive a qualified answer.
Delegate daily tasks to a personal assistant and start enjoying work and life.
************************************************************************
****************************************************************
******************************************
I invite you to participate in Bitlanders AI-themed Blogging and create your own AI-themed blogs and C-blogs on artificial intelligence theme:
bitLanders AI-themed blogging
After the successful launch of "The bitLanders C-blogging", conversational AI blogging by Querlo powered by IBM Watson and Microsoft Azure. bitLanders continues to support its joint venture Querlo. We believe in our mission to promote our future - Artificial Intelligence (AI) - and build AI conversations via blogging, here we are to introduce "bitLanders AI-themed blogging!"

Credit: quote from bitLanders
Always welcome back to check more Querlo Chat blogs on Artificial Intelligence theme.
***************************************************************************************************
Thank you for stopping by and reading my blog.
2019, All Rights Reserved.
You are very welcome to join Bitlanders and share your valuable knowledge and opinion.
***************************************************************************************************