[Artificial Intelligence] Improving Your Online Shopping And Services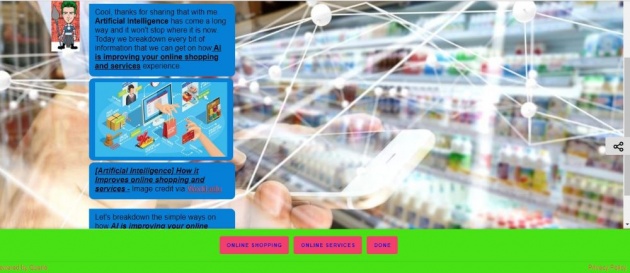 Screenshot of my latest c-blog - [Artificial Intelligence] Improving Your Online Shopping And Services - image credit via Querlo.com, prepared by Zille for BitLanders
Video credit via YouTube
The immerse development of Artificial Intelligence in our lives is taking us by storm. Those silent works that AI is doing to simplify your online experience are more than enough that every simple applications and activity is being monitored by deep machine learning and the smart algorithms associated with almost everything connected to the Internet of Things [IoT].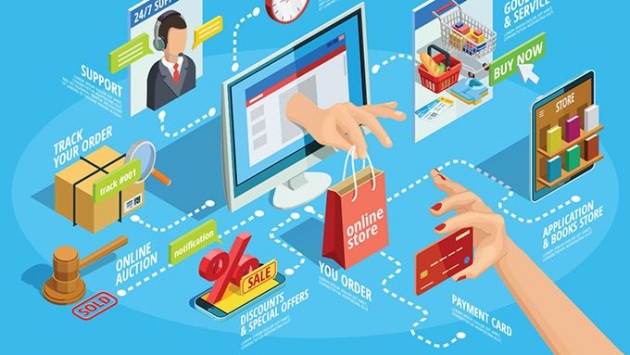 How online shopping works - Image credit via World-edu
Online shopping is a form of electronic commerce which allows consumers to directly buy goods or services from a seller over the Internet using a web browser. Consumers find a product of interest by visiting the website of the retailer directly or by searching among alternative vendors using a shopping search engine, which displays the same product's availability and pricing at different e-retailers. As of 2016, customers can shop online using a range of different computers and devices, including desktop computers, laptops, tablet computers and smartphones.

Source; WIKIPEDIA

With improvements for technology and widespread use of artificial intelligence, its no wonder that screen and scrolling time gets into the habit of everyone. It becomes a part of our lives. Artificial Intelligence becomes the air that we breathe.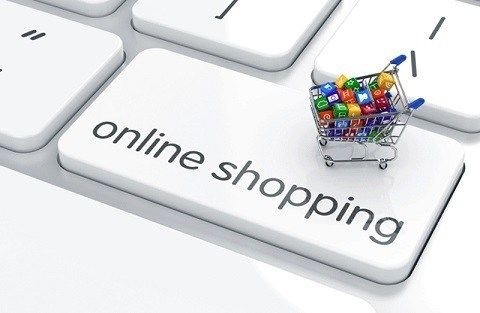 Online Shopping - Image credit via Greater Kashmir

We talked and live in a generation of machine learning and everything that we can purchase online. Simplifying even the most complicated things in our lives. Through social media, financial applications, and even working from home options.
As long as you are connected to the Internet of Things, the device that you are using, you will surely be up to date with everything.
An online shop evokes the physical analogy of buying products or services at a regular "bricks-and-mortar" retailer or shopping center; the process is called business-to-consumer (B2C) online shopping. When an online store is set up to enable businesses to buy from another businesses, the process is called business-to-business (B2B) online shopping. A typical online store enables the customer to browse the firm's range of products and services, view photos or images of the products, along with information about the product specifications, features and prices.

Source: Wikipedia
Online Shopping and Services With AI To Simplify Your Lives
Believe it or not, you can do almost everything with your smartphone. Like if there is an application that you can connect from your smartphone to your body to automatically feed you. You will definitely do that!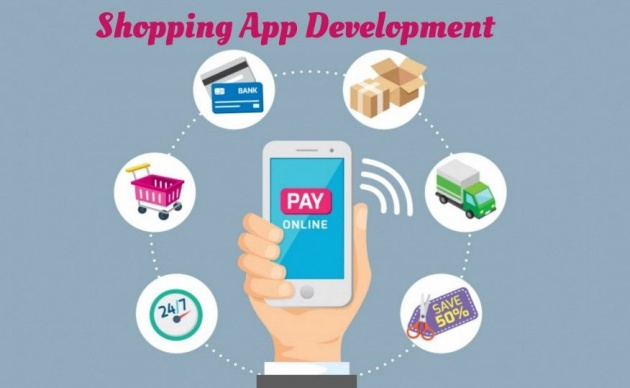 How Artificial Intelligence and machine learning work with Online shopping - image credit via Sparx IT Solutions
Have you seen those new models of smartphones bragging new features that you have been wishing they might be developed? They are almost there. Some are even already in the process, testing and continuously developing to be introduced to the market trend soon.
Online stores usually enable shoppers to use "search" features to find specific models, brands or items. Online customers must have access to the Internet and a valid method of payment in order to complete a transaction, such as a credit card, an Interac-enabled debit card, or a service such as PayPal. For physical products (e.g., paperback books or clothes), the e-tailer ships the products to the customer; for digital products, such as digital audio files of songs or software, the e-tailer usually sends the file to the customer over the Internet. The largest of these online retailing corporations are Alibaba, Amazon.com, and eBay.

Source: Wikipedia

How about online shopping and services? Surely this is one great feature that everyone is enjoying. Artificial Intelligence is behind all this innovation.
Online Shopping System - Image credit via IndiaMART
You can download and application or use your computer to search for items online, like in Amazon, and it will feed your recommendations with a lot of things, including associated items that you might like. All based on the activities that you have recently been recorded and studied by machine learnings online shop and algorithms of other people with the same web search keyword that you have entered.
Alternative names for the activity are "e-tailing", a shortened form of "electronic retail" or "e-shopping", a shortened form of "electronic shopping". An online store may also be called an e-web-store, e-shop, e-store, Internet shop, web-shop, web-store, online store, online storefront and virtual store. Mobile commerce (or m-commerce) describes purchasing from an online retailer's mobile device-optimized website or software application ("app"). These websites or apps are designed to enable customers to browse through a companies' products and services on tablet computers and smartphones.

Source: Wikipedia
All these recommendations are tailored to fit just for you. Artificial Intelligence is working in the background and studying your activities.
Video credits via YouTube
If you have been looking for products online, you will surely get more options than you think you can. We are not yet talking about machine learnings collected data from other people in your area. What they are searching, what is on-trend right now and what you might just like.
One of the earliest forms of trade conducted online was IBM's online transaction processing (OLTP) developed in the 1960s and it allowed the processing of financial transactions in real-time. The computerized ticket reservation system developed for American Airlines called Semi-Automatic Business Research Environment (SABRE) was one of its applications. Here, computer terminals located in different travel agencies were linked to a large IBM mainframe computer, which processed transactions simultaneously and coordinated them so that all travel agents had access to the same information at the same time.

Source: Wikipedia
If you click those images, you will get more of those, in addition to the first item that you are looking for as well. This will buy you more time searching and choosing.

I prepared a new Querlo chat about how Artificial Intelligence is improving your online shopping and services that you use to make things easier. Join me today and let's both learn the simple things AI is doing for you.
Querlo chat on how Artificial Intelligence Is Improving Your Online shopping and services - prepared by Zille for bitLanders - click fullscreen here

======
On a final thought:
There are a lot of pros and cons that Artificial Intelligence can offer you. All of these are here to simplify and improve your online shopping and services. Services that sometimes are really, (you should agree with me on this) are making things easier especially if you are a busy person.
Online shopping has been embraced by the most stay at home mothers too. especially if going on the market or a store is a challenge when you have two to three kids who will not let you buy stuff peacefully.
There are cons too, like not getting the right size of the physical product or slight changes in colors, etc...
There are pros and cons, but surely these services are here to make thing easier for us. One way ore another, you will have the convenience with AI and what it can do to your life. In complete moderation always.
====
bitLanders AI-themed blogging
After the successful launch of "The bitLanders C-blogging", conversational AI blogging by Querlo powered by IBM Watson and Microsoft Azure. bitLanders continues to support its joint venture Querlo. We believe in our mission to promote our future - Artificial Intelligence (AI) - and build AI conversations via blogging, here we are to introduce "bitLanders AI-themed blogging!"

Source: bitLanders
All images, videos, and links are for promotional use only, Proper credits is given.
Join bitLanders today and clain your $1 here!
Check out my other blog post here.