Self-Driving Cars: From Science Fiction to Reality
6 Companies Developing Self-Driving Cars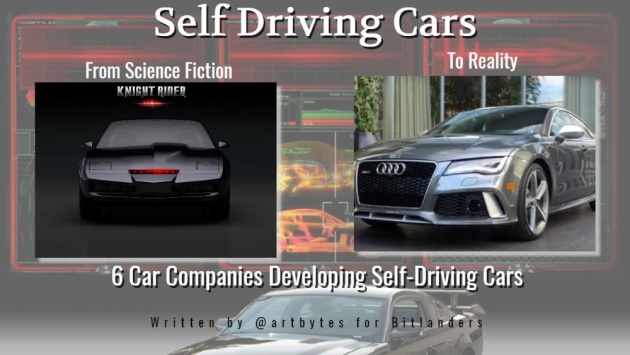 Image Credit: @artbytes via bitlanders
With the continuous development of computer technology more and more concepts that were deemed science-fiction in the past has become a reality. Some of those science-fiction concepts that have become a reality these days are:
Star Trek's handheld communicator has become the inspiration of the modern day cellular phones.
Dick Tracy's watch communicator - smart watches are becoming popular these days.
Star Wars' droids - although the droids these days are not fully independent or automated, and not as fully functional as the R2D2 repair droid, a number of droids are being designed with specific purpose.
One of the popular science-fiction TV series in the 1980s is The Knight Rider. The Knight Rider features the AI-equipped, talking car KITT. With the development of technology, a number of companies are racing to put a road-worthy fully autonomous self-driving car on the road.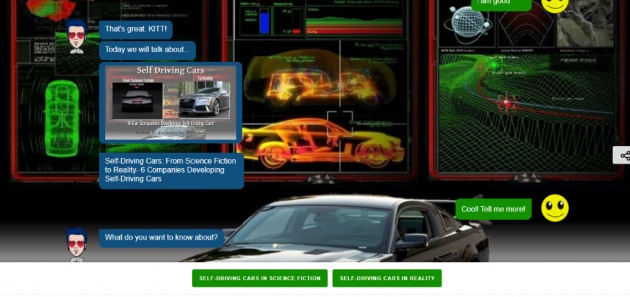 Image Credit: a screenshot of the C-Blog Self-Driving Cars: From Science Fiction to Reality -
6 Companies Developing Self-Driving Cars
Interact in my C-Blog: Self-Driving Cars: From Science Fiction to Reality - 6 Companies Developing Self-Driving Cars and find out the science-fiction concepts of self-driving cars in the 1980s how they are turning into reality now.
°~°~°o 0 O 0 o °~°~°~
I hope you enjoyed this interactive c-blog and learned something.
Thanks for chatting.
~°~°~°o 0 O 0 o °~°~°~

If you like this chat-blog, please share.
~°~°~° o 0 O 0 o °~°~°~
John Reynold Loberiza (a.k.a @artbytes) is a freelance graphic artist, web developer, and blogger. He is also a licensed Financial Adviser under Insular Life.
The content of this blog post is the author's original work. Proper credit is always given to the respective sources of information and images. Please feel free to check out my other blog posts: http://www.bitlanders.com/Artbytes/blog_post
If you have any reactions or inquiries regarding the subject of this post, please write it in the comment or send the author a private message.

If you are not a member of Bitlanders yet and you are a content creator- a writer, blogger, photographer, an artist or a hobbyist, you can earn from your creations (blog posts, photos, artworks, or videos) by uploading them in Bitlanders.
You can join Bitlanders by clicking this link-> http://bit.ly/Join_bitlanders