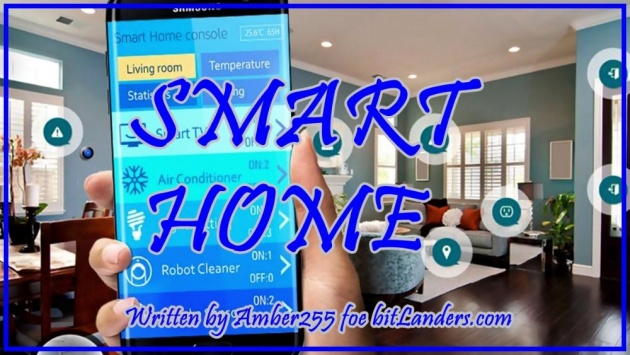 [Artificial Intelligence] Smart Home Concept - Photo credit: tuconimieiocchi, edition by Amber255 via bitLanders
The origins of the Smart Home idea
Probably, one cannot be mistaken in assuming that the concept of a smart home has been hatched and matured in the minds of scientists for centuries. Mankind has always wanted and strived for more cozy and comfortable homes, wanted to simplify everyday routine, and reduce the time spent on everyday tasks.
The very idea of creating houses that understand the wishes of their owners and successfully implement them originated in the last century's 70s in the US. Then wealthy Americans began to equip their homes with electronics. It was time when the smart home concept was born. However, this was not enough.
The first significant step towards the automation of living space was the invention of the microprocessor. The transmission of several types of information through the channel of one cable became possible. Such systems became relatively outdated relatively quickly, but nevertheless, they made mankind reflect on opportunities and prospects.
The official date of birth of the modern intelligent automation system Smart Home is considered to be 1978 when for the first time it was possible to realize the idea of controlling various devices and sensors through the electrical wiring of the house.
Engineers and designers of that time managed to teach the home to turn on the light, independently open the doors to the owners and guests, etc. This surprised and, often, shocked people, but at the same time, interested them, urging them not to stop there.
The level of technology in those years was significantly lower than the current level is. The implementation of this concept was considered a very expensive thing and practically did not pay off. Time goes, and today, such a concept as a Smart House has firmly entered our lives.
Smart Home Concept - Video credit: youtube
What is behind the veil of this very smart home system?
Functionality, style, comfort, safety, and this is not a complete list of what a smart home can please us with. Modern engineering technologies can instantly adapt to the consumer, providing a lot of opportunities. This is the essence of the smart home system.
Imagine the situation: at eight in the morning, the alarm rang. It's already dawn on the street and it's time for you to get up to work. But you do not want still? Oh, but the curtains were already open, and sunlight penetrated your room, the music began to play. Coffee is ready in the kitchen, and it wasn't your spouse who made it. You get up and go to the kitchen, and the music follows you. Agree, waking up is so much easier.
And here is another example: you and your children are going to watch cartoons. They sat down on the couch and launched the desired file on a computer or tablet. Then the following happens: the curtains automatically close, the light goes out smoothly, the TV turns on and starts showing the cartoon that you just launched from your tablet. Isn't that the pinnacle of convenience?
Of course, the full implementation of the concept of a smart home system is quite an expensive pleasure, since a smart home implies a lot of different equipment, which can be divided into six classes.
A smart home is a residence that uses internet-connected devices to enable the remote monitoring and management of appliances and systems, such as lighting and heating.

Credit: internetofthingsagenda
Various devices and sensors are aimed at making life as easy as possible, increasing everyday comfort, energy conservation, and safety. Modern intelligent systems are not only suitable for arranging private apartments; with their help, automation of housing and communal services, car parks, the organization of street lighting, watering personal plots, and much more are carried out.
The largest companies in Europe, Scandinavia, Asian countries are working on the development and production of various equipment for creating intelligent integrated automation systems, allowing you to create comfortable living and working spaces that save energy and time.
The smart home system is currently considered the concept of a modern home, gradually becoming denser entering the lives of ordinary inhabitants. The various scales of projects and equipment classes allow you to create systems within the framework of certain requirements and budgets, gradually improve the house.
If you want to know more detailed what is Smart Home concept, check my Querlo chat and find info on:
1. Lighting and power supply'
2. Security and access control;
3. Home climate control;
4. Audio-video systems;
5. Communication and devices;
6. Smart Home's pros and cons.
Chat with me please about Smart Home Concept (the link opens chat in a full-screen mode):
The concept of a smart home system implies total control of all systems installed in the house and their control from one or more devices.
With a smart home system, you won't have to worry about many things. A leak detector installed in the basement will report a leak to the main console. While away, you can remotely shut off the water in the house. Also, stop the gas supply.
Using the smart home control device, you can adjust the temperature in the sauna, the work of underfloor heating, and the heating system as a whole.
The smart home control graphical interface is its main part, and, perhaps, is the subject of a separate article. No system will work correctly without a real system control center. In the case of a smart home, this is a small box that looks like a router. The tablet with whom you control the house is an information transmitter.
Nevertheless, the main task of a smart home is not to save resources, but to simplify management and increase the level of comfort of the owners. The smart home control system is simple and does not require special skills in computer technology or the study of computer programs. Everything is intuitive. Companies that provide and install equipment for smart home systems also provide warranty service for an indefinite period, which avoids incidents with equipment breakdowns.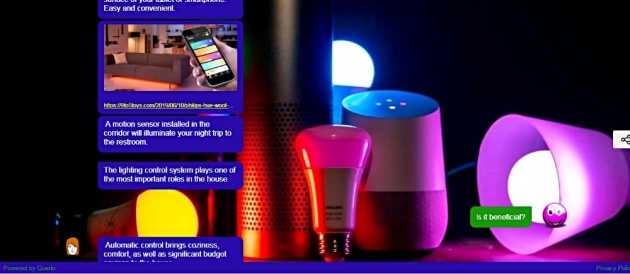 [Artificial Intelligence] Smart Home Concept - Photo credit: querlo
Any technology, gadgets, and systems enter modern life with lightning speed, change it for the better, simplify and make it more comfortable. However, the duration of their life cycle is not long, since everything is quickly becoming obsolete, and new developments occupy leading market positions. The same pattern is also characteristic of Smart Home systems and, possibly, how wireless networks came replacing cables with wires, soon may appear something new.
Technologies are designed to make life easier for people. The smart home is able to control everything to the smallest detail. And this is wonderful! Indeed, in the little things lies true happiness.
************************************************************************
****************************************************************
******************************************
I invite you to participate in Bitlanders AI-themed Blogging and create your own AI-themed blogs and C-blogs on artificial intelligence theme:
bitLanders AI-themed blogging
After the successful launch of "The bitLanders C-blogging", conversational AI blogging by Querlo powered by IBM Watson and Microsoft Azure. bitLanders continues to support its joint venture Querlo. We believe in our mission to promote our future - Artificial Intelligence (AI) - and build AI conversations via blogging, here we are to introduce "bitLanders AI-themed blogging!"

Credit: quote from bitLanders
Always welcome back to check more Querlo Chat blogs on Artificial Intelligence theme.
***************************************************************************************************
Thank you for stopping by and reading my blog.
2019, All Rights Reserved.
You are very welcome to join Bitlanders and share your valuable knowledge and opinion.
***************************************************************************************************