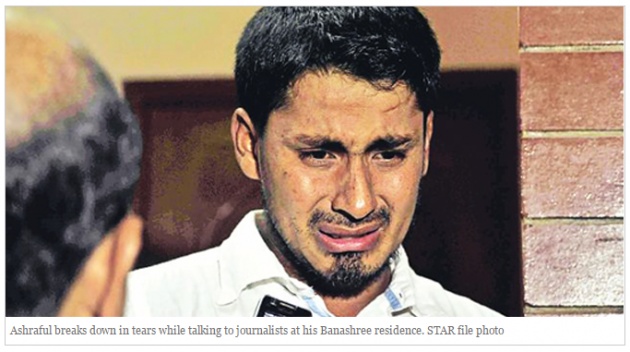 There were many shady areas over Sri Lanka's short-lived professional T20 Cricket League called the Sri Lanka Premier League (SLPL) that led to much suspicion and speculation over the authenticity of the tournament for a long time, reports Sri Lankan newspaper Daily Mirror.
There had however been no concrete evidence to prove match fixing in the controversial tournament, but last month, Sri Lanka Cricket (SLC) which conducted the tournament had finally received solid proof from the International Cricket Council (ICC) that there had been match-fixing in the SLPL, SLC sources told "Daily Mirror".
Former Bangladesh skipper Mohammad Ashraful who is currently serving a five-year ban for match fixing has confessed to match fixing in the SLPL, sources added.
Ashraful had made a witness statement on May 23, 2013 to the Anti Corruption and Security Unit (ACSU) of the ICC confirming that he had been involved in fixing the SLPL Match between Ruhunu Royals and Wayamba United played on August 26, 2012, the Lankan daily reports.
The fixing issue has then created a major storm in SLC following information that SLC President Jayantha Dharmadasa had agreed with ICC at the ICC Board meeting in November 2014 to refrain from taking further action on evidence provided by Ashraful.
SLC Executive Committee had been unaware of Dharmadasa's action till ICC had forwarded the terms of the settlement agreement in December for a signature on behalf of SLC.
When SLC ex-co learnt of the ICC's request to sign the agreement, it had led to a heated discussion and the document had been referred to the SLC Lawyers for advice. Though ICC had asked the SLC to sign the agreement, they had not made available the full details of the investigation or the statement made by Ashraful. SLC lawyers had advised the ex-co to refrain from signing the ICC document blindly without obtaining this vital information.
"The issue here is that Ashraful cannot fix a match alone. There must be others, possibly local players involved. But if SLC signs this agreement, they cannot conduct further investigations based on this evidence to find what corruption had taken place" a source told "Daily Mirror".
The SLC exco had then decided unanimously to refrain from signing the agreement and to intimate their decision to the ICC. An ex-co member said that SLC firebrand Shammi Silva was vociferous in his protest to sign such an agreement with the ICC.
However, when SLC informed the ICC of the ex-co decision, ICC had informed SLC that Dharmadasa had agreed to sign the decision at the ICC Board meeting, leading to confusion at SLC.
Later when it was inquired, Dharmadasa had informed SLC Secretary Nishantha Ranatunga that he had in fact agreed in full to the settlement agreement which was unanimously approved at the ICC Board meeting. However he had not explained why he did not consult the ex-co before agreeing to such an important matter concerning Sri Lanka, apart from mentioning that the issue was of a highly confidential nature.
At a special ex-co meeting yesterday to untangle the confusion, several members had criticised Dharmadasa for keeping them in the dark over the issue. Dharmadasa had said that he was waiting for the minutes of the ICC board meeting to inform all matters to the members and had claimed that he agreed to sign the document on the request of Bangladesh Cricket Board President.
However, the exco members had stood by their decision to refuse signing the document and had decided to write to ICC asking for a copy of Ashraful's full statement as well as any other details ICC has on match fixing in Sri Lanka before taking a final decision to sign the agreement. Dharmadasa's brother Upali who is also in the SLC ex-co in his ex-officio capacity as the immediate past president said he was strictly against any move to sweep the issue under the carpet.
"I have written to everyone at SLC exco to initiate a full inquiry into this matter as soon as I heard of this. I was keen for this as it had happened during my period as SLC President" Dharmadasas told "Daily Mirror".
"It is very wrong if we have agreed not to proceed with any inquiry. You can't do that. It shouldn't have been done" claimed Dharmadasa.
Ashraful was initially banned for eight years, but later the ban was reduced by ICC to five years, two of which are suspended, meaning that it will effectively be only for three years. The reduction of the ban came after Ashraful had taken the matter to the International Court of Arbitration for Sports (CAS).
Earlier in June 2014, Ashraful who had admitted to fixing matches in the Bangladesh Premier League (BPL) while playing for his team Dhaka Gladiators had actually met his main fixing link in Sri Lanka during the SLPL.
Ashraful had said that he had met with Dhaka Gladiators CEO Gaurav Rawat who was an Indian citizen but was living in Myanmar during the SLPL through an Indian bookie, whose name Ashraful could not recall. Ashraful had admitted that this same bookie had asked him to fix matches when he was still captain of the Bangladesh national team between 2007-2009.
He claimed that he rejected the offers and instead revealed this to media in 2009. But the bookie had remained on friendly terms with Ashraful till 2012 even though Ashraful claimed he continually rebuffed fixing opportunities.
However, in 2012 after meeting Gaurav through this bookie, Ashraful got the chance to play in the SLPL. According to media reports, Ashraful had also claimed that he was certain that both Gaurav and the un-named bookie were involved in match fixing.
Interestingly, Gaurav was also the CEO of the SLPL franchise Ruhuna Royals.
Only one edition of the SLPL was played in 2012 and had to be scrapped the following years due to various issues despite the inaugural tournament raking in a rich profit of Rs. 289 million for SLC.
It was plagued with fixing allegations from the beginning though no issue had been proven beyond doubt.
A taped conversation between the owners of a franchise and bookies was received by "Daily Mirror" and was handed over to the SLC for investigation, in the first incident.
Then umpire Tyron Wijewradene had reported a fixing offer made to him to the SLC and the complaint had also been submitted to the ICC.
In 2013, Mumbai Police crime branch had allegedly unearthed that two bookies named Sanjay and Pawan Jaipur had been the "benami" owners of a SLPL franchise according to evidence given by Vindu Dara Singh, a spot fixing suspect.