At North Park Noodle House, Makati Avenue
This, I think, will be the speediest blog I would write, or hope I should. I've got a flight at around 7:10 am tomorrow so I hope I could finish this today.
Like my other food escapades, it was my sister's treat. We wanted a quick lunch without the hassle that time so we decided to eat at North Park, Makati Avenue. We've been buying food via delivery at North Park occasionally. But it was my first dine in experience when we were at St Giles, Makati, because it was just literally in front of the hotel.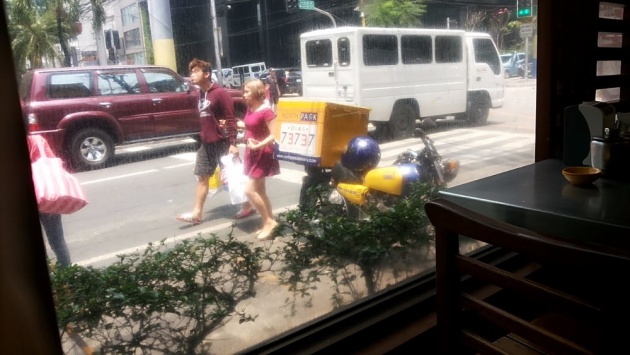 Photo credit: lapiz-lazuli
Something About This Chinese Restaurant
Video credit: Hour Philippines TV via youtube.com
This is according to their official facebook page:
We are NORTH PARK NOODLE HOUSE, a Chinese restaurant which food critiques rated as one of the top ten restaurants in Metro Manila. The company was born in September 6, 1994 and is under the creative leadership of the Soon brothers. North Park is not only a dine–in establishment but also delivers their tasty foods right at your doorsteps and offices near its restaurants.
They have many branches scattered around the Metro. If you want to know more about what others are saying about their food, you check it here: http://www.northpark.com.ph/about-us/.
Waiting and Ordering
As soon as I stepped inside their restaurant, I felt the chilly air from their air conditioning. We went there at lunch so I felt comforted because of feeling the heat from outside. Minutes after I regretted not bringing any jacket or even a shawl because it got colder by the hour. We even changed our seats while waiting for our food because our initial spot was right beside an aircon.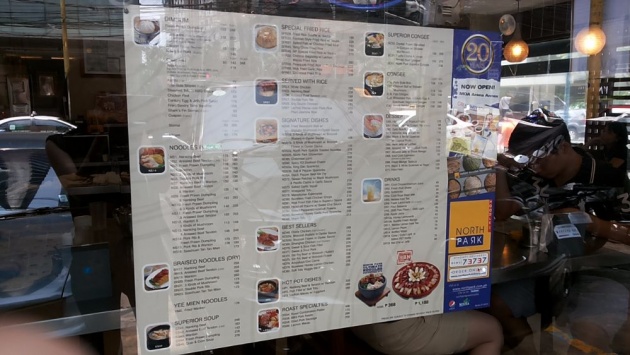 Photo credit: lapiz-lazuli
Their menu is plastered on the window beside the entrance door, but their menu is also listed on the paper place mat you will use when you eat. If you're vision isn't perfect, you will find it a little hard to read the place mat slash menu book so I advise that you bring some form of magnification or your reading glasses. If you're not prepared, however, just let the waitress read and explain to your what's on the menu.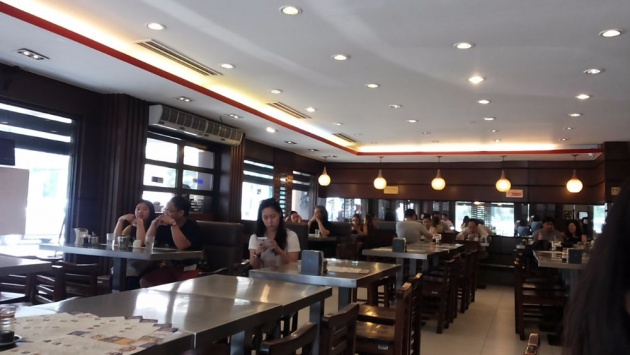 Photo credit: lapiz-lazuli
It is a Chinese restaurant so expect noodles, dimsum, and the like. Food is served at a reasonable frame time but waiting can get boring so you could check your phone for messages, check your email, or just chat with your mates. They don't offer any wi-fi though, so bring a pocket wi-fi or subscribe to mobile data so you wouldn't get bored.
Food We Ordered
Prawn Dumplings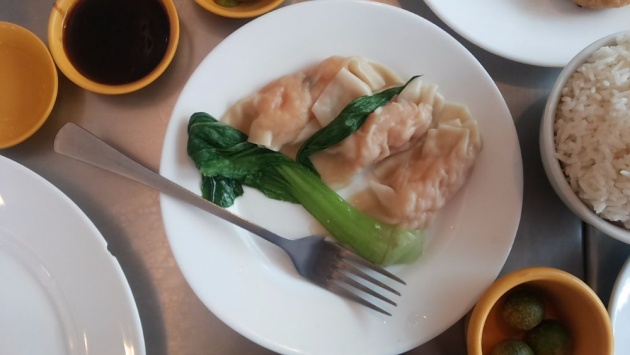 Photo credit: lapiz-lazuli
I really can't remember what it tasted like, but it wasn't soggy nor watery nor it was dry and hard; I think it was just right. But be careful though because they serve food fresh from the wok (or steamer, or whatever cooking tool they used). It was three pieces per order but I think their siomai was a little larger than those sold in food kiosks.
Shark's Fin Siomai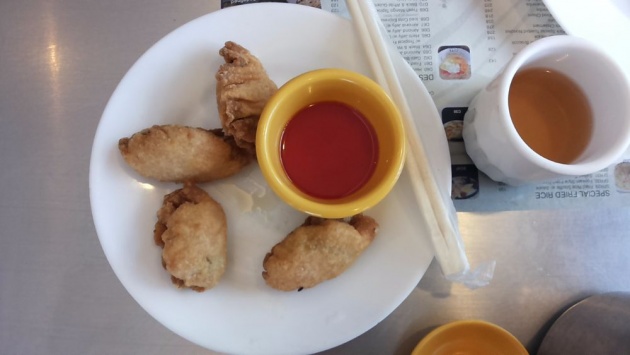 Photo credit: lapiz-lazuli
This one was fried and served with sweet and spicy sauce. We cooled them down for a while because my sister's tongue got burned upon munching it right after serving. No complains on this dish--the crust wasn't burned and the filling tasted authentic. Each piece was bigger than expected but they were only four.
Fresh Prawn Dumpling and Nanking Beef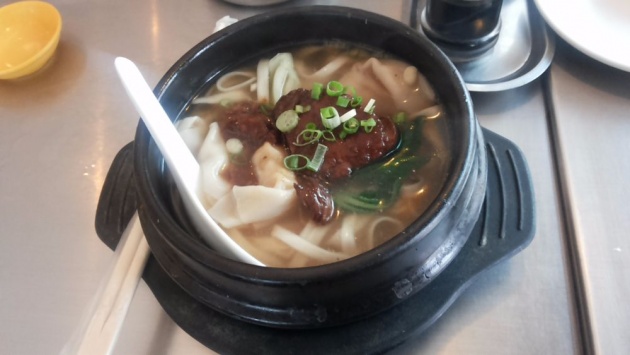 Photo credit: lapiz-lazuli
This was what I ordered for myself. I was craving shrimp and but I also want to try their beef that time so this was the perfect thing on their menu. When it was served on my place mat, I was a astonished because the serving was too much for me. It was served in a big black clay pot with a Chinese soup spoon beside it. The serving was really generous for its price.
Sis and mom already ordered theirs and weren't volunteering to at least have a taste of my order so I didn't manage to eat up all the noodles. I also barely finished up the meat, thinking that it would be a waste if I left it out. Overall, this dish was tasty, probably because of vetsin, but I'm not complaining because the taste really helped me to gobble up my meal.
I had no issue with the noodles (other than it's slippery), and the dumplings; the beef, however, was a different story. It was, in Filipino term: malansa, It means fishy, but I think it wasn't appropriate to describe it as fishy because it was beef (haha). To describe it, the connective tissues weren't properly rid off so it had a slimy surface.
By the way, you will choose what type of noodle you want:
Broccoli Flower in Oyster Sauce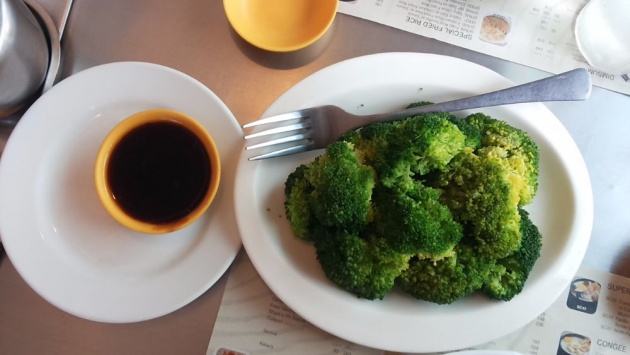 Photo credit: lapiz-lazuli
I wanted to balance our meal with vegetables, so I ordered this one too. It had also a generous serving; we didn't manage to finish it up so we asked the waitress that we'd take the leftovers. In Filipino, it's called ipabalot. This dish was generally good but I think it was pricey because it's a veggie dish ordered in a restaurant. There was no problem with the broccoli. What I mean is that there were no worms coiled between the florets because I have this issue when buying at a grocery. Yucky right?
Fish Fillet with Soft Tofu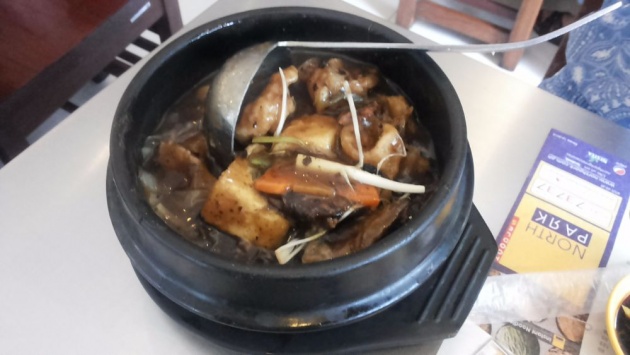 Photo credit: lapiz-lazuli
Every time we eat food from North Park, my family orders this dish. I personally do not like it because it is the sauce is think and spicy. I don't like the combination but I still tried a little for the sake of this blog. Like the broccoli, there was no problem with the dish. The tofu was silky, and the fish wasn't distastefully fishy (read: malansa).
Bonus: Complementary Tea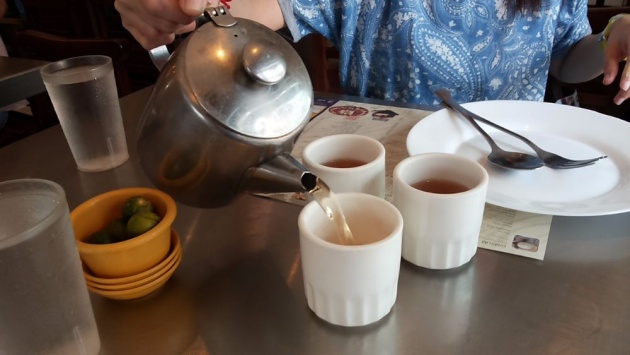 Photo credit: lapiz-lazuli
I was really happy because they serve hot tea for free! Yay for that. The taste wasn't as good as Chinatown's, but I can compromise.
Survey Anyone?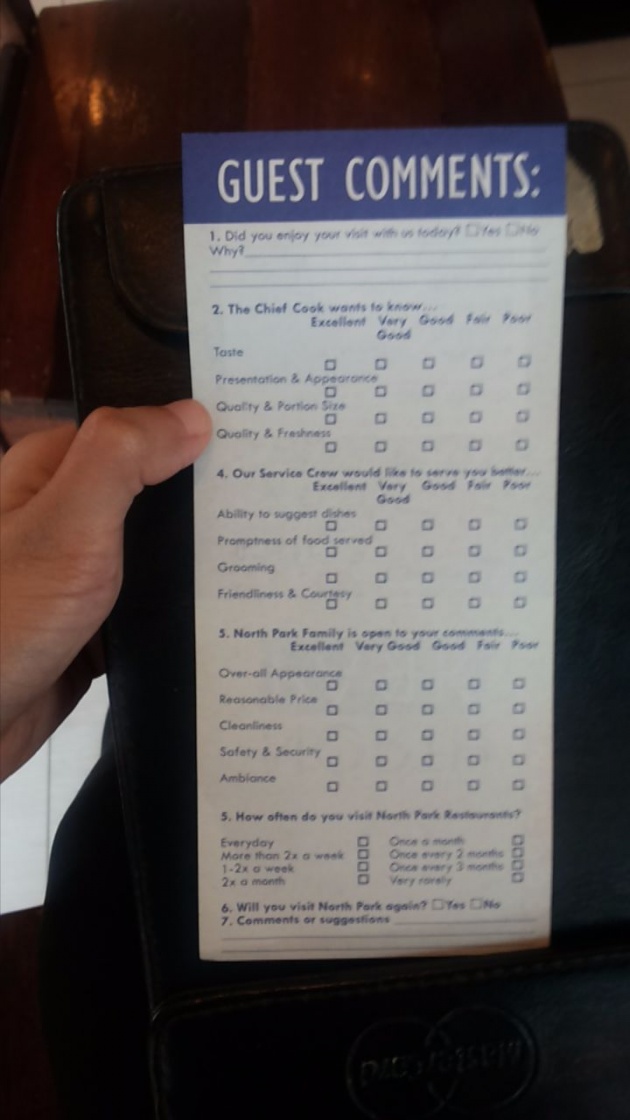 Photo credit: lapiz-lazuli
Before we finished, the waitress in charge of our seat handed us a survey about the overall performance of their restaurant. My only real complain was that the beef was malansa. I've no problems with other things, especially the place and their staff.
I've answered their survey, here's your chance to answer a survey about restaurants:
Video credit: lapiz-lazuli via bitlanders.com
My one liner for Northpark: North Park is an affordable quick trip to China through their authentic cuisine.
Disclaimer: Pictures, videos and writeup are owned/made by lapiz-lazuli. Views and opinions in this blog post are truthful but subjective and are not influenced by sponsorship of any sort.